printer friendly version
Pearls of Umhlanga opts for triple-play
November 2008
Residential Estate (Industry)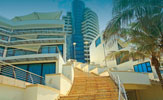 Letlhaka Technologies has deployed a triple-play infrastructure at Pearls of Umhlanga.
Pearls of Umhlanga is one of KwaZulu-Natal's more distinguished residential developments designed to create one of the most sought-after property locations in the region, Pearls of Umhlanga has implemented a triple-play communications, entertainment, and security infrastructure.
The estate manages its digital lifestyle services through one central hub, a fibre-based PON network system throughout the complex, installed and supported by Letlhaka Technologies.
This gives the estate a broad selection of broadband Internet and e-mail facilities. Moreover, according to Phillip Uys, MD of Paltrow Holdings, a management and utilities company, Pearls of Umhlanga provides each home owner with the choice of full security and access surveillance.
The smart home option provides each home with a security and surveillance system that provides protection, remote viewing options and holiday simulation. Homeowners can also avail themselves of a smart telephony option, an Internet protocol telephone system that provides for free telephone calls within the complex and will offer external and international calls at reduced rates in the future.
The PON equipment is imported and supported locally by Letlhaka. The solution adds value to residents' lifestyles and enhances the returns on the developer's and homeowners' property assets. Furthermore, it reduces homeowners' monthly expenditures by improving management efficiencies.
Letlhaka Technologies sales manager, Lloyd Wood, says GEPON is the most widely deployed next generation access network solutions available today.
Letlhaka is able to bridge traditional telephone service, Ethernet service, and RF video (satellite and Free-to-Air) services onto a single, passive optical distribution platform. By bringing together the technical worlds of passive optical networking (PON) and the emerging RF over Glass (RFoG), Letlhaka provides a hybrid PON, solution providing the operator the flexibility of the services they choose, in the format they prefer.
For more information contact Lloyd Wood, Letlhaka Technologies, +27 (0)12 345 6270, [email protected]
Further reading:
Fire-fighting force at Vergelegen
Editor's Choice Fire & Safety Residential Estate (Industry)
Vergelegen wine estate in Somerset West, and its neighbours, are set to enjoy greater peace of mind this summer, thanks to the delivery of a brand new fire truck .
Read more...
---
Residential Estate Security Conference 2022
Technews Publishing Residential Estate (Industry) Conferences & Events
The first Residential Estate Security Conference since March 2020 discussed the people, technology and processes involved in mitigating risks to deliver smart, secure living.
Read more...
---
Safety first, aesthetics a close second
Allbro Industries Residential Estate (Industry)
Residential estates are constantly upgrading as the needs of the estate outgrow the existing infrastructure.
Read more...
---
Provide a strong, integrated security solution
Arteco Global Residential Estate (Industry)
Through the Omnia VMS, Arteco offers a unique, intuitive and friendly interface that focuses on events to centralise all security alarms.
Read more...
---
Successful show for body-worn tech
Elvey Security Technologies Residential Estate (Industry)
Moving beyond products to full cybersecurity service for residential estates.
Read more...
---
The benefits of contactless biometrics
IDEMIA Residential Estate (Industry)
IDEMIA displayed its biometric fingerprint and facial readers, focusing on touchless technologies for estate security.
Read more...
---
Access Portal from Impro Technologies
Impro Technologies Residential Estate (Industry)
Impro Technologies offers the Access Portal suite, which provides powerful features wrapped in a simple and easy-to-use interface.
Read more...
---
MiRO provides end-to-end security solutions
MiRO Residential Estate (Industry)
Residential estate security solutions perfected for South African homes.
Read more...
---
Nice locally manufactured products
Nice Group South Africa Residential Estate (Industry)
Nice offers gate, door and barrier solutions that are not battery dependent but have full battery backup should power fail.
Read more...
---
Multi-layered security solution
Residential Estate (Industry)
Optex has got you covered with a combination of technologies to create a multi-layered security solution.
Read more...
---