printer friendly version
Pearls of Umhlanga opts for triple-play
November 2008
Residential Estate (Industry)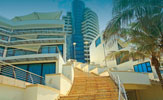 Letlhaka Technologies has deployed a triple-play infrastructure at Pearls of Umhlanga.
Pearls of Umhlanga is one of KwaZulu-Natal's more distinguished residential developments designed to create one of the most sought-after property locations in the region, Pearls of Umhlanga has implemented a triple-play communications, entertainment, and security infrastructure.
The estate manages its digital lifestyle services through one central hub, a fibre-based PON network system throughout the complex, installed and supported by Letlhaka Technologies.
This gives the estate a broad selection of broadband Internet and e-mail facilities. Moreover, according to Phillip Uys, MD of Paltrow Holdings, a management and utilities company, Pearls of Umhlanga provides each home owner with the choice of full security and access surveillance.
The smart home option provides each home with a security and surveillance system that provides protection, remote viewing options and holiday simulation. Homeowners can also avail themselves of a smart telephony option, an Internet protocol telephone system that provides for free telephone calls within the complex and will offer external and international calls at reduced rates in the future.
The PON equipment is imported and supported locally by Letlhaka. The solution adds value to residents' lifestyles and enhances the returns on the developer's and homeowners' property assets. Furthermore, it reduces homeowners' monthly expenditures by improving management efficiencies.
Letlhaka Technologies sales manager, Lloyd Wood, says GEPON is the most widely deployed next generation access network solutions available today.
Letlhaka is able to bridge traditional telephone service, Ethernet service, and RF video (satellite and Free-to-Air) services onto a single, passive optical distribution platform. By bringing together the technical worlds of passive optical networking (PON) and the emerging RF over Glass (RFoG), Letlhaka provides a hybrid PON, solution providing the operator the flexibility of the services they choose, in the format they prefer.
For more information contact Lloyd Wood, Letlhaka Technologies, +27 (0)12 345 6270, [email protected]
Further reading:
Upgraded security and AI monitoring at upmarket estate
Watcher Surveillance Solutions Editor's Choice CCTV, Surveillance & Remote Monitoring Integrated Solutions Residential Estate (Industry)
Estate upgrades and enhances its security through a partnership between surveillance specialist Watcher and the incumbent guarding company.
Read more...
---
Automation made easy
Vox Products IT infrastructure Residential Estate (Industry)
Vox Sixth Sense IoT features battery-operated sensors that are easy to install and connect automatically to an IoT-specific network, allowing you to view the information gathered from any connected device via an app.
Read more...
---
Protection from curb to core
Gallagher Access Control & Identity Management Integrated Solutions Residential Estate (Industry)
With the use of Gallagher Command Centre's advanced site plans and integrations, Gallagher can provide all your security sub-systems on one user-friendly, interactive and informative platform.
Read more...
---
Managing the insider risk is extremely complicated
J2 Software Cyber Security Residential Estate (Industry)
There's one consistent and prevalent security gap in every digital enterprise in the world: the human element.
Read more...
---
Smart living enabled
Axis Communications SA IT infrastructure Integrated Solutions Residential Estate (Industry)
The shift to 5G is far-reaching and we can expect to see real applications in the network security and surveillance sector, particularly when it comes to smart buildings and cities of the future.
Read more...
---
Make video monitoring effortless
Dahua Technology South Africa CCTV, Surveillance & Remote Monitoring Residential Estate (Industry)
Auto Tracking 3.0 is an AI-powered tracking algorithm in which the camera uses its horizontal/vertical rotation and zoom features to lock a moving target in the centre of the screen.
Read more...
---
Load shedding and home security systems
Fidelity Services Group Smart Home Automation Residential Estate (Industry)
Preventive maintenance action today can help ensure that your security system still operates the way it should tomorrow when Eskom once again turns off the power.
Read more...
---
Three rules for visitor data privacy and protection
Access Control & Identity Management Residential Estate (Industry) Products
What can your business do to protect visitors' information? ATG Digital gives insight into the triad of visitor data protection to ensure estates remain within the law.
Read more...
---
360° perimeter intruder detection
Technews Publishing Perimeter Security, Alarms & Intruder Detection Residential Estate (Industry) Products
Radar is becoming a more common solution for estates with large open areas and long perimeters to protect, as intruders can be automatically detected and tracked.
Read more...
---
Keep track of visitors
LD Africa Access Control & Identity Management Residential Estate (Industry) Products
For the safety and enhanced security of an estate, it is imperative to keep track of all the people who have entered and exited the premises.
Read more...
---