printer friendly version
Common myths, misconceptions and paranoia about information security
November 2008
Cyber Security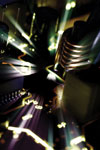 As organisations embark on an information security management programme, they encounter a threat landscape that contains both real and perceived obstacles that distract them from business priorities, according to Gartner. It is the perceived obstacles that cause organisations to direct their security investments to the wrong places, thereby lowering the value of their overall information security programmes.
Gartner research director Andrew Walls said security professionals need to qualify threats that are reasonably anticipated, and dispel those which are pure myths, misconceptions, or based on paranoia of the unknown.
"While change remains constant and threats continue to grow and evolve, we can take stock of the situation and establish an understanding of the threat landscape," said Walls. "What we do know is that we cannot address all possible threats, but we can qualify the threats that are real and identify those that are not. This is an important step towards containing security costs."
Myths, misconceptions and paranoia
According to Gartner, some of the most common myths about security include:
* The hackers are winning.
* Security is a retreating action.
* Data breaches are increasing in frequency.
* Application and operating system security is the responsibility of the vendors and they are working hard to protect us.
* Regulatory compliance covers 100% of the security needs for most organisations.
* Hackers actually help the industry by finding problems and publicising them.
* Security is there to stop business from doing anything.
* Quality of security equals money invested in security infrastructure and personnel.
"Increasing business demand for flexible security services, coupled with an already limited security budget, means that organisations can only afford to focus their resources on real issues," said Walls. "This means the security department must become adept at identifying the real threats to ensure that security becomes an enabler for business innovation, rather than an inhibitor."
Approaching security as a reactionary control will not resolve or minimise the risks, Walls said.
"In fact, tactical responses to changes in threats and business processes can consume the entire security budget but will not enable the business to move ahead in a safe and flexible manner," he said.
Demonstrating security as the business enabler
According to Gartner, security must be viewed as the environmental or hazmat suit for the business. Security should be seen as a tool that can be used to accept risks so that the business can take advantage of market opportunities it was never able to before.
For example, it was previously believed that that the Internet was not a safe environment for conducting business and that wireless networking technologies were not secure. In both instances, the security department created a framework for operating within an understood, managed and accepted risk profile. Today, organisations worldwide depend on the Internet and wireless technologies as primary channels for conducting business.
"Security has been beaten into submission over the last few years by being accused of always saying no and preventing the business from aggressive change and innovation. It is time to regain the trust of the organisation and build understanding of the true role of security within business," said Walls.
According to Gartner, if security is to uphold its position as the business enabler rather than an impediment, its interactions with business stakeholders must:
* Focus on business issues, not security technology and processes.
* Develop realistic security performance expectations with defined metrics.
* Build stakeholder confidence in security management frameworks and practices.
* Promote the redesign of business processes into more secure models.
* Realise that, at the end of the day, security is a costly, but necessary, evil.
Recommendations
While business innovation races ahead, security managers must grapple with expanding regulatory requirements, tight labour markets and shrinking or static security budgets. These pressures are forcing security managers to communicate the truth about the threat landscape, dispel myths and misconceptions, and enable the business to invest in the right security programme.
For more information contact Lisa Lawlor, Gartner Africa, +27 (0)21 790 3526, [email protected]
Further reading:
Cyber resilience is more than cybersecurity
Technews Publishing Cyber Security Integrated Solutions IT infrastructure
Hi-Tech Security Solutions held a round-table discussion focusing on cyber resilience and found that while the resilience discipline includes cybersecurity, it also goes much further.
Read more...
---
Defining the resilience of cybersecurity
Cyber Security Security Services & Risk Management
Cyber resilience is less buzzword and more critical business strategy as the cybercrime landscape grows in intent and intensity.
Read more...
---
How to stay cybersafe on business trips
Cyber Security
No matter where you are in the world, tech-savvy criminals are looking for ways to exploit email addresses, social media profiles, passwords, financial data and stored files.
Read more...
---
The challenge of data safety and availability
Technews Publishing Editor's Choice Cyber Security
Veeam offers backup and recovery software that presents the user with one interface to manage backups to and from almost any platform.
Read more...
---
How safe are your backups?
Technews Publishing Cyber Security
Immutable backups prevent malware from compromising your data and ensure the right data is restored in an emergency when following a four-step backup process.
Read more...
---
Growing cyber resilience portfolio
Technews Publishing Cyber Security
Hi-Tech Security Solutions spoke to Richard Frost, who heads up Armata, to find out what the company offers in terms of cyber resilience.
Read more...
---
Adopting a cyber-secure mindset
Security Services & Risk Management Cyber Security
Adopting a cybersecure mindset is the key to mitigating the risk of falling victim to the growing cybercrime pandemic.
Read more...
---
Advanced technologies to curb corruption
News Cyber Security IT infrastructure
The use of advanced technology to curb fraud, corruption and cyber-related crimes received a massive boost as the Council for Scientific and Industrial Research (CSIR) and Special Investigation Unit (SIU) agreed to work together.
Read more...
---
Reversing the hidden risk of permission creep
Cyber Security
Employees can collect a range of access rights to business systems throughout their tenure. It's a phenomenon called 'permission creep': one of the biggest cybersecurity risks for organisations today.
Read more...
---
Mitigating the risk of zero-day attacks against Microsoft 365
J2 Software Cyber Security
Microsoft 365 servers contain extremely sensitive information and most organisations simply cannot do without it for an extended period of time.
Read more...
---