printer friendly version
Hands-free monitor
November 2008
Access Control & Identity Management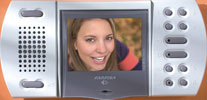 DUO System is Farfisa's most modern philosophy for digital systems. DUO is an efficient and practical video intercom installation, saving time and money. The DUO System uses only two non-polarised wires to carry power, audio, video, command and service signals. The Echos hands-free monitor is now compatible with DUO technology.
System features – single user:
* Single dwelling one or more call buttons to seven intercommunicating monitors.
* Interconnected with a single non-polar twisted pair (Farfisa 2302 cable).
* Intercommunicating function programmed on respective monitor.
* Max distance for colour is 150 metres from door station to furthest monitor.
System features – apartment block:
* 50 monitors per riser (four risers max) 200 monitors per system.
* Distance per riser 150 metres from door station to furthest monitor.
* Multiple door stations.
* Door stations can be digital or pushbutton type.
* Distance can be doubled by using a colour booster.
Aggregated analytics tools
Milestone Systems has announced its Video Analytics Framework, XProtect Analytics 2.0. Part of the Milestone open platform solution, XProtect Analytics integrates video analytics tools from different manufacturers under a single interface.
Using the Milestone tools, users can rapidly search across alerts and events to easily find relevant video evidence about security incidents from multiple sources.
A combination of advanced analytic tools and optimised IP-based video technology based on the Milestone open platform, XProtect Analytics Framework enables video analytics at the edge (on camera) and at the server, minimising processing power and adding value to archived video. With XProtect Analytics users can correlate events from generic tools such as licence plate recognition, facial recognition and traditional realtime access control with alerts from video content analysis tools, such as object detection, etc. Users can build strong, accurate evidence by cross-matching events in realtime and from archived video.
Integrating video analytics with open platform video management systems gives a flexible choice of hardware and software that greatly expands the potential for video analytics and increases the value of archived video. A true open platform solution, such as the Milestone Video Analytics 2.0 Framework, simplifies system operation by integrating a wide variety of video analytics products under one easy-to-manage user interface. This gives a powerful surveillance solution with a flexible IP video management system and a central console for operating, collecting and correlating events from multiple sources.
Further reading:
Paxton opens first experience centre in South Africa
Paxton News Access Control & Identity Management
The new Paxton Experience Centre in Johannesburg is now open and welcoming security installers and end users who want to see Paxton's products in action.
Read more...
---
Securing a luxurious residential estate
Turnstar Systems Residential Estate (Industry) Access Control & Identity Management
Turnstar Systems recently partnered with Balwin Munyaka Residential Estate to secure the entrance to its Crystal Lagoon, ensuring only authorised residents and guests can access the site.
Read more...
---
Visitor management via QR code
ATG Digital Access Control & Identity Management Products
ATG Digital has launched its QR Code Reader to enhance access control's security and efficiency. The new QR Code Reader enables seamless, contactless access control, creating an efficient user journey.
Read more...
---
District secures activity centre
Paxton Access Control & Identity Management Products
Paxton's Net2 access control solution is a user-friendly and flexible networked access control system, which made installing and managing access control security at an activity centre straightforward.
Read more...
---
GardaWorld partners with Gallagher
Gallagher Access Control & Identity Management
Access control via facial recognition was at the top of GardaWorld's wish list, and Gallagher's integration with IDEMIA's VisionPass played a crucial role in delivering a seamless experience.
Read more...
---
ZK-IWB Series
ZKTeco Products Access Control & Identity Management
Experience the ultimate virtual meeting solution with ZKTeco's ZK-IWB system. Featuring a built-in 13-megapixel UHD camera and 6-microphone array, the solution ensures clear audio and video experiences with an 8 metre pickup distance.
Read more...
---
Security for critical industries
ZKTeco Government and Parastatal (Industry) Access Control & Identity Management
The traditional reliance on human observation and physical presence for security is being complemented and, in many cases, replaced by biometric technology to enhance risk management and ensure comprehensive protection.
Read more...
---
Access to nuclear plants
Suprema Access Control & Identity Management
Korea Hydro & Nuclear Power was in need of a fully redundant access control system that should provide enhanced performance while still being able to interoperate with existing equipment.
Read more...
---
Secure your site during outages
Paxton Access Control & Identity Management
The PaxLock Pro range is our collection of wireless, battery powered smart door handles. They are efficiently designed to consume minimal energy to operate, and the batteries generally last around two years.
Read more...
---
Securing data centres and control rooms
Access Control & Identity Management
The demand for data centres and control rooms to store and manage digital information is at an all-time high, however, the rise in cyber threats and physical security risks has raised concerns about how companies can effectively protect these vital infrastructures.
Read more...
---