printer friendly version
Hands-free monitor
November 2008
Access Control & Identity Management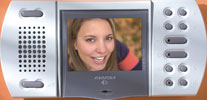 DUO System is Farfisa's most modern philosophy for digital systems. DUO is an efficient and practical video intercom installation, saving time and money. The DUO System uses only two non-polarised wires to carry power, audio, video, command and service signals. The Echos hands-free monitor is now compatible with DUO technology.
System features – single user:
* Single dwelling one or more call buttons to seven intercommunicating monitors.
* Interconnected with a single non-polar twisted pair (Farfisa 2302 cable).
* Intercommunicating function programmed on respective monitor.
* Max distance for colour is 150 metres from door station to furthest monitor.
System features – apartment block:
* 50 monitors per riser (four risers max) 200 monitors per system.
* Distance per riser 150 metres from door station to furthest monitor.
* Multiple door stations.
* Door stations can be digital or pushbutton type.
* Distance can be doubled by using a colour booster.
Aggregated analytics tools
Milestone Systems has announced its Video Analytics Framework, XProtect Analytics 2.0. Part of the Milestone open platform solution, XProtect Analytics integrates video analytics tools from different manufacturers under a single interface.
Using the Milestone tools, users can rapidly search across alerts and events to easily find relevant video evidence about security incidents from multiple sources.
A combination of advanced analytic tools and optimised IP-based video technology based on the Milestone open platform, XProtect Analytics Framework enables video analytics at the edge (on camera) and at the server, minimising processing power and adding value to archived video. With XProtect Analytics users can correlate events from generic tools such as licence plate recognition, facial recognition and traditional realtime access control with alerts from video content analysis tools, such as object detection, etc. Users can build strong, accurate evidence by cross-matching events in realtime and from archived video.
Integrating video analytics with open platform video management systems gives a flexible choice of hardware and software that greatly expands the potential for video analytics and increases the value of archived video. A true open platform solution, such as the Milestone Video Analytics 2.0 Framework, simplifies system operation by integrating a wide variety of video analytics products under one easy-to-manage user interface. This gives a powerful surveillance solution with a flexible IP video management system and a central console for operating, collecting and correlating events from multiple sources.
Further reading:
Heightening physical security at military base
Turnstar Systems Access Control & Identity Management Government and Parastatal (Industry) Products
Turnstar Systems recently installed two 3-metre Velocity Raptor traffic spikes at the South African National Defence Force (SANDF) Randfontein military base on Gauteng's West Rand.
Read more...
---
Zero Trust to dominate 2023
Cyber Security Access Control & Identity Management
Traditional ways of safeguarding data are no longer sufficient in 2023. Zero Trust has emerged as a more proactive way for businesses to keep their systems, data, and networks protected against compromise.
Read more...
---
Turnstar opens an office in the UK
Turnstar Systems News Access Control & Identity Management
Turnstar Systems recently established an office in the Greater Manchester borough in the North East of England, as part of the company's ongoing expansion strategy.
Read more...
---
Enkulu Technologies to distribute Brazil's Control iD
News Access Control & Identity Management Products
Enkulu Technologies has been appointed as the first South African distributor of Control iD products; a Brazilian company offering a T&A range of solutions based on its range of biometric products.
Read more...
---
HID Technology Seminar
Technews Publishing HID Global News Access Control & Identity Management Products
HID Global's technology seminar introduced partners and distributors to the company's new Signo range of readers and highlighted the benefits and global growth of mobile access credentials.
Read more...
---
Celebrating a successful year
Gallagher Technews Publishing News Access Control & Identity Management Products
Gallagher Security hosted an end-of year event at the Steyn City Equestrian Centre in which it thanked its partners for another successful year and provided a glimpse into what the company will be releasing in 2023.
Read more...
---
Innovation and service, 37 years and counting
Technews Publishing Impro Technologies Access Control & Identity Management Integrated Solutions
Innovation, simplicity and trust underpin the nearly 40 years of success of local access control brand, Impro Technologies, which is still run as an independent entity despite being acquired by ASSA ABLOY in 2016.
Read more...
---
Access control for one of Britain's oldest boarding schools
Access Control & Identity Management Education (Industry) Products
In 2022, Christ's Hospital School, which hosts 18 boarding houses on site, needed to replace its access control security system with a new solution that would be simple to manage and maintain.
Read more...
---
Improving safety and security
Gallagher Education (Industry) Access Control & Identity Management Integrated Solutions
Education facilities have more than enough to deal with when it comes to allocating budget. Security often seems to be the last item on the agenda but is more important than ever.
Read more...
---
Putting the customer first
Gallagher Access Control & Identity Management
Gallagher predicts the global market will remain difficult for businesses throughout 2023, but believes that its customer-centric strategy will help the company to innovate its way to delivering outstanding value to customers, despite a challenging economy.
Read more...
---