printer friendly version
ID by colour
November 2008
Access Control & Identity Management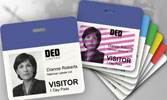 Identification of staff and visitors is the first line of defence when maintaining secure premises. Many companies have implemented ID badging solutions but ensuring the validity of the cards in circulation at any given time can be problematic, creating a potential security threat.
As a local supplier of secure people identification solutions Brand New Technologies is now able to offer the answer to this problem. According to Danica Laxton, Brand New sales and marketing director, the task of ordering and implementing a visitor management ID badging system is easier and safer than ever before with the introduction of the TEMPbadge time expiring badge technology from Brady People ID.
"The TEMPbadge is superior to any other temporary ID badge as it allows security personnel to issue time expiring badges based on specific time durations, with the temporary ID badge changing colour when it is no longer valid," explains Laxton. "Depending on the expiration period you choose, the badge will remain white for the duration of that allotted time before the colour change begins. For example, a one day expiring TEMPbadge issued in the morning will reveal light pink bars by late afternoon and darker pink bars within one day, clearly indicating an unmistakable visual expiration."
'TempBadges' consist of two parts. The front part is a 70 mm x 50 mm thermal label available in four pre-determined time frames, half day, one day, one week or one month. The back part of the TempBadge is pre-printed with red stripes in time release ink which reacts to the label when the two come into contact with each other. Stick the two parts together and time will take care of the rest! The colour change is a gradual process which cannot be reversed and when complete the red stripes will show through to the label.
Badges are quick and easy to produce, using different designs for contractors, permanent and temporary staff and visitors. Details on the cards can be either written manually or printed on any thermal printer.
"The TEMPbadge Solution is fast, easy to implement and extremely cost effective making it perfect for a wide range of applications from schools to the military. Innovative pre-packaged kits are available to provide customers with a positive experience when managing a badging system. In content and method, the new pre-packaged kits offer unmatched value and deliver a badging solution that is nothing short of visitor management in a box," concludes Laxton.
Further reading:
Revamping Liberty Life's reception area
Turnstar Systems Access Control & Identity Management Commercial (Industry)
Turnstar supplied and installed four Speedgate Express lanes, each 550 mm wide, as well as two Pulse Special Needs Gates for wheelchair access to Liberty Life.
Read more...
---
Hybrid licence plate recognition
ZKTeco Products Access Control & Identity Management Transport (Industry) Logistics (Industry)
The ZKTeco LPRS2000 is a hybrid-recognition vehicle management terminal that combines the latest high-performance UHF reader.
Read more...
---
Suprema joins FiRa Consortium
Suprema News Access Control & Identity Management
Suprema recently became a member of the FiRa Consortium, a consultative body that establishes standards for ultra-wideband (UWB) technology, the next generation of wireless communication.
Read more...
---
Physical security at distribution centre
Turnstar Systems Transport (Industry) Access Control & Identity Management Products Logistics (Industry)
Turnstar's Velocity Raptors create a high-security physical barrier at Massmart's new 75 000 m2 distribution centre in Riversands, Johannesburg .
Read more...
---
Integrated smart parking management
ZKTeco Access Control & Identity Management Transport (Industry) Products Logistics (Industry)
ZKTeco smart parking management provides a solution for both small parking lots and busy multi-story car parks, providing maximum efficiency, transparency and security.
Read more...
---
UHF RFID standalone terminal
ZKTeco Products Access Control & Identity Management Transport (Industry) Logistics (Industry)
The U2000 increases access control functions and supports TCP/IP communication, Wiegand in/out, two relays, third-party electric locks, door sensors and exit buttons.
Read more...
---
PALMKI palm vein recognition technology
Access Control & Identity Management Products
Tactile Technologies has announced the launch of Palmki, a palm vein recognition solution developed and marketed by PerfectID, a Belgian company.
Read more...
---
ATG Digital launches solution for emergencies
Access Control & Identity Management Asset Management, EAS, RFID
ATG Digital has launched a Roll Call feature on its app to assist SHEQ managers and safety officers who cite attendance records in an emergency as one of their biggest challenges.
Read more...
---
UHF and Bluetooth multi-technology reader
Evolving Management Solutions Products Access Control & Identity Management
The SPECTRE nano offers hands-free identification of the vehicle and/or the driver, as well as interoperable and multi-protocol secure identification.
Read more...
---
Identity proofing allows easy virtual ID checks
Access Control & Identity Management Security Services & Risk Management
The identity verification market is expected to grow from $8 billion in 2021 to reach $17,7 billion in 2026 with a CAGR of 17,1%, and identity proofing in particular is gaining popularity.
Read more...
---