printer friendly version
ID by colour
November 2008
Access Control & Identity Management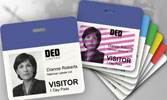 Identification of staff and visitors is the first line of defence when maintaining secure premises. Many companies have implemented ID badging solutions but ensuring the validity of the cards in circulation at any given time can be problematic, creating a potential security threat.
As a local supplier of secure people identification solutions Brand New Technologies is now able to offer the answer to this problem. According to Danica Laxton, Brand New sales and marketing director, the task of ordering and implementing a visitor management ID badging system is easier and safer than ever before with the introduction of the TEMPbadge time expiring badge technology from Brady People ID.
"The TEMPbadge is superior to any other temporary ID badge as it allows security personnel to issue time expiring badges based on specific time durations, with the temporary ID badge changing colour when it is no longer valid," explains Laxton. "Depending on the expiration period you choose, the badge will remain white for the duration of that allotted time before the colour change begins. For example, a one day expiring TEMPbadge issued in the morning will reveal light pink bars by late afternoon and darker pink bars within one day, clearly indicating an unmistakable visual expiration."
'TempBadges' consist of two parts. The front part is a 70 mm x 50 mm thermal label available in four pre-determined time frames, half day, one day, one week or one month. The back part of the TempBadge is pre-printed with red stripes in time release ink which reacts to the label when the two come into contact with each other. Stick the two parts together and time will take care of the rest! The colour change is a gradual process which cannot be reversed and when complete the red stripes will show through to the label.
Badges are quick and easy to produce, using different designs for contractors, permanent and temporary staff and visitors. Details on the cards can be either written manually or printed on any thermal printer.
"The TEMPbadge Solution is fast, easy to implement and extremely cost effective making it perfect for a wide range of applications from schools to the military. Innovative pre-packaged kits are available to provide customers with a positive experience when managing a badging system. In content and method, the new pre-packaged kits offer unmatched value and deliver a badging solution that is nothing short of visitor management in a box," concludes Laxton.
Further reading:
Biometrics: the game changer in access control
November 2019, IDEMIA , Access Control & Identity Management
For security managers, the question is no longer, should I use biometrics, but rather, which biometrics should I use.
Read more...
---
ViRDI UBio Tab 5
November 2019 , Access Control & Identity Management
ViRDI Distribution SA (ViRDI Africa) has announced the release of its long-awaited UBio Tablet to the South African market.
Read more...
---
Cloud-based access control
November 2019, Elvey Security Technologies , Access Control & Identity Management
Hattrix is a flexible and scalable security platform that marks a shift toward outsourcing security, similar to other services such as IT, HR, and legal services.
Read more...
---
Transforming secure access for SMEs
November 2019, dormakaba South Africa , Access Control & Identity Management
The dormakaba Matrix One access solution is an off-the-shelf access offering that is easy to use, completely secure and browser-based, making it accessible from anywhere in the world.
Read more...
---
Manage remote transmitters via GSM
November 2019, ET Nice , Access Control & Identity Management
ET Nice has released a new solution to set up and manage remote transmitters online and monitor access equipment via GSM.
Read more...
---
Secure hands-free access
November 2019, Suprema , Access Control & Identity Management
Suprema's facial biometric terminals bring no-touch access into secure residential estates, high-rise apartments and luxury homes providing fast, easy and intuitive user authentication with the added benefit of hygiene.
Read more...
---
There's an app for gate configuration
November 2019, CAME BPT South Africa , Access Control & Identity Management
CAME KEY is a new generation of working tool for gate automation, allowing setup and configuration from a mobile app.
Read more...
---
Enhanced biometric technology for mines
September 2019, ZKTeco , Mining (Industry), Access Control & Identity Management
Biometric identification and authentication are currently used at various mines in South Africa and in the SADC region.
Read more...
---
Improving access in mines
October 2019, Astra Fasteners , Mining (Industry), Access Control & Identity Management, Products
The VP1 controller provides full access control and remote monitoring of intelligent locks without having to wire into a network or install, manage and maintain software.
Read more...
---
Invixium and Pyro-Tech partner in South Africa
October 2019 , News, Access Control & Identity Management
Invixium, a manufacturer of IP-based biometric solutions and Pyro-Tech Security Suppliers have announced a new distribution partnership.
Read more...
---