printer friendly version
ID by colour
November 2008
Access Control & Identity Management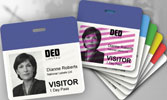 Identification of staff and visitors is the first line of defence when maintaining secure premises. Many companies have implemented ID badging solutions but ensuring the validity of the cards in circulation at any given time can be problematic, creating a potential security threat.
As a local supplier of secure people identification solutions Brand New Technologies is now able to offer the answer to this problem. According to Danica Laxton, Brand New sales and marketing director, the task of ordering and implementing a visitor management ID badging system is easier and safer than ever before with the introduction of the TEMPbadge time expiring badge technology from Brady People ID.
"The TEMPbadge is superior to any other temporary ID badge as it allows security personnel to issue time expiring badges based on specific time durations, with the temporary ID badge changing colour when it is no longer valid," explains Laxton. "Depending on the expiration period you choose, the badge will remain white for the duration of that allotted time before the colour change begins. For example, a one day expiring TEMPbadge issued in the morning will reveal light pink bars by late afternoon and darker pink bars within one day, clearly indicating an unmistakable visual expiration."
'TempBadges' consist of two parts. The front part is a 70 mm x 50 mm thermal label available in four pre-determined time frames, half day, one day, one week or one month. The back part of the TempBadge is pre-printed with red stripes in time release ink which reacts to the label when the two come into contact with each other. Stick the two parts together and time will take care of the rest! The colour change is a gradual process which cannot be reversed and when complete the red stripes will show through to the label.
Badges are quick and easy to produce, using different designs for contractors, permanent and temporary staff and visitors. Details on the cards can be either written manually or printed on any thermal printer.
"The TEMPbadge Solution is fast, easy to implement and extremely cost effective making it perfect for a wide range of applications from schools to the military. Innovative pre-packaged kits are available to provide customers with a positive experience when managing a badging system. In content and method, the new pre-packaged kits offer unmatched value and deliver a badging solution that is nothing short of visitor management in a box," concludes Laxton.
Further reading:
Paxton opens first experience centre in South Africa
Paxton News Access Control & Identity Management
The new Paxton Experience Centre in Johannesburg is now open and welcoming security installers and end users who want to see Paxton's products in action.
Read more...
---
Securing a luxurious residential estate
Turnstar Systems Residential Estate (Industry) Access Control & Identity Management
Turnstar Systems recently partnered with Balwin Munyaka Residential Estate to secure the entrance to its Crystal Lagoon, ensuring only authorised residents and guests can access the site.
Read more...
---
Visitor management via QR code
ATG Digital Access Control & Identity Management Products
ATG Digital has launched its QR Code Reader to enhance access control's security and efficiency. The new QR Code Reader enables seamless, contactless access control, creating an efficient user journey.
Read more...
---
District secures activity centre
Paxton Access Control & Identity Management Products
Paxton's Net2 access control solution is a user-friendly and flexible networked access control system, which made installing and managing access control security at an activity centre straightforward.
Read more...
---
GardaWorld partners with Gallagher
Gallagher Access Control & Identity Management
Access control via facial recognition was at the top of GardaWorld's wish list, and Gallagher's integration with IDEMIA's VisionPass played a crucial role in delivering a seamless experience.
Read more...
---
ZK-IWB Series
ZKTeco Products Access Control & Identity Management
Experience the ultimate virtual meeting solution with ZKTeco's ZK-IWB system. Featuring a built-in 13-megapixel UHD camera and 6-microphone array, the solution ensures clear audio and video experiences with an 8 metre pickup distance.
Read more...
---
Security for critical industries
ZKTeco Government and Parastatal (Industry) Access Control & Identity Management
The traditional reliance on human observation and physical presence for security is being complemented and, in many cases, replaced by biometric technology to enhance risk management and ensure comprehensive protection.
Read more...
---
Access to nuclear plants
Suprema Access Control & Identity Management
Korea Hydro & Nuclear Power was in need of a fully redundant access control system that should provide enhanced performance while still being able to interoperate with existing equipment.
Read more...
---
Secure your site during outages
Paxton Access Control & Identity Management
The PaxLock Pro range is our collection of wireless, battery powered smart door handles. They are efficiently designed to consume minimal energy to operate, and the batteries generally last around two years.
Read more...
---
Securing data centres and control rooms
Access Control & Identity Management
The demand for data centres and control rooms to store and manage digital information is at an all-time high, however, the rise in cyber threats and physical security risks has raised concerns about how companies can effectively protect these vital infrastructures.
Read more...
---