printer friendly version
IP CCTV for South Wales
November 2008
CCTV, Surveillance & Remote Monitoring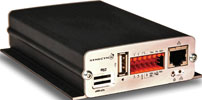 Located on the borders of the Brecon Beacons and within easy reach of Wales' capital city, the borough of Torfaen has a population of around 91 000, spread throughout picturesque South Wales. In the centre of Torfaen is the county town of Pontypool, from where Torfaen County Borough Council conducts its administrative function.
To keep apace with the development of the area and its increasing population, Torfaen County Borough Council decided to invest in a progressive CCTV monitoring system, specifying one that had the flexibility to be easily expandable across the borough's many rural towns, when and if necessary.
Meeting the challenge
Turning to integration specialists AVA Security Communications for guidance, Torfaen Council's specific requirements were met with an IP-based CCTV surveillance solution, from Synectics Security Networks. Based on Synectics' new Virtual Matrix Solution (VMS), at its core is an IP version of the SynergyPro software control system, located at Torfaen Council's Civic Centre offices. Equipped with dual TFT screens, the Synergy VMS enables an operator to select and control cameras in the conventional manner, with a familiar spot image displayed on a TFT screen, and camera images automatically routed to an adjacent display monitor.
Synectics' third-party interfacing skills have enabled multiple manufacturers' command protocols to be integrated within a single control system, affording Torfaen operators fluid control of PTZ camera functionality, this has facilitated the seamless integration of Vista Power Domes throughout Blaenavon, with further remote towns scheduled to join the network in the coming months.
Network advantages
Encoding of camera signals onto the council's own high-speed network is achieved by the use of Synectics single channel e100 encoders, situated at each camera. A compact, power-efficient device, the e100 has been designed to extend the functionality and inter-operability of fully integrated IP surveillance and video management systems, ensuring a cost effective migration from analogue camera video to digital networks.
At the forefront of single channel, video-over-IP technology, e100 encoders are providing the Torfaen IP CCTV network with video quality and performance up to full broadcast quality (8 Mbps), full resolution (D1) and full frame rate (25 fps PAL), whilst providing a non-disruptive presence on the council's mission-critical IT network.
Richard Beynon, technical director of AVA Security Communications, explains the benefits of deploying Synectics' e100 encoder technology: "Because the e100 is fully customisable, both resolution and frame rate can be adjusted on a channel by channel basis, to meet with customers' specific requirements. This provides Torfaen system managers with the ability to reduce image frame rates and resolutions if more network bandwidth is required, for additional council data transmission or further camera additions to the network."
One of the most important requirements of the Virtual Matrix System is the ability to control networked PTZ cameras without operator detectable latency. The e100 is able to deliver H.264 encoded video to the network in less than 100 ms; meaning Torfaen operators are able to take effective control of the Vista Power Dome and Metal Mickey MIC1 cameras over the IP network, with no detectable control latency.
Total flexibility
The storage of valuable camera footage from the network is entrusted to Synectics PSN storage units, again situated in Pontypool's Civic Centre. Enabling configuration and management of each individual channel's frame rates, image resolutions and quality, each Synectics PSN delivers a flexible and safe storage solution. Configured for realtime recording, each PSN can also be configured for time-lapse frame rates, or Synectics Time-Lapse Later system, allowing a progressive reduction in resolution, the longer the data is stored and the less evidential value it contains. The Synectics VMS also provides further resilience to each of Torfean's storage servers via its built-in functional diagnostic's watchdog that operates to component level, in addition to full auto restart capability. This feature protects valuable evidential data in the event of a catastrophic failure, such as power loss.
Should an incident under surveillance result in a prosecution, the VMS ensures every video channel from each of the network's cameras is authenticated to 128 bit using MD5 hashing, guaranteeing the integrity of the data retained and validating it throughout its evidential life. Instantly downloadable to third-party media, such as DVD, the evidential footage can be taken away by investigating officers for further prosecutional investigation off-site and used for evidence.
Effective technology
Commenting on the success of the Torfaen network, Richard Beynon enthuses, "Torfaen Council now enjoys a system configured exactly for its specific needs, and one which is expandable across the county at minimum cost. Specifying a traditional CCTV system would have involved laying a complicated cable network; a time consuming and expensive process, and one that would have involved a great amount of infrastructure disruption amongst picturesque and historically important villages. Using the Synergy Virtual Matrix System, managers simply have to mount the cameras and join them to the network."
Torfaen Council plans to take full advantage of this easy expandability with a programme already in place, to roll out the system to multiple towns in the area.
For more information contact Philip Longley, Synectics Security Networks, 0114 255 2509, philip.longley@synx.com
Further reading:
Smart water management
Axis Communications SA CCTV, Surveillance & Remote Monitoring Integrated Solutions
South Africa is currently facing a water crisis, with scarcity and inefficient water management posing significant challenges to sustainable, consistent access to water. Smart technology and powerful partnerships may offer a proactive solution to SA's water crisis.
Read more...
---
Helping retailers optimise monitoring and security
Guardian Eye Retail (Industry) CCTV, Surveillance & Remote Monitoring
From a smart retail perspective, it is crucial to understand that monitoring stock and other assets through camera surveillance and a variety of Internet of Things (IoT) sensors stretches further than the stores themselves.
Read more...
---
Empowering Istanbul's public transportation
Dahua Technology South Africa CCTV, Surveillance & Remote Monitoring Integrated Solutions
Dahua's intelligent transportation solution, using technologies like DSM and AI-based passenger flow counting, has facilitated an intelligent system upgrade for nearly 6 400 minibuses and electric buses in Istanbul.
Read more...
---
Smart manufacturing redefined
Hikvision South Africa CCTV, Surveillance & Remote Monitoring Industrial (Industry)
AI and intuitive visualisation technology allows managers to monitor manufacturing sites, production, and operational processes, and to respond in real time in the event of an issue – helping to drive efficiency and productivity.
Read more...
---
AI is getting smarter, and critical infrastructure is set to benefit
Axis Communications SA CCTV, Surveillance & Remote Monitoring
With technology advancing at an astonishing pace, AI has emerged as a defining trend in today's business arena. Enterprises across all sectors are prioritising this technology, embracing its transformative potential to drive change and growth.
Read more...
---
Collaboration delivers integrated and holistic security
Guardian Eye CCTV, Surveillance & Remote Monitoring News Integrated Solutions
Guardian Eye and Lytehouse have partnered to integrate their speciality solutions and provide a holistic security offering that overcomes the fragmentation of security systems and services.
Read more...
---
Manage security systems remotely
Hikvision South Africa CCTV, Surveillance & Remote Monitoring IT infrastructure Products
Hikvision launched a new generation of smart managed switches that, in conjunction with the Hik-Partner Pro mobile app, enable installers to remotely deploy and configure security systems with comprehensive operation and maintenance capabilities.
Read more...
---
Synology enhances functions for advanced surveillance integration
Technews Publishing CCTV, Surveillance & Remote Monitoring IT infrastructure Products
With the capability to function as both an API client and server, Surveillance Station offers a versatile platform for integration, whether it's embedding video streams into other platforms or overlaying external data onto recorded video.
Read more...
---
SMART Surveillance Conference 2023
Technews Publishing Editor's Choice CCTV, Surveillance & Remote Monitoring Conferences & Events
Some people think the future is all about cloud technologies, but the SMART Surveillance conference demonstrated that AI is making edge surveillance much more attractive, over distributed sites, than ever before.
Read more...
---
Supporting CCTV intelligence with small and big data
Leaderware Editor's Choice CCTV, Surveillance & Remote Monitoring
The increasing development of AI and its role in enhancing investigation-led surveillance, and the increasing capacity of control rooms and local analysts to deliver data in return, can increase the synergy between intelligence and surveillance.
Read more...
---