printer friendly version
IP-CCTV for busy rail network
November 2008
CCTV, Surveillance & Remote Monitoring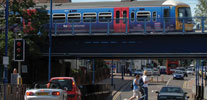 IndigoVision and its UK Partner ATEC Security have devised a successful solution for a massive new IP-based video surveillance, recording and transmission system on the UK's busiest rail network operating between London, Brighton, Bedford, Peterborough, Cambridge and King's Lynn, and managed by First Capital Connect (FCC), one of the UK's newest train operating companies.
The project involved upgrading 1194 existing analogue CCTV cameras across 63 train stations, which are now all monitored at a new central control room at Enfield, using FCC's existing network infrastructure.
John Loftus, managing director of Norbain, IndigoVision's partner in Africa, comments: "The success of this enormous project demonstrates that large-scale transport systems can now be cost-effectively secured – which is highly relevant to the South African transport situation where crime is a pressing issue both for commuters and operators."
The FCC project is just one of many large-scale infrastructure projects that IndigoVision has deployed for the rail industry, including the Berlin S-Bahn, the Dutch National Rail network and the 900+ camera system for SkyTrain, the world's largest automated light rapid transit system in Vancouver, Canada.
The first challenge was to integrate various local, independently monitored analogue CCTV systems to monitor and manage them centrally. In addition, the existing CCTV systems had to remain operational while the new IP-based solution was installed. Multiple video streams from each camera can be configured for different applications, for example, high-frame rate/high-bandwidth for recording and local viewing and low bandwidth for remote monitoring over the WAN. Loftus comments: "IndigoVision's advanced compression and bandwidth management technology were vital for the success of a project of this size."
Control Centre, IndigoVision's enterprise IP Video and alarm management software, is used by operators, both locally and in the central control room to view and analyse live and recorded video. A Control Centre workstation can be located at any point on the network and allow an operator with the right permissions to view video from any camera or NVR no matter where they are located. "This is where cost-effectiveness comes into play. Because Control Centre software is licence-free, workstations cost no more than an entry-level PC," explains Loftus.
Extensive research and development by ATEC Security resulted in a new server platform that enabled over 100 IndigoVision Windows-based network video recorders (NVRs) to be installed at the 63 train stations and throughout the network, providing 31 days of recording using a total of 473 terabytes of RAID 5 storage. Loftus adds: "Another significant benefit of the new server platform is the special configurations that allow physical disks to be quickly and safely replaced in the event of a major incident. This is important because only the very highest quality video is suitable for evidential analysis and investigation by police and other agencies."
All cameras (947 fixed and 95 PTZ) are connected to an IndigoVision 8000 IP Video transmitter/receiver module. The 8000 converts the analogue feed to DVD quality MPEG-4 digital video for transmission over the network. IndigoVision's advanced compression technology allows high quality, low-latency video to be transmitted around the network using FCC's existing WAN. The combination of the network and Control Centre creates a virtual matrix that allows video feeds to be switched to any workstation or NVR. This replaces the many original local analogue hardware matrices and removes the 'islands of video' that have come to represent the fundamental shortcoming of large-scale analogue CCTV systems.
For more information contact Michelle Korff, marketing/HR manager, Norbain, +27 (0)11 887 1546, www.norbain.co.za
Credit(s)
Further reading:
Drones and cybersecurity?
October 2019 , CCTV, Surveillance & Remote Monitoring
Hacker drones can eavesdrop electronically on conversations, can perform network attacks, or can create fake wireless access points.
Read more...
---
Body-worn cameras transforming security
October 2019 , CCTV, Surveillance & Remote Monitoring, Security Services & Risk Management
Police Service Northern Ireland now has over 7 000 officers using 2 500 cameras covering approximately 173 000 incidents each year.
Read more...
---
Camera Selection Guide 2019
CCTV Handbook 2019 , CCTV, Surveillance & Remote Monitoring
The Camera Selection Guide 2019 includes a range of IP, analogue, thermal and speciality cameras aimed at a broad range of surveillance functions.
Read more...
---
Intelligent analytics and the brains to match
September 2019, Bosch Building Technologies , CCTV, Surveillance & Remote Monitoring, Integrated Solutions
What if the brains behind our security cameras could be trained to improve their cognitive ability to pay attention, learn, and problem-solve according to specific rules and situations?
Read more...
---
AI-powered autonomous Drone-in-a-Box
September 2019 , CCTV, Surveillance & Remote Monitoring, Integrated Solutions
Organisations in the mining, energy and industrial, oil and gas, ports and terminals sectors can optimise security and business operations, whilst reducing risks and operational costs
Read more...
---
Cybersecurity for video surveillance systems
September 2019, Mobotix , Cyber Security, CCTV, Surveillance & Remote Monitoring
Video surveillance systems are increasingly accessible over any IP network, which has led to the rise of potential cyberattack.
Read more...
---
What are the cybersecurity issues in video surveillance?
November 2019, Axis Communications SA , Editor's Choice, CCTV, Surveillance & Remote Monitoring, Cyber Security
he importance of the data captured by surveillance cameras – and what can be done with it – has led to a new breed of cybercriminals, looking for insights to steal and sell.
Read more...
---
The safe city and its need for interoperability
November 2019 , Integrated Solutions, CCTV, Surveillance & Remote Monitoring
Interoperability continues to present one of the greatest challenges, particularly with video management systems, video recording devices and cameras.
Read more...
---
A platform approach to safer and smarter cities
November 2019, Milestone Systems , CCTV, Surveillance & Remote Monitoring
Selecting the right platform to manage the vast data collected from smart and safe cities is critical to the ultimate success of the project.
Read more...
---
Creating safe cities with smart technology
November 2019, Secutel Technologies , CCTV, Surveillance & Remote Monitoring
In a digital age, where resilience and responsiveness are paramount to fighting crime and creating a safer world, CCTV systems are becoming part of every city's infrastructure.
Read more...
---