printer friendly version
IP-CCTV for busy rail network
November 2008
CCTV, Surveillance & Remote Monitoring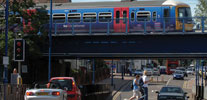 IndigoVision and its UK Partner ATEC Security have devised a successful solution for a massive new IP-based video surveillance, recording and transmission system on the UK's busiest rail network operating between London, Brighton, Bedford, Peterborough, Cambridge and King's Lynn, and managed by First Capital Connect (FCC), one of the UK's newest train operating companies.
The project involved upgrading 1194 existing analogue CCTV cameras across 63 train stations, which are now all monitored at a new central control room at Enfield, using FCC's existing network infrastructure.
John Loftus, managing director of Norbain, IndigoVision's partner in Africa, comments: "The success of this enormous project demonstrates that large-scale transport systems can now be cost-effectively secured – which is highly relevant to the South African transport situation where crime is a pressing issue both for commuters and operators."
The FCC project is just one of many large-scale infrastructure projects that IndigoVision has deployed for the rail industry, including the Berlin S-Bahn, the Dutch National Rail network and the 900+ camera system for SkyTrain, the world's largest automated light rapid transit system in Vancouver, Canada.
The first challenge was to integrate various local, independently monitored analogue CCTV systems to monitor and manage them centrally. In addition, the existing CCTV systems had to remain operational while the new IP-based solution was installed. Multiple video streams from each camera can be configured for different applications, for example, high-frame rate/high-bandwidth for recording and local viewing and low bandwidth for remote monitoring over the WAN. Loftus comments: "IndigoVision's advanced compression and bandwidth management technology were vital for the success of a project of this size."
Control Centre, IndigoVision's enterprise IP Video and alarm management software, is used by operators, both locally and in the central control room to view and analyse live and recorded video. A Control Centre workstation can be located at any point on the network and allow an operator with the right permissions to view video from any camera or NVR no matter where they are located. "This is where cost-effectiveness comes into play. Because Control Centre software is licence-free, workstations cost no more than an entry-level PC," explains Loftus.
Extensive research and development by ATEC Security resulted in a new server platform that enabled over 100 IndigoVision Windows-based network video recorders (NVRs) to be installed at the 63 train stations and throughout the network, providing 31 days of recording using a total of 473 terabytes of RAID 5 storage. Loftus adds: "Another significant benefit of the new server platform is the special configurations that allow physical disks to be quickly and safely replaced in the event of a major incident. This is important because only the very highest quality video is suitable for evidential analysis and investigation by police and other agencies."
All cameras (947 fixed and 95 PTZ) are connected to an IndigoVision 8000 IP Video transmitter/receiver module. The 8000 converts the analogue feed to DVD quality MPEG-4 digital video for transmission over the network. IndigoVision's advanced compression technology allows high quality, low-latency video to be transmitted around the network using FCC's existing WAN. The combination of the network and Control Centre creates a virtual matrix that allows video feeds to be switched to any workstation or NVR. This replaces the many original local analogue hardware matrices and removes the 'islands of video' that have come to represent the fundamental shortcoming of large-scale analogue CCTV systems.
For more information contact Michelle Korff, marketing/HR manager, Norbain, +27 (0)11 887 1546, www.norbain.co.za
Credit(s)
Further reading:
Turkish university installs IDIS surveillance
CCTV, Surveillance & Remote Monitoring Products
IDIS video streamlines complex surveillance systems for learning institution, upgrading a 350-camera system with 24/7 control room monitoring to transform security for Social Sciences University of Ankara (ASBU).
Read more...
---
Brighter, greener, and smarter
Dahua Technology South Africa Products CCTV, Surveillance & Remote Monitoring
Dahua Technology released its new Dahua CH II Series Indoor Fine Pixel Pitch LED display, providing visual clarity and promoting energy efficiency and sustainability.
Read more...
---
Smart water management
Axis Communications SA CCTV, Surveillance & Remote Monitoring Integrated Solutions
South Africa is currently facing a water crisis, with scarcity and inefficient water management posing significant challenges to sustainable, consistent access to water. Smart technology and powerful partnerships may offer a proactive solution to SA's water crisis.
Read more...
---
Helping retailers optimise monitoring and security
Guardian Eye Retail (Industry) CCTV, Surveillance & Remote Monitoring
From a smart retail perspective, it is crucial to understand that monitoring stock and other assets through camera surveillance and a variety of Internet of Things (IoT) sensors stretches further than the stores themselves.
Read more...
---
Empowering Istanbul's public transportation
Dahua Technology South Africa CCTV, Surveillance & Remote Monitoring Integrated Solutions
Dahua's intelligent transportation solution, using technologies like DSM and AI-based passenger flow counting, has facilitated an intelligent system upgrade for nearly 6 400 minibuses and electric buses in Istanbul.
Read more...
---
Smart manufacturing redefined
Hikvision South Africa CCTV, Surveillance & Remote Monitoring Industrial (Industry)
AI and intuitive visualisation technology allows managers to monitor manufacturing sites, production, and operational processes, and to respond in real time in the event of an issue – helping to drive efficiency and productivity.
Read more...
---
AI is getting smarter, and critical infrastructure is set to benefit
Axis Communications SA CCTV, Surveillance & Remote Monitoring
With technology advancing at an astonishing pace, AI has emerged as a defining trend in today's business arena. Enterprises across all sectors are prioritising this technology, embracing its transformative potential to drive change and growth.
Read more...
---
Collaboration delivers integrated and holistic security
Guardian Eye CCTV, Surveillance & Remote Monitoring News Integrated Solutions
Guardian Eye and Lytehouse have partnered to integrate their speciality solutions and provide a holistic security offering that overcomes the fragmentation of security systems and services.
Read more...
---
Manage security systems remotely
Hikvision South Africa CCTV, Surveillance & Remote Monitoring IT infrastructure Products
Hikvision launched a new generation of smart managed switches that, in conjunction with the Hik-Partner Pro mobile app, enable installers to remotely deploy and configure security systems with comprehensive operation and maintenance capabilities.
Read more...
---
Synology enhances functions for advanced surveillance integration
Technews Publishing CCTV, Surveillance & Remote Monitoring IT infrastructure Products
With the capability to function as both an API client and server, Surveillance Station offers a versatile platform for integration, whether it's embedding video streams into other platforms or overlaying external data onto recorded video.
Read more...
---