printer friendly version
NVT secures Jordan's City Mall
November 2008
CCTV, Surveillance & Remote Monitoring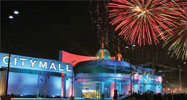 City Mall, Jordan's premier family shopping sphere, has been secured with a comprehensive CCTV installation featuring high-resolution, realtime CCTV monitoring via NVT UTP video transmission technology.
Boasting 160 000 square metres of retail and entertainment space and parking for over 2400 vehicles, City Mall is spread over four floors, offering a range of international brand outlets, restaurants, coffee shops, a 10-screen cinema and a large family entertainment zone.
The centre has drawn many top brands to the country for the first time and is designed to provide visitors with a world-class shopping, dining and entertainment experience – something the City Mall's management seek to nurture. Key to the building of this customer relationship and their feeling of relaxation and security within the mall, is comprehensive security management, central to which is a 250-camera surveillance system.
From the on-site control room, operators can view images from the camera network, where high-resolution camera images are distributed via an NVT UTP video network for monitoring at three operator positions. Cameras cover all aspects of the shopping centre, both inside and out, relaying images from the general public space areas, including walkways, atriums and balconies, as well as the internal areas of individual retail and restaurant outlets, and expansive car parks.
With such a comprehensive camera network relaying images critical to the daily business of the mall, management required a robust transmission method that would deliver high-quality, realtime images to the control room, for monitoring and digital archiving via multiple DVR recorders, all without impacting on the critical infrastructure servicing the rest of the site. Haider Dajani, managing director of Ideal Trading Group explains: "Specifying NVT UTP video transmission gave us great flexibility and afforded the installation of a UTP multipair CCTV backbone in the centre, carried out by electrical contractors during the building of the mall. Running alongside other services, the unique interference rejection capabilities of the NVT product afforded a high-performance surveillance system that would deliver the quality of signal demanded by the DVR system used to archive images for 30 days."
"It also proved to be a much cheaper option compared to a traditional coax-based installation. Not only was the installation of the multipair UTP cable network much quicker and easier for the electrical contractor to install but also the cost per metre for the UTP backbone cable was significantly less than it would have been if we had used masses of individual coax cables. The use of NVT and UTP cable allowed us to pass on this saving as a cost benefit to the customer."
The vast scale of the City Mall and its service areas is such that several of the cameras covering the car parks are situated up to 3000 feet from the control room, a distance easily covered by NVT NV-214A-M single channel video transceivers mounted to each camera, and the NV-1662 16-channel active receiver hubs employed in the control room.
Following the carnival atmosphere of the City Mall's opening gala, the retail giant has gone from strength-to-strength, and continues to attract ever-growing numbers of shoppers, eager to experience this unique leisure complex. Backed by a comprehensive manned guarding team, its high-quality CCTV images form the keystone of a successful security system that continues to protect both visitors and staff at the mall. Recognising the positive impact of the NVT-based system, City Mall's management has initiated an expansion to the successful CCTV network with an additional 30 cameras. Readily integrated into the existing system thanks to the specification of spare pairs included in the Cat5e UTP cable backbone. Dajani explains the process: "To facilitate future camera expansion requirements, we provided spare UTP pairs in the original UTP installation, so that we could quickly and easily connect additional cameras to the system by tapping into the backbone cable's patch-blocks, with 4-pair UTP camera spurs. A comparatively inexpensive exercise with UTP networks, the addition of new cameras using a coax-based system would have meant the installation of complete new end-to-end runs of cable, with the associated costs of both cable and installation time. With the UTP based topology, there is no need to disturb the opulent decorations of the mall, leading to minimal impact on the daily operations of the mall during the camera expansion programme."
Haider Dajani concludes: "The combination of flexible high-performance product, and the technical support we received from NVT on this highly successful development has led us to specify NVT UTP as an integral part of many of our future projects."
For more information contact Steve Proctor, sales director, Network Video Technologies, +44 (0) 208 977 6614, steveproctor@nvt.com
Further reading:
Drones and cybersecurity?
October 2019 , CCTV, Surveillance & Remote Monitoring
Hacker drones can eavesdrop electronically on conversations, can perform network attacks, or can create fake wireless access points.
Read more...
---
Body-worn cameras transforming security
October 2019 , CCTV, Surveillance & Remote Monitoring, Security Services & Risk Management
Police Service Northern Ireland now has over 7 000 officers using 2 500 cameras covering approximately 173 000 incidents each year.
Read more...
---
Camera Selection Guide 2019
CCTV Handbook 2019 , CCTV, Surveillance & Remote Monitoring
The Camera Selection Guide 2019 includes a range of IP, analogue, thermal and speciality cameras aimed at a broad range of surveillance functions.
Read more...
---
Intelligent analytics and the brains to match
September 2019, Bosch Building Technologies , CCTV, Surveillance & Remote Monitoring, Integrated Solutions
What if the brains behind our security cameras could be trained to improve their cognitive ability to pay attention, learn, and problem-solve according to specific rules and situations?
Read more...
---
AI-powered autonomous Drone-in-a-Box
September 2019 , CCTV, Surveillance & Remote Monitoring, Integrated Solutions
Organisations in the mining, energy and industrial, oil and gas, ports and terminals sectors can optimise security and business operations, whilst reducing risks and operational costs
Read more...
---
Cybersecurity for video surveillance systems
September 2019, Mobotix , Cyber Security, CCTV, Surveillance & Remote Monitoring
Video surveillance systems are increasingly accessible over any IP network, which has led to the rise of potential cyberattack.
Read more...
---
What are the cybersecurity issues in video surveillance?
November 2019, Axis Communications SA , Editor's Choice, CCTV, Surveillance & Remote Monitoring, Cyber Security
he importance of the data captured by surveillance cameras – and what can be done with it – has led to a new breed of cybercriminals, looking for insights to steal and sell.
Read more...
---
The safe city and its need for interoperability
November 2019 , Integrated Solutions, CCTV, Surveillance & Remote Monitoring
Interoperability continues to present one of the greatest challenges, particularly with video management systems, video recording devices and cameras.
Read more...
---
A platform approach to safer and smarter cities
November 2019, Milestone Systems , CCTV, Surveillance & Remote Monitoring
Selecting the right platform to manage the vast data collected from smart and safe cities is critical to the ultimate success of the project.
Read more...
---
Creating safe cities with smart technology
November 2019, Secutel Technologies , CCTV, Surveillance & Remote Monitoring
In a digital age, where resilience and responsiveness are paramount to fighting crime and creating a safer world, CCTV systems are becoming part of every city's infrastructure.
Read more...
---