printer friendly version
NVT secures Jordan's City Mall
November 2008
CCTV, Surveillance & Remote Monitoring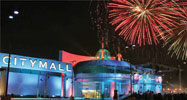 City Mall, Jordan's premier family shopping sphere, has been secured with a comprehensive CCTV installation featuring high-resolution, realtime CCTV monitoring via NVT UTP video transmission technology.
Boasting 160 000 square metres of retail and entertainment space and parking for over 2400 vehicles, City Mall is spread over four floors, offering a range of international brand outlets, restaurants, coffee shops, a 10-screen cinema and a large family entertainment zone.
The centre has drawn many top brands to the country for the first time and is designed to provide visitors with a world-class shopping, dining and entertainment experience – something the City Mall's management seek to nurture. Key to the building of this customer relationship and their feeling of relaxation and security within the mall, is comprehensive security management, central to which is a 250-camera surveillance system.
From the on-site control room, operators can view images from the camera network, where high-resolution camera images are distributed via an NVT UTP video network for monitoring at three operator positions. Cameras cover all aspects of the shopping centre, both inside and out, relaying images from the general public space areas, including walkways, atriums and balconies, as well as the internal areas of individual retail and restaurant outlets, and expansive car parks.
With such a comprehensive camera network relaying images critical to the daily business of the mall, management required a robust transmission method that would deliver high-quality, realtime images to the control room, for monitoring and digital archiving via multiple DVR recorders, all without impacting on the critical infrastructure servicing the rest of the site. Haider Dajani, managing director of Ideal Trading Group explains: "Specifying NVT UTP video transmission gave us great flexibility and afforded the installation of a UTP multipair CCTV backbone in the centre, carried out by electrical contractors during the building of the mall. Running alongside other services, the unique interference rejection capabilities of the NVT product afforded a high-performance surveillance system that would deliver the quality of signal demanded by the DVR system used to archive images for 30 days."
"It also proved to be a much cheaper option compared to a traditional coax-based installation. Not only was the installation of the multipair UTP cable network much quicker and easier for the electrical contractor to install but also the cost per metre for the UTP backbone cable was significantly less than it would have been if we had used masses of individual coax cables. The use of NVT and UTP cable allowed us to pass on this saving as a cost benefit to the customer."
The vast scale of the City Mall and its service areas is such that several of the cameras covering the car parks are situated up to 3000 feet from the control room, a distance easily covered by NVT NV-214A-M single channel video transceivers mounted to each camera, and the NV-1662 16-channel active receiver hubs employed in the control room.
Following the carnival atmosphere of the City Mall's opening gala, the retail giant has gone from strength-to-strength, and continues to attract ever-growing numbers of shoppers, eager to experience this unique leisure complex. Backed by a comprehensive manned guarding team, its high-quality CCTV images form the keystone of a successful security system that continues to protect both visitors and staff at the mall. Recognising the positive impact of the NVT-based system, City Mall's management has initiated an expansion to the successful CCTV network with an additional 30 cameras. Readily integrated into the existing system thanks to the specification of spare pairs included in the Cat5e UTP cable backbone. Dajani explains the process: "To facilitate future camera expansion requirements, we provided spare UTP pairs in the original UTP installation, so that we could quickly and easily connect additional cameras to the system by tapping into the backbone cable's patch-blocks, with 4-pair UTP camera spurs. A comparatively inexpensive exercise with UTP networks, the addition of new cameras using a coax-based system would have meant the installation of complete new end-to-end runs of cable, with the associated costs of both cable and installation time. With the UTP based topology, there is no need to disturb the opulent decorations of the mall, leading to minimal impact on the daily operations of the mall during the camera expansion programme."
Haider Dajani concludes: "The combination of flexible high-performance product, and the technical support we received from NVT on this highly successful development has led us to specify NVT UTP as an integral part of many of our future projects."
For more information contact Steve Proctor, sales director, Network Video Technologies, +44 (0) 208 977 6614, [email protected]
Further reading:
Turkish university installs IDIS surveillance
CCTV, Surveillance & Remote Monitoring Products
IDIS video streamlines complex surveillance systems for learning institution, upgrading a 350-camera system with 24/7 control room monitoring to transform security for Social Sciences University of Ankara (ASBU).
Read more...
---
Brighter, greener, and smarter
Dahua Technology South Africa Products CCTV, Surveillance & Remote Monitoring
Dahua Technology released its new Dahua CH II Series Indoor Fine Pixel Pitch LED display, providing visual clarity and promoting energy efficiency and sustainability.
Read more...
---
Smart water management
Axis Communications SA CCTV, Surveillance & Remote Monitoring Integrated Solutions
South Africa is currently facing a water crisis, with scarcity and inefficient water management posing significant challenges to sustainable, consistent access to water. Smart technology and powerful partnerships may offer a proactive solution to SA's water crisis.
Read more...
---
Helping retailers optimise monitoring and security
Guardian Eye Retail (Industry) CCTV, Surveillance & Remote Monitoring
From a smart retail perspective, it is crucial to understand that monitoring stock and other assets through camera surveillance and a variety of Internet of Things (IoT) sensors stretches further than the stores themselves.
Read more...
---
Empowering Istanbul's public transportation
Dahua Technology South Africa CCTV, Surveillance & Remote Monitoring Integrated Solutions
Dahua's intelligent transportation solution, using technologies like DSM and AI-based passenger flow counting, has facilitated an intelligent system upgrade for nearly 6 400 minibuses and electric buses in Istanbul.
Read more...
---
Smart manufacturing redefined
Hikvision South Africa CCTV, Surveillance & Remote Monitoring Industrial (Industry)
AI and intuitive visualisation technology allows managers to monitor manufacturing sites, production, and operational processes, and to respond in real time in the event of an issue – helping to drive efficiency and productivity.
Read more...
---
AI is getting smarter, and critical infrastructure is set to benefit
Axis Communications SA CCTV, Surveillance & Remote Monitoring
With technology advancing at an astonishing pace, AI has emerged as a defining trend in today's business arena. Enterprises across all sectors are prioritising this technology, embracing its transformative potential to drive change and growth.
Read more...
---
Collaboration delivers integrated and holistic security
Guardian Eye CCTV, Surveillance & Remote Monitoring News Integrated Solutions
Guardian Eye and Lytehouse have partnered to integrate their speciality solutions and provide a holistic security offering that overcomes the fragmentation of security systems and services.
Read more...
---
Manage security systems remotely
Hikvision South Africa CCTV, Surveillance & Remote Monitoring IT infrastructure Products
Hikvision launched a new generation of smart managed switches that, in conjunction with the Hik-Partner Pro mobile app, enable installers to remotely deploy and configure security systems with comprehensive operation and maintenance capabilities.
Read more...
---
Synology enhances functions for advanced surveillance integration
Technews Publishing CCTV, Surveillance & Remote Monitoring IT infrastructure Products
With the capability to function as both an API client and server, Surveillance Station offers a versatile platform for integration, whether it's embedding video streams into other platforms or overlaying external data onto recorded video.
Read more...
---