printer friendly version
Comprehensive patient care
November 2008
CCTV, Surveillance & Remote Monitoring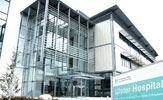 Built in 1962 and located in East Belfast, the Ulster Hospital, with a staff of around 3500, provides acute services to a population of over 260 000. In 2001, the Accident and Emergency (A&E) services, that had originally planned to care for 25 000 patients a year, was dealing with over 70 000. The hospital, also a designated Cancer Unit, was in need of more outpatient facilities, including Imaging Services.
The maternity and theatre blocks required a thorough update to bring them up to 21st century care standards. All these factors created a requirement for a major redevelopment plan which was to span over seven years, with a budget of £98 million.
Prior to 2001 when the plans for the hospital redevelopment were announced, the hospital was operating a minimal security system from a temporary room within the hospital building. It consisted of CCTV coverage limited to some areas of the main building and to the main front car parks. The security installations from various manufacturers were reaching the end of their life expectancy. The new hospital would have some of its infrastructure refurbished, whilst a range of new facilities would be built including a Maternity Unit, a Renal Unit, a terraced car park, a specialist Security Control Centre and a Critical Care Centre as part of the first phase.
From the start, the Trust management team was determined that the new facilities would meet the latest safety and security standards to protect staff, patients, visitors and assets.
The Trust chose the Fire & Security integrator Building Protection Systems Northern Ireland (BPS) to carry out the project.
Ricky Barker, hotel services manager, responsible for security issues management, and the implementation of security systems at the Ulster Hospital comments, "The Trust sought a preferred supplier of security systems that would facilitate the standardisation of security equipment and provide integrated security solutions. BPS recommended Honeywell. "
The first major phase in the redevelopment included the creation of a new Renal Unit, a new Maternity Unit, and a new multistorey car park for the use of both staff and visitors. It has been critical to give hospital staff and visitors full confidence to use the new facility by demonstrating the high level of investment in security to ensure their safety. In total, 52 cameras, a mixture of Honeywell fully functional domes and vandal resistant fixed domes with day/night capabilities have been installed in and around the new car park, including in the car park lifts.
The Trust also required that its old and new CCTV systems be fully integrated. It was critical that the new system could accommodate a doubling of installed cameras at completion of the modernisation project. This has been achieved through the installation of a Honeywell Maxpro matrix which currently controls over 160 cameras, increasing to 320 in the future.
The final building under construction as part of the first phase is the Critical Care Centre where an additional 31 cameras are due to be added. A key requirement of the Trust was round the clock monitoring of the hospital premises to guarantee a 24/7 protection of staff, patients and visitors, and the smooth operation of the car park and other essential infrastructure. This has been achieved through a brand new and state-of-the-art Security Control Centre, opened in February 2007. The Honeywell Digital Video Recording system ensures all evidential video information is suitably stored and is easily retrievable in the event of a security breach or a health and safety incident.
Using a solution from Honeywell, the Ulster Hospital now has a state-of-the-art security system ensuring the safety and security of staff, patients and visitors. Security in the car park, an important element of the project, has been significantly improved thanks to the deterrent effect of the CCTV system against theft and assaults. Using Honeywell HRXD digital video recorders (DVRs), the Trust can retrieve evidence easily, a capability that is regularly exploited by the police in the course of their investigations into crime.
Barker comments, "Our new security system enables us to monitor aggressive behaviours in areas such as A&E, and to take pre-emptive action. Honeywell equipment is easy to use and of evidential quality, which we required to meet Association of Chief Police Officers (ACPO) standards relating to recognition and identification of CCTV images."
For more information contact Konrad Weinert, sales leader - Africa, Honeywell Systems Group, +27 (0)11 574 2500, www.security.honeywell.com/za
Further reading:
Turkish university installs IDIS surveillance
CCTV, Surveillance & Remote Monitoring Products
IDIS video streamlines complex surveillance systems for learning institution, upgrading a 350-camera system with 24/7 control room monitoring to transform security for Social Sciences University of Ankara (ASBU).
Read more...
---
Brighter, greener, and smarter
Dahua Technology South Africa Products CCTV, Surveillance & Remote Monitoring
Dahua Technology released its new Dahua CH II Series Indoor Fine Pixel Pitch LED display, providing visual clarity and promoting energy efficiency and sustainability.
Read more...
---
Smart water management
Axis Communications SA CCTV, Surveillance & Remote Monitoring Integrated Solutions
South Africa is currently facing a water crisis, with scarcity and inefficient water management posing significant challenges to sustainable, consistent access to water. Smart technology and powerful partnerships may offer a proactive solution to SA's water crisis.
Read more...
---
Helping retailers optimise monitoring and security
Guardian Eye Retail (Industry) CCTV, Surveillance & Remote Monitoring
From a smart retail perspective, it is crucial to understand that monitoring stock and other assets through camera surveillance and a variety of Internet of Things (IoT) sensors stretches further than the stores themselves.
Read more...
---
Empowering Istanbul's public transportation
Dahua Technology South Africa CCTV, Surveillance & Remote Monitoring Integrated Solutions
Dahua's intelligent transportation solution, using technologies like DSM and AI-based passenger flow counting, has facilitated an intelligent system upgrade for nearly 6 400 minibuses and electric buses in Istanbul.
Read more...
---
Smart manufacturing redefined
Hikvision South Africa CCTV, Surveillance & Remote Monitoring Industrial (Industry)
AI and intuitive visualisation technology allows managers to monitor manufacturing sites, production, and operational processes, and to respond in real time in the event of an issue – helping to drive efficiency and productivity.
Read more...
---
AI is getting smarter, and critical infrastructure is set to benefit
Axis Communications SA CCTV, Surveillance & Remote Monitoring
With technology advancing at an astonishing pace, AI has emerged as a defining trend in today's business arena. Enterprises across all sectors are prioritising this technology, embracing its transformative potential to drive change and growth.
Read more...
---
Collaboration delivers integrated and holistic security
Guardian Eye CCTV, Surveillance & Remote Monitoring News Integrated Solutions
Guardian Eye and Lytehouse have partnered to integrate their speciality solutions and provide a holistic security offering that overcomes the fragmentation of security systems and services.
Read more...
---
Manage security systems remotely
Hikvision South Africa CCTV, Surveillance & Remote Monitoring IT infrastructure Products
Hikvision launched a new generation of smart managed switches that, in conjunction with the Hik-Partner Pro mobile app, enable installers to remotely deploy and configure security systems with comprehensive operation and maintenance capabilities.
Read more...
---
Synology enhances functions for advanced surveillance integration
Technews Publishing CCTV, Surveillance & Remote Monitoring IT infrastructure Products
With the capability to function as both an API client and server, Surveillance Station offers a versatile platform for integration, whether it's embedding video streams into other platforms or overlaying external data onto recorded video.
Read more...
---