printer friendly version
South Africa's healthcare services lag behind
November 2008 Integrated Solutions, Healthcare (Industry)
It is not just about physical security, it is about health security.
Security in healthcare extends far beyond securing high value physical items. As information technology and facility management solutions have matured, advanced integrated approaches to providing better healthcare service are being adopted in the developed world. South Africa's health services – public and private – lag far behind, however, and it is not necessarily a cost issue.
"South African healthcare facilities can improve their management and services exponentially by taking cognisance of what their US counterparts are doing," says Neil Cameron, general manager at Johnson Controls Systems & Service South Africa. "The technologies and approaches being applied to enhance healthcare services are sophisticated, developed and mature. South Africa can simply adopt these approaches. Greater understanding of the benefits and advantages of these solutions may assist to drive demand."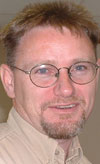 Neil Cameron
At present, public hospital facilities in South Africa are variously over-extended, understaffed, underfunded and service poor. The private hospitals, while offering a better quality of service and attracting the bulk of medical aid spend, also have a long way to go if they want to approach world-class standards. A positive development is, however, that there is a fair amount of thought now being applied by public facilities to attracting a greater portion of medical aid spends. This will eventually increase competitiveness in the industry and, hopefully, improve overall standards.
"However," says Cameron, "hospital administrators seem to be focusing on the improvement of administrative services and the introduction of benefits usually found only in the hospitality industry to attract new patients. Few fully grasp how an integrated ICT solution can assist to not only provide physical security and speed administrative functions, but save lives, create a safer germ-free environment, improve the patient experience, enhance the quality of service that medical practitioners and nurses provide, improve general productivity and ensure better control of medication and dispensing practices. This, rather than better meals and linen, is what will really attract patients to their facilities."
A recent study done in the US provides a good example of the real challenges hospitals face and how they can be resolved. Explains Cameron: "The study shows that 26% of patients that enter US hospitals (where private, single-bed wards are the norm unlike South Africa where there are a number of beds on a ward) leave with an infection or disease that they did not have before they came to the hospital. Bacteria and viruses are endemic to hospitals so isolation of airborne contagion has become of primary importance to enhance the health security of patients. Interplay of a number of systems help to resolve this challenge.
"The first step is better design of airconditioning systems. It is a matter of identifying airflows, knowing where the positive and negative air pressure cells are and where contagion is likely to flow from and to. If access control is integrated into the system, the airconditioning system can intelligently respond to visitors and nursing staff entering and leaving these areas – for example, by switching fans on or off when doors open."
Other examples where technology plays a key role are asset tracking, surveillance and service assurance. "While it is important to know that a particular asset has not left the hospital, it is of even greater value to know exactly where critical equipment – say an ECG machine – is when lives are at stake and time is short," says Cameron.
He also points out that CCTV cameras, generally used only for security at hospital entrances in South Africa, are being put to good use in children's wards. "Privacy issues prevent CCTV camera's being trained on adult patients but for infants and children CCTV feeds act as a tool to provide nursing staff with instant alerts as to patients' conditions."
Another challenge is ensuring medical staff respond timeously to patient calls. "In South Africa a red blinking light at a nursing station may go unnoticed if staff are busy elsewhere. In the US, patient calls go to the nursing station and, if they are not responded to within a certain time, are escalated via SMSs and other means to on-duty staff. The whole process is monitored and therefore auditable. This assures patients of not only a high quality of service but drives a greater sense of accountability and responsibility among staff."
Technology is also being used to achieve the ideal of a paperless environment. Notes Cameron: "PDAs and tablet PCs are being used by medical staff. It is faster, minimises the spreading of germs and, again, drives greater assurance in all processes. Basic data is captured once and with each update the necessary information becomes available to all authorised staff caring for the patient. For instance, a doctor can assess patients and update their charts as well as make a prescription that goes directly to the hospital pharmacy. The prescription can be made up immediately and a nurse, who will type in his/her access code and the patient's unique details, will be authorised to pick up the dispensed medication. This way, no medication goes missing."
It is difficult to put a cost to implementing an integrated solution of this nature. "Each hospital we consult to and design a solution for has its own unique requirements," says Cameron. "The results are exponential, however, even when the solutions are phased in. What must be made clear is that this technology exists and is proven. We are also fully capable of implementing these solutions in South Africa. What is missing is the drive by hospitals to adopt these solutions.
"A new awareness of integrated and holistic approaches that improve service and help save lives is needed. In the process, costs will be minimised and standards will be raised."
For more information contact Neil Cameron, Systems & Service: general manager, Johnson Controls, +27 (0)11 921 7100, neil.cameron@jci.com
Credit(s)
Further reading:
Securing perimeters of secure locations
November 2019, Axis Communications SA, Modular Communications, Hikvision South Africa, Nemtek Electric Fencing Products, Technews Publishing, Stafix , Government and Parastatal (Industry), Perimeter Security, Alarms & Intruder Detection, Integrated Solutions
Hi-Tech Security Solutions asked a number of companies offering perimeter security solutions for their insights into protecting the boundaries of national key points.
Read more...
---
Vox expands managed services with Mimecast
October 2019, Vox Telecom , Integrated Solutions
Vox has added Managed Mimecast to its suite of managed service offerings to provide customers with a more effective way of safeguarding their emails against spam and malicious attacks.
Read more...
---
Digitising Maslow's Hierarchy of Needs
October 2019 , Integrated Solutions, IT infrastructure
Mobile technology has the potential to change how Africa approaches patient and healthcare, says Phathizwe Malinga, managing director, SqwidNet.
Read more...
---
Intelligent analytics and the brains to match
September 2019, Bosch Building Technologies , CCTV, Surveillance & Remote Monitoring, Integrated Solutions
What if the brains behind our security cameras could be trained to improve their cognitive ability to pay attention, learn, and problem-solve according to specific rules and situations?
Read more...
---
AI-powered autonomous Drone-in-a-Box
September 2019 , CCTV, Surveillance & Remote Monitoring, Integrated Solutions
Organisations in the mining, energy and industrial, oil and gas, ports and terminals sectors can optimise security and business operations, whilst reducing risks and operational costs
Read more...
---
Looking ahead with mobile access technologies
Access & Identity Management Handbook 2020, Technews Publishing, HID Global, dormakaba South Africa, Salto Systems Africa, Suprema, Gallagher , Access Control & Identity Management, Integrated Solutions
Given the broad use of smartphones around the world and the numerous technologies packed into these devices, it was only a matter of time before the access control industry developed technology that would ...
Read more...
---
Scalable access solution
Access & Identity Management Handbook 2020 , Access Control & Identity Management, Integrated Solutions
Bosch Building Technologies makes access management simple, scalable and always available with Access Management System 2.0.
Read more...
---
The safe city and its need for interoperability
November 2019 , Integrated Solutions, CCTV, Surveillance & Remote Monitoring
Interoperability continues to present one of the greatest challenges, particularly with video management systems, video recording devices and cameras.
Read more...
---
Analytics-driven solutions for smart infrastructure
November 2019, Bosch Building Technologies , Integrated Solutions
Video analytics technology can bring intelligence to infrastructure by delivering solutions for traffic flow, improved safety, smart parking, and data collection.
Read more...
---
A platform approach to innovation and value
CCTV Handbook 2019, Technews Publishing , Editor's Choice, CCTV, Surveillance & Remote Monitoring, Integrated Solutions, IT infrastructure
Moving to the platform model of doing business holds tremendous advantages for end users and smaller developers, but also for the whole technology supply chain.
Read more...
---