printer friendly version
Recreational fire
November 2008
Fire & Safety

Bosch modular fire panel system installed in major Baltic recreation resort. The choice based on ease-of-use plus easy customisation and expandability.
A Bosch modular fire panel 5000 Series system has recently been installed at the Kolobrzeg sanatorium and recreational centre situated on the Parseta estuary in Poland, on the shores of the Baltic Sea.
The installation, which took 12 months to complete, covers two resorts: the ARKA and MEGA resorts located by the sea in the north-east of Poland's Kolobrzeg district. The resorts provide facilities for recreation, rehabilitation and therapy for a range of medical conditions, as well as facilities for hosting conferences.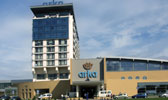 One of the major reasons for the site owners selecting Bosch was the 5000 Series system's modularity, which allowed the system to be expanded loop-by-loop over an extended period. This allowed for easy installation within the large hotels level-by-level, enabling the hotels to be partially occupied with guests even as the installation was taking place.
Ease-of-use was another major reason for selecting the Bosch system, especially the touch-screen panel. The clear menu structure significantly reduces the training required for operating and maintenance personnel. The panel also offers a broad range of diagnostic information, eliminating the need for a laptop to perform diagnostics.
The 5000 Series system is also distinguished by being able to handle up to 32 loops with more than 4000 elements per control panel. This meant the whole system, which comprises 24 loops with approximately 1300 detectors covering both the ARKA and MEGA resorts, could be realised with a single control panel, significantly reducing the cost of the overall installation.
Moreover, the Modular fire panel 5000 Series interfaces with the Bosch voice alarm and evacuation system which the site owners also chose to install to provide full protection throughout the resort against fire and other emergency situations.
Credit(s)
Further reading:
Technoswitch partners with UK's Hyfire
Technoswitch Fire Detection & Suppression News Fire & Safety Products
UK-based wireless fire technology pioneer Hyfire, has confirmed partnership agreements that will see its products sold in South Africa, for the first time, through local fire and safety stalwart, Technoswitch.
Read more...
---
Bespoke fire-risk systems for agri and food processing
Fire & Safety
ASP Fire highlights its specialised expertise in the agri and food-processing industries, where compliance is vital to save lives, reduce the costs of fire damage, and protect equipment and buildings from major damage.
Read more...
---
Incorporate fire safety in the design phase
Fire & Safety
ASP Fire CEO Michael van Niekerk says companies can prevent their infrastructure project from going up in flames by incorporating fire safety in the design phase.
Read more...
---
Fire-fighting force at Vergelegen
Editor's Choice Fire & Safety Residential Estate (Industry)
Vergelegen wine estate in Somerset West, and its neighbours, are set to enjoy greater peace of mind this summer, thanks to the delivery of a brand new fire truck .
Read more...
---
Rhino103 extinguishing control panel
Technoswitch Fire Detection & Suppression Fire & Safety Products
Technoswitch has released the Rhino103 extinguishing control panel range, designed and manufactured in South Africa to comply with EN54 parts 2 and 4, and EN12094.
Read more...
---
Technoswitch partners with Ciqurix for video fire detection
Technoswitch Fire Detection & Suppression News Fire & Safety
Technoswitch is pleased to announce the signing of an exclusive distribution agreement with Ciqurix (UK), a leading supplier of video fire detection products.
Read more...
---
Fire protection for new Fuchs warehouse
Fire & Safety
The new warehouse at Fuchs Lubricants South Africa in Isando, Johannesburg, not only incorporates the latest technology but complies with stringent fire detection and prevention requirements.
Read more...
---
Fire-safety risks during load shedding
News Fire & Safety
The current load shedding implemented by electricity utility Eskom, as it faces unplanned breakdowns, poses a heightened fire risk for homeowners and their families.
Read more...
---
FlameSpec flame detectors from Technoswitch
Technoswitch Fire Detection & Suppression Fire & Safety
The FM-approved FlameSpec detectors address slow-growing fires and fast eruptions of fire while maintaining high performance and reliable detection in all weather and light conditions.
Read more...
---
Improved hydraulic performance and efficiency
Johnson Controls Global Products Fire & Safety
Tyco 5.8K LFII sprinkler from Johnson Controls Global Products brings improved hydraulic performance and efficiency to residential fire protection.
Read more...
---