printer friendly version
Recreational fire
November 2008
Fire & Safety

Bosch modular fire panel system installed in major Baltic recreation resort. The choice based on ease-of-use plus easy customisation and expandability.
A Bosch modular fire panel 5000 Series system has recently been installed at the Kolobrzeg sanatorium and recreational centre situated on the Parseta estuary in Poland, on the shores of the Baltic Sea.
The installation, which took 12 months to complete, covers two resorts: the ARKA and MEGA resorts located by the sea in the north-east of Poland's Kolobrzeg district. The resorts provide facilities for recreation, rehabilitation and therapy for a range of medical conditions, as well as facilities for hosting conferences.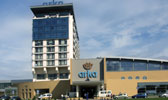 One of the major reasons for the site owners selecting Bosch was the 5000 Series system's modularity, which allowed the system to be expanded loop-by-loop over an extended period. This allowed for easy installation within the large hotels level-by-level, enabling the hotels to be partially occupied with guests even as the installation was taking place.
Ease-of-use was another major reason for selecting the Bosch system, especially the touch-screen panel. The clear menu structure significantly reduces the training required for operating and maintenance personnel. The panel also offers a broad range of diagnostic information, eliminating the need for a laptop to perform diagnostics.
The 5000 Series system is also distinguished by being able to handle up to 32 loops with more than 4000 elements per control panel. This meant the whole system, which comprises 24 loops with approximately 1300 detectors covering both the ARKA and MEGA resorts, could be realised with a single control panel, significantly reducing the cost of the overall installation.
Moreover, the Modular fire panel 5000 Series interfaces with the Bosch voice alarm and evacuation system which the site owners also chose to install to provide full protection throughout the resort against fire and other emergency situations.
Credit(s)
Further reading:
Future-facing cameras
August 2019, Bosch Building Technologies , Products, CCTV, Surveillance & Remote Monitoring
All FLEXIDOME IP starlight 8000i cameras feature built-in Intelligent Video Analytics, making them intuitive, and elevates their importance far beyond security alone.
Read more...
---
Choosing the right fire detection system
August 2019, FDIA (Fire Detection Installers Association) , Fire & Safety
Charles Thiong'o from the FDIA highlights important factors to consider when choosing a fire detection system.
Read more...
---
Accommodating company growth
August 2019, Bosch Building Technologies , Healthcare (Industry), Integrated Solutions
Bosch equips two offices of Italian pharmaceutical company Alfasigma with a future-proof security and fire safety solution.
Read more...
---
Bosch to acquire the building automation specialist GFR
August 2019, Bosch Building Technologies , News
Bosch to buy GFR with its complete building automation solutions as well as related services and a comprehensive hardware and software product portfolio.
Read more...
---
Local security technology manufacturer
August 2019, Technoswitch , Fire & Safety
Technoswitch, a South-African manufacturer, importer and distributor of fire detection and suppression equipment turned 45 this year.
Read more...
---
Fire detection and suppression for server cabinets
August 2019, Technoswitch , Fire & Safety
The TEC601, designed and manufactured by Technoswitch, is an all-in-one fire and extinguishing rack-mountable control system designed to protect electronic equipment in 19-inch server room cabinets.
Read more...
---
ORYX conventional fire panel range
August 2019, Technoswitch , Fire & Safety
The ORYX range of conventional panels from Technoswitch offers 2, 4 and 8 zone options, including weatherproof versions (with or without DIN rail) specifically suited to industrial applications.
Read more...
---
Next generation BlazeCut T-series
August 2019, Technoswitch , Fire & Safety
Designed to protect small enclosed spaces with greater risk of fire, the BlazeCut T-series system is easy to install.
Read more...
---
Emergency lighting and fire detection combination
August 2019 , Fire & Safety, Products
Hochiki Europe has launched FIREscape+, a system which combines emergency lighting, fire detection and wayfinding technology.
Read more...
---
Introducing Gulf Security Technology
August 2019, UTC Fire & Security SSA , Fire & Safety
Gulf Security Technology manufactures more than 16 million detectors and modules and more than 120 thousand control panels per year, making it one of the largest fire detection manufacturers in the world.
Read more...
---