printer friendly version
The heart of modern buildings
September 2008
Integrated Solutions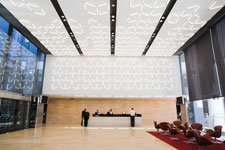 In a modern commercial high-rise development, the heart of the building is the building management system.
Building management systems control the essential services for buildings including security, airconditioning, heating, lighting, ventilation and a host of other functions. A good system can reduce greenhouse gas emissions, provide security and safety for workers, create a comfortable and productive environment, and assist in the seamless operation of the building.
Honeywell Building Solutions was chosen to design, install and service a building management and security system suitable for Westpac Place, Sydney Australia, the new national operational headquarters for one of Australia's largest banks.
Westpac Place is the second largest office space in Sydney's CBD. With a construction and office fit out totalling 74 000 m² and housing 5000 Westpac employees, it is a large, complex and highly integrated building, showcasing advanced BMS and security offerings.
Building services found at Westpac Place are state-of-the-art and tailored to suit Westpac's exacting requirements, including extensive security features throughout. Intelligent use of innovative technology from the team at Honeywell has created a central point of control for all building services from security, to CCTV, to escalators, HVAC and lighting.
Operating within an 18-month time frame, Honeywell worked closely alongside developer Leighton Contractors to execute this complex project, which included installing Honeywell enterprise buildings integrator (EBI) and Honeywell digital video manager (DVM). EBI is a state-of-the-art integrated building management system which connects to DVM, a scalable, digital closed-circuit television surveillance solution.
Both products are developed in Sydney, Australia, at Honeywell's Software Centre and are exported to Honeywell customers worldwide. EBI is designed to integrate all aspects of building automation and control into a single entity, connecting and linking all the building sub-systems via an IP network into a single graphical management system.
Utilising the building's network infrastructure as a communications backbone, EBI controls all of Westpac Place's mechanical plant and equipment. The system integrates everything from environmental controls, open systems interfaces such as LonWorks, Modbus, OPC, and BACnet to security functions such as access control, intrusion detection, lift control, occupancy reporting, advanced alarm management, alarm paging and network based video surveillance.
When used in conjunction with DVM, the solution is able to intelligently capture before and after video footage of an incident. The advantage of the EBI system is that all building functions are controlled from and report to a central point, which facilitates exceptional speed and coordination between integrated functions. This reduces response times, and improves information management.
The project was also designed as a strong environmentally sustainable development initiative. The EBI systems also allows monitoring of occupancy levels, air conditioners and lighting. All these facilities can be adjusted from the one point to taking into account the requirements and usage of the tenants, again producing providing cost, energy and environmental savings.
The Honeywell solution has the potential to evolve as requirements change or as new technology becomes available, ensuring that the building remains at the forefront of smart buildings around the world. For example, surveillance cameras can be easily moved around the building and plugged directly into the network, allowing them to monitor plant and equipment or security issues as necessary.
The Honeywell solution at Westpac Place is at the core of this successful, safe and productive facility. As such, Westpac Place has become a showcase of developed technology applications in commercial buildings.
Further reading:
31 percent of all IoT SIMs managed with third-party IoT CMPs
News Integrated Solutions
Berg Insight recently released new findings about the market for IoT connectivity management platforms (CMPs), a standard component in the value proposition from mobile operators and IoT MVNOs around the world.
Read more...
---
Creating a safe, smart city environment
Integrated Solutions
As more governments around Africa start embracing the smart city concept, significant investments will be required to strengthen the underlying infrastructure essential to keep systems and data safe.
Read more...
---
Smart car parking solution eases traffic flow
Dahua Technology South Africa CCTV, Surveillance & Remote Monitoring Integrated Solutions Products
Ethiopia's first smart parking lot, designed to improve traffic flow and management efficiency, has been built and installed using Dahua Technology's smart parking solutions.
Read more...
---
VMS 7.2 supports the investigation process and adds cloud capabilities
CCTV, Surveillance & Remote Monitoring Integrated Solutions Products
Qognify has launched the second release of its VMS, including extended support for body-worn video, additional functionalities to support investigations, and a new web client architecture. VMS 7.2 addresses the increasing use of body-worn video (BWV) across many sectors.
Read more...
---
Hytera and KZN Police Service roll out digital call handling system
Government and Parastatal (Industry) Asset Management, EAS, RFID Integrated Solutions
Hytera Communications announced that the municipality of Ray Nkonyeni in the KwaZulu-Natal province of South Africa is now using its digital call handling system for the reporting and recording of crimes.
Read more...
---
Cyber resilience is more than cybersecurity
Technews Publishing Editor's Choice Cyber Security Integrated Solutions IT infrastructure
Hi-Tech Security Solutions held a round-table discussion focusing on cyber resilience and found that while the resilience discipline includes cybersecurity, it also goes much further.
Read more...
---
Johnson Controls releases IQ4
Perimeter Security, Alarms & Intruder Detection Integrated Solutions
New lower cost panel leverages Qolsys IQ Platform targeting residential, SMB, builder, MDU/multi-family and wellness market segments.
Read more...
---
SuperVision biometric access control
Integrated Solutions Access Control & Identity Management Products
SuperVision is a time & attendance (T&A) biometric access control system Fourier IT has been developing and enhancing for 18 years.
Read more...
---
Shift to online driving retail transformation
Retail (Industry) Integrated Solutions
There is a growing demand from retail for an end-to-end solution that helps their digitisation process, integrating finance, procurement, warehouse management, pricing, stock management, point of sale and more.
Read more...
---
AI in video analytics
CCTV, Surveillance & Remote Monitoring Integrated Solutions
AI (artificial intelligence), has been developed and debated ever since the first computers were invented, and while the most revolutionary incarnations are not yet here, AI-based technologies are widely used today.
Read more...
---