printer friendly version
The heart of modern buildings
September 2008
Integrated Solutions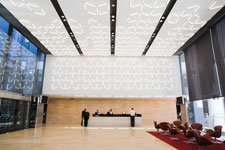 In a modern commercial high-rise development, the heart of the building is the building management system.
Building management systems control the essential services for buildings including security, airconditioning, heating, lighting, ventilation and a host of other functions. A good system can reduce greenhouse gas emissions, provide security and safety for workers, create a comfortable and productive environment, and assist in the seamless operation of the building.
Honeywell Building Solutions was chosen to design, install and service a building management and security system suitable for Westpac Place, Sydney Australia, the new national operational headquarters for one of Australia's largest banks.
Westpac Place is the second largest office space in Sydney's CBD. With a construction and office fit out totalling 74 000 m² and housing 5000 Westpac employees, it is a large, complex and highly integrated building, showcasing advanced BMS and security offerings.
Building services found at Westpac Place are state-of-the-art and tailored to suit Westpac's exacting requirements, including extensive security features throughout. Intelligent use of innovative technology from the team at Honeywell has created a central point of control for all building services from security, to CCTV, to escalators, HVAC and lighting.
Operating within an 18-month time frame, Honeywell worked closely alongside developer Leighton Contractors to execute this complex project, which included installing Honeywell enterprise buildings integrator (EBI) and Honeywell digital video manager (DVM). EBI is a state-of-the-art integrated building management system which connects to DVM, a scalable, digital closed-circuit television surveillance solution.
Both products are developed in Sydney, Australia, at Honeywell's Software Centre and are exported to Honeywell customers worldwide. EBI is designed to integrate all aspects of building automation and control into a single entity, connecting and linking all the building sub-systems via an IP network into a single graphical management system.
Utilising the building's network infrastructure as a communications backbone, EBI controls all of Westpac Place's mechanical plant and equipment. The system integrates everything from environmental controls, open systems interfaces such as LonWorks, Modbus, OPC, and BACnet to security functions such as access control, intrusion detection, lift control, occupancy reporting, advanced alarm management, alarm paging and network based video surveillance.
When used in conjunction with DVM, the solution is able to intelligently capture before and after video footage of an incident. The advantage of the EBI system is that all building functions are controlled from and report to a central point, which facilitates exceptional speed and coordination between integrated functions. This reduces response times, and improves information management.
The project was also designed as a strong environmentally sustainable development initiative. The EBI systems also allows monitoring of occupancy levels, air conditioners and lighting. All these facilities can be adjusted from the one point to taking into account the requirements and usage of the tenants, again producing providing cost, energy and environmental savings.
The Honeywell solution has the potential to evolve as requirements change or as new technology becomes available, ensuring that the building remains at the forefront of smart buildings around the world. For example, surveillance cameras can be easily moved around the building and plugged directly into the network, allowing them to monitor plant and equipment or security issues as necessary.
The Honeywell solution at Westpac Place is at the core of this successful, safe and productive facility. As such, Westpac Place has become a showcase of developed technology applications in commercial buildings.
Further reading:
Cyber resilience is more than cybersecurity
Technews Publishing Cyber Security Integrated Solutions IT infrastructure
Hi-Tech Security Solutions held a round-table discussion focusing on cyber resilience and found that while the resilience discipline includes cybersecurity, it also goes much further.
Read more...
---
A key to urban transport challenges
Axis Communications SA Transport (Industry) CCTV, Surveillance & Remote Monitoring Integrated Solutions Logistics (Industry)
There are many enabling technologies that can impact transportation in South Africa, but a good place to start is by considering the applications for smart physical technology with the ability to collect and respond to data.
Read more...
---
Hikvision aims for solutions
Technews Publishing Hikvision South Africa Editor's Choice CCTV, Surveillance & Remote Monitoring News Integrated Solutions Conferences & Events
Hikvision recently held a roadshow titled Industry X, where the company highlighted its latest products and solutions, supported by partners and distributors.
Read more...
---
Technology and the future of security installation in South Africa
Editor's Choice Integrated Solutions Security Services & Risk Management
What are the technologies and trends shaping installation, service and maintenance teams globally, and how will they shape South African businesses today and in the future?
Read more...
---
Upgraded security and AI monitoring at upmarket estate
Watcher Surveillance Solutions Editor's Choice CCTV, Surveillance & Remote Monitoring Integrated Solutions Residential Estate (Industry)
Estate upgrades and enhances its security through a partnership between surveillance specialist Watcher and the incumbent guarding company.
Read more...
---
Streamlining processes, integrating operations
Security Services & Risk Management Integrated Solutions Transport (Industry) Logistics (Industry)
With Trackforce Valiant, Airbus now has one single platform that connects its security guards, supervisors and management across its organisation.
Read more...
---
Nomad launches early adopter programme
Editor's Choice News Integrated Solutions Smart Home Automation
Participants in Nomad's Early Adopter Programme will receive 10% of their volume order to facilitate testing before the commercial launch later this year.
Read more...
---
Improve data connectivity in fleet management
Flickswitch Transport (Industry) Integrated Solutions Products
While the market is still dominated by tracking systems, more advanced fleet management solutions are gaining traction on the market.
Read more...
---
IoV – the cutting edge of vehicle automation
Integrated Solutions IT infrastructure Transport (Industry) Logistics (Industry)
Today's cars have become bona fide connected machines and not merely an extension of our mobile devices such as smartphones.
Read more...
---
Understanding what an IoT platform is
Trinity IoT Integrated Solutions
In an increasingly mobile-first, digitally driven global economy, IoT platforms are becoming commonplace. But what is an IoT platform, and what makes one better than the other?
Read more...
---