printer friendly version
Know the IM risks
September 2008
IT infrastructure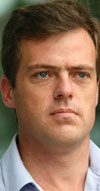 IM continues to evolve and company managers are realising that, when used correctly, it can be a powerful customer service tool to boost the bottom line.
Hubert Wentzel, divisional director, EOH Consulting, says the main strength of instant messaging (IM) lies in its immediacy. If IM does not detract from the user's real task and integrates with other business tools, then there is genuine benefit in this important technology.
According to IDC, there will be more than 506 million people using IM by the end of 2008. As it has, since the Internet's earliest days, IM continues to evolve and company managers are realising that, when used correctly, it can be a powerful customer service tool to boost the bottom line. And, with an increasing number of people choosing to work from home, IM will play an even more important role in the future.
Gartner research recently indicated that collaboration capabilities available to businesses will change fundamentally during the next five to 10 years. Rather than having one application where you do your work and another separate application where you collaborate with others about your work, the two purposes will flow together seamlessly. The application will offer collaboration when appropriate, guiding the user to contact the right person at the correct time.
Wentzel says it is important for SMEs to consider emerging technologies, like IM, to see how these can be applied appropriately to cut costs and improve bottom-line growth. "As an effective alternative to spam- and virus-ridden e-mail, IM is helping more and more businesses communicate cost-effectively and efficiently. This snappy technology does not, however, come without risks."
While IM has escalated amongst business users, IT security departments are still coming to grips with the threats it brings. The file sharing capabilities within IM make it easy for users to bypass traditional security measures and e-mail policies. Major advancements over the past few years have enabled instant messaging users to run computer scripts, play online games and initiate web conferences.
This added functionality has opened security holes which leave companies vulnerable to spam. The best defence in this regard is education.
As with any Internet-based technology, users need to be educated about the security issues involved with instant messaging. Yes, spam is a security threat, but not because of viruses, but because of people. It is a human tendency to open links and attachments from unknown senders, which underlines the fact that people are the weakest link in any security solution.
Indications are that the real threat for the future of IM is worms, which are non-discriminate and target all computer systems of a particular network. The number of worms for instant messaging is increasing each month, and looking at the success of some of these worms, clearly instant messaging is an up and coming platform for malicious threats.
So, while IM holds great potential as a business tool, it is often abused by employees and poses significant liability and security risks. Wentzel says that it is the onus of each individual business to ensure there are written policies in place regarding IM use on their network.
"Used properly, instant messaging can be an extremely useful addition to a company's communications tools. Instant messaging reduces time and effort and helps a business react quickly to new challenges, competition and customer requests. Before signing up for an instant messaging service, however, ensure that you have got the necessary network and computer security in place."
For more information contact Hubert Wentzel, EOH Consulting, divisional director, +27 (0)11 607 8100.
Further reading:
Converged infrastructure: Beyond the hype
IT infrastructure Products
Technical teams no longer have to sit and try to work through a magnum opus of manuals for every layer of computing, networking, and storage, largely thanks to the growing popularity and increasing success of converged infrastructure.
Read more...
---
Blurring the lines between data management and cybersecurity
Cyber Security IT infrastructure
In the past, data management and cybersecurity would fall under separate domains, but with more organisations making the shift to the cloud, data management and data protection have merged, essentially blurring the lines between the two.
Read more...
---
Top skills young people need to get ahead in the tech industry in 2023
IT infrastructure
The rise of remote working, e-commerce, artificial intelligence and cloud computing means that software developers are, and will continue to be, at the coalface of the fourth industrial revolution.
Read more...
---
Storage trends for 2023
IT infrastructure
As a leader in the enterprise storage market, Infinidat sees five storage trends unfolding in 2023. Looking ahead, 2023 is shaping up to be an exciting year in the storage market.
Read more...
---
Remote cloud management support for access points
TRENDnet IT infrastructure Products
TRENDnet Hive is an advanced network cloud management solution, designed to save users time and cost by simplifying and centralizing the management and monitoring of a network(s) and networked devices.
Read more...
---
How to avoid a wipeout
Arcserve Southern Africa IT infrastructure Security Services & Risk Management
Wiper malware aims to delete your data permanently and cause as much destruction as possible. Byron Horn-Botha, Business Unit Head at Arcserve Southern Africa offers readers three steps to protect the organisation from these malicious applications.
Read more...
---
Hardening physical security against cyberattacks
Genetec Editor's Choice Cyber Security IT infrastructure
As the world becomes increasingly interconnected through the move to cloud computing and Internet of Things (IoT) devices, cybercrime has risen steadily, along with tools to combat it. Geopolitical tensions have the potential to rapidly unleash devastating cyberattacks worldwide.
Read more...
---
Fast, reliable and secure cloud services
Technews Publishing Editor's Choice Cyber Security IT infrastructure
Security and speed are critical components of today's cloud-based services infrastructure. Cloudflare offers a range of services supporting these goals beyond what most people think it does.
Read more...
---
Software is South Africa's most promising business opportunity
Integrated Solutions IT infrastructure
When we talk about software as a business opportunity, we are not just talking about software or IT as a standalone product; deploying computer and network-related solutions to augment traditional processes represents an evolutionary shift in how the world works.
Read more...
---
Choosing the right battery backup solution
IT infrastructure
Rectron's, Matthew Hall, says that when it comes to backup power solutions, there are a number of rechargeable batteries available. The difference lies in their capacity, life span, charging time and price.
Read more...
---