printer friendly version
Brown Palace Hotel selects NUUO
September 2008
CCTV, Surveillance & Remote Monitoring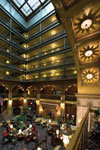 How does a premier luxury hotel with 241 rooms and six restaurants salute its guests while offering the finest in modern luxury accommodations and personalised service?
With a high degree of internal security, the Brown Palace Hotel situated in Denver, Colorado, makes its guests feel like being at home. From the spa, dinning, lobby and seating areas the Brown Palace imbues a sense of security while allowing guests the freedom to relax and enjoy the luxurious surroundings.
The Brown Palace Hotel has hosted nearly all US presidents since its inception in the late 1800s - including heads of state, kings and queens from over 50 countries, numerous dignitaries and celebrities. It is considered one of the grandest hotels in the US.
Forty channels of analogue cameras are installed around the lobby, restaurants, check-in areas, and ballrooms. All cameras are managed by a Visao DVR with NUUO H.264 DVR cards and software, featuring NUUO's I-guard video analysis, intuitive and broad applications that are very useful for hotel surveillance environments. In the main lobby and entrance, foreign and missing object detection react at once with on screen and audio alarms, especially during night hours. Once an I-guard event is detected it is recorded on all selected cameras in the software and played easily through the graphical user interface (GUI). Finally, another useful function that deserves mention is motion detection. Select a specific area to detect motion and the software will react to that motion in any one of eight user defined ways.
"Before there were only 16 cameras with low quality video in CIF resolution, unreliable operation really straightened our surveillance job, in a grand hotel our mission is to assist to avert any possible fraud or offence before it really occurs, and gladly we did it," said Gene Frailey, the chief technical officer of Visao. Hotel management is very happy about the added level of security. Security personnel have expressed great confidence in the new system, and believe it has strengthened their ability to respond to an incident quickly and more efficiently.
The Brown Palace anticipates adding four external IP PTZ cameras located at the four main entrances, for additional security during the Democratic National Convention (DNC). DNC VIP guests will stay at the Brown Palace Hotel for the duration of the Convention. The hotel plans to expand the use of Visao DVRs using NUUO cards and software in the future, adding at least one more DVR this year!
For more information contact Deane, marketing and PR, NUUO, +886 2 236 22260 298, deane@nuuo.com
Further reading:
Qognify VMS adds support for Pelco IP camera series
CCTV, Surveillance & Remote Monitoring Products
The latest IP camera series from Pelco can now be used with Qognify's advanced video solution for corporate and enterprise projects, increasing the overall number of camera models and third-party devices supported in Qognify VMS to more than 6 500.
Read more...
---
VIVOTEK launches VAST Security Station
CCTV, Surveillance & Remote Monitoring Products
VIVOTEK officially launched its AI security system, VAST Security Station (VSS), in March, available to users in three flexible tiers: VSS Lite, VSS Standard, and VSS Professional.
Read more...
---
Keeping students, staff and communities safe
Vumacam News CCTV, Surveillance & Remote Monitoring Security Services & Risk Management
South African schools are facing increasing security challenges, making effective surveillance systems more important than ever. To address this issue, Vumacam is offering advanced security solutions with security partners, aimed at keeping students, staff, and the community safe.
Read more...
---
Helping to care for zoo animals
Hikvision South Africa CCTV, Surveillance & Remote Monitoring
Zoo keeps an eye on the safety of animals and visitors through the installation of Hikvision 4 MP turret, 12 MP Fisheye cameras, as well as PTZs, NVRs and central management system.
Read more...
---
Boosting digital-intelligent transformation and AI applications
Dahua Technology South Africa CCTV, Surveillance & Remote Monitoring Products
2022 has been a year full of development and innovation for Dahua. The company has launched various upgrades to its existing product portfolio as well as an artillery of new products and solutions that address specific needs/problems in society.
Read more...
---
Arcules and IMMIX announce integration
News CCTV, Surveillance & Remote Monitoring Products
Arcules has announced that its integration with Immix Central Station and Guard Force is available. The integration provides Central Station and Guard Force users a way to manage, verify, and respond to security events, while using Arcules-managed video feeds.
Read more...
---
Developing an effective CCTV control room culture
Leaderware Editor's Choice CCTV, Surveillance & Remote Monitoring Training & Education
Organisational culture in organisations can be seen as the set of values, practices, focus, standards and behaviours, and ways of interacting with others that are accepted and subscribed to by the people who work there.
Read more...
---
Eagle Eye Networks releases 2023 Video Surveillance Trends Report
Eagle Eye Networks News CCTV, Surveillance & Remote Monitoring
Eagle Eye Networks has released the 2023 Trends in Video Surveillance ebook, identifying five trends that will have the largest impact on businesses around the globe in 2023.
Read more...
---
Stainless steel 8 MP dome
Axis Communications SA Products CCTV, Surveillance & Remote Monitoring
Enclosed in marine-grade stainless steel (SS 316L) and DNV-certified, the AXIS Q3538-SLVE can withstand the corrosive effects of seawater and cleaning chemicals.
Read more...
---
Enhanced image clarity and enriched AI functions
Dahua Technology South Africa CCTV, Surveillance & Remote Monitoring Products
The IPC WizMind S series is equipped with multiple intelligent functions, offers adaptability, and comes in plastic-free packaging, enabling better image performance, promoting environmental sustainability, and providing global clients with smarter vision with a stronger surveillance shield.
Read more...
---