printer friendly version
Port of Corpus Christi upgrades surveillance
September 2008
CCTV, Surveillance & Remote Monitoring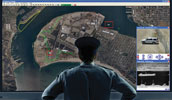 Port of Corpus Christi upgrades surveillance capabilities and security with expanded Siveillance Site IQ Video Analytics platform from Siemens.
To accommodate a major expansion of the video surveillance system now protecting port operations, officials with the Port of Corpus Christi (Texas) have selected Siemens Building Technologies, to upgrade the capabilities of the entire system. When completed, the Port of Corpus Christi (POCC) will host the largest Siemens Siveillance SiteIQ deployment to date and use it to manage one of the largest video analytics-based surveillance systems in the US.
Critical infrastructure security concerns coupled with access to new Department of Homeland Security (DHS) Grant 6 funding prompted port officials to pursue an expansion of the port's current video surveillance system (enabled by Siemens SiteIQ) on duty since 2004. Siveillance and its SiteIQ platform are part of a global family of intelligent video-based security solutions available from Siemens Building Technologies Security Systems Business Unit. The expansion's schedule is aggressive; the design phase is underway and installation and commissioning are scheduled for completion in late 2008.
"The excellent performance of the Siveillance system we currently deploy has convinced us, as well as our colleagues with the DHS, to further expand the scope and capabilities of our system with SiteIQ technology," says Arch Archambo, chief of Police for the Port of Corpus Christi. "We have one of the busiest ports in the world and our first priority is to ensure the safety and security of personnel and property that transit the port every day. We are confident the expanded system and its enhanced capabilities will be a great asset to the POCC by identifying potential threats more quickly and accurately," adds Archambo.
According to Siemens managers the project will deploy more than 80 new cameras to the existing system's 130-camera network, which currently monitors more than 6700 ships and barges and nearly 90 million tons of cargo annually (2007 figures). To keep an intelligent eye on all of this, the port system's expansion includes a software migration to Siveillance SitelQ version 3.2, which combines situational analysis, decision-making, and command and control functionality into one versatile interface. Input from devices such as cameras, intrusion sensors and access control points create a dynamic, proactive and virtual perimeter and the basis for comprehensive port security management.
"Securing port operations is a monumental task and technologies like SiteIQ can add considerable value, working to improve security overall relative to the investment in its expansion and the amount of data coming in from devices in the field," says Jens Wegmann, Siemens global CEO of Security Solutions. "SiteIQ puts powerful tools into the hands of the Port of Corpus Christi's security staff and helps them effectively understand, manage and act when threats or other anomalies occur.
"The Port of Corpus Christi has established an aggressive timetable for the project, which is to be completed by year's end. Siemens is working in concert with local contractors Bath Engineering and RVE to execute all phases of delivering to meet the year end deadline.
Part of a suite of technologies delivered under the global Siveillance brand of Siemens Building Technologies video-based security solutions, SiteIQ is developed and marketed from its Atlanta-based Center of Competence established in 2007.
For more information contact Keshin Govender, Siemens Building Technologies, +27 (0)11 652 2412, [email protected], www.siemens.co.za
Further reading:
Avoiding human error at ports
LD Africa Transport (Industry) CCTV, Surveillance & Remote Monitoring Products Logistics (Industry)
LD Africa introduced a local port to the AxxonSoft Port Security System ,a solution that helps overcome the element of human error and eliminate paperwork.
Read more...
---
Compact, lightweight bullet cameras with support for analytics
Axis Communications SA Products CCTV, Surveillance & Remote Monitoring
Axis Communications announced two new outdoor-ready bullet-style cameras featuring deep-learning processing units for analytics based on deep learning on the edge.
Read more...
---
Numerous challenges for transport and logistics
Transport (Industry) CCTV, Surveillance & Remote Monitoring Security Services & Risk Management Logistics (Industry)
Operators are making significant investments in automation and digitalisation in order to address security concerns, improve loss prevention as well as efficiency, and reduce unit order costs.
Read more...
---
A key to urban transport challenges
Axis Communications SA Transport (Industry) CCTV, Surveillance & Remote Monitoring Integrated Solutions Logistics (Industry)
There are many enabling technologies that can impact transportation in South Africa, but a good place to start is by considering the applications for smart physical technology with the ability to collect and respond to data.
Read more...
---
Hikvision aims for solutions
Technews Publishing Hikvision South Africa Editor's Choice CCTV, Surveillance & Remote Monitoring News Integrated Solutions Conferences & Events
Hikvision recently held a roadshow titled Industry X, where the company highlighted its latest products and solutions, supported by partners and distributors.
Read more...
---
Reliable, low-maintenance video appliances
Technews Publishing Editor's Choice CCTV, Surveillance & Remote Monitoring News IT infrastructure Products
Symetrix, part of the Agera Group, has added the AES range of video recording servers, storage appliances and workstations to its portfolio.
Read more...
---
A new full-colour era
Dahua Technology South Africa CCTV, Surveillance & Remote Monitoring
Traditionally, there have been two options for using surveillance cameras in the dark: flooding the scene with visible light, or alternatively using infrared (IR) illumination.
Read more...
---
AIoT delivers dynamic digital platforms
Hikvision South Africa CCTV, Surveillance & Remote Monitoring
Many stadiums or venues are seeking new, smart solutions that can help venue operators to stay on top of real-time situations dynamically on digitally driven platforms, and to achieve more efficient and sustainable venue management.
Read more...
---
Upgraded security and AI monitoring at upmarket estate
Watcher Surveillance Solutions Editor's Choice CCTV, Surveillance & Remote Monitoring Integrated Solutions Residential Estate (Industry)
Estate upgrades and enhances its security through a partnership between surveillance specialist Watcher and the incumbent guarding company.
Read more...
---
Security solutions that go the distance
Avigilon Logistics (Industry) CCTV, Surveillance & Remote Monitoring Asset Management, EAS, RFID Transport (Industry)
Avigilon self-learning video analytics help detect potentially critical events and issue an alert within the ACC dashboard, allowing officers to then verify event alarms.
Read more...
---