printer friendly version
Crime down with IP-CCTV
September 2008
CCTV, Surveillance & Remote Monitoring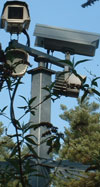 Crime rates decline with integration of IndigoVision's IP-CCTV and mobile security patrols.
IndigoVision's integrated IP-CCTV solution is helping to dramatically reduce crime in the suburbs of Johannesburg, through an innovative security initiative. CSS Tactical, a company that provides mobile security patrols, is breaking new ground with the delivery of security services in South Africa by integrating CCTV surveillance with its area patrols.
"Manpower and visible presence will always be the foundation of our business," explains Ricky Croock, business development manager at CSS, "but it was obvious that as soon as IP-based CCTV systems became available, we could offer our clients an holistic solution, at an affordable price, whilst meeting our goals of deterring criminal activity and preventing any incidents in our patrolled areas."
CSS Tactical's main requirement was for wireless video footage to be transmitted from strategically placed CCTV cameras back to a remote central control room. Scalability and bandwidth usage were other very important factors in the choice of a CCTV system. As the new initiative was likely to attract many new customers for CSS, the system had to be easily and quickly expandable, in order that they could maintain their high service levels. Low bandwidth requirement was also important, as this is a limiting factor in South Africa.
CSS partnered with a local IT company, Parallel Technologies, who recommended IndigoVision's solution (distributed in Africa by Norbain), because of its superior video quality and excellent compression technology. This ensures low bandwidth usage and provides the very best evidential quality video to assist in convictions. The installation of the first phase of the project, which covers the Dunkeld area, was so successful that CSS will soon be implementing the system in the Hyde Park, Greenside and Emmarentia suburbs.
"The average crime incident per client rate in the areas in which we operate typically fell from 11,7 to only 1,1 within 2-3 months of the cameras being installed, which demonstrates how successful the IndigoVision CCTV system has been," commented Croock. "These compelling statistics are generating great interest with potential clients so we anticipate adding many more cameras to the system in the near future. CSS is extremely pleased with the results achieved through implementing the IndigoVision solution."
A team of 21 controllers, operating 24/7 from a central control room, use 'Control Center' IndigoVision's IP Video and alarm management software to view live and recorded video from all of the cameras. This allows the team to provide complete coverage of client areas, and to coordinate response from security guards and armed response teams. 'Control Center' software is supplied by IndigoVision as licence-free, which allows CSS to deploy workstations for no more than the cost of an entry-level PC. This was an important factor for the company as containing costs is key to keeping the service affordable for its customers. 'Control Centre' provides a range of powerful tools for monitoring live video and analysing recorded footage, yet it is very user-friendly. Typical training for CSS operations personnel is around 2 hours.
Credit(s)
Further reading:
Qognify VMS adds support for Pelco IP camera series
CCTV, Surveillance & Remote Monitoring Products
The latest IP camera series from Pelco can now be used with Qognify's advanced video solution for corporate and enterprise projects, increasing the overall number of camera models and third-party devices supported in Qognify VMS to more than 6 500.
Read more...
---
VIVOTEK launches VAST Security Station
CCTV, Surveillance & Remote Monitoring Products
VIVOTEK officially launched its AI security system, VAST Security Station (VSS), in March, available to users in three flexible tiers: VSS Lite, VSS Standard, and VSS Professional.
Read more...
---
Keeping students, staff and communities safe
Vumacam News CCTV, Surveillance & Remote Monitoring Security Services & Risk Management
South African schools are facing increasing security challenges, making effective surveillance systems more important than ever. To address this issue, Vumacam is offering advanced security solutions with security partners, aimed at keeping students, staff, and the community safe.
Read more...
---
Helping to care for zoo animals
Hikvision South Africa CCTV, Surveillance & Remote Monitoring
Zoo keeps an eye on the safety of animals and visitors through the installation of Hikvision 4 MP turret, 12 MP Fisheye cameras, as well as PTZs, NVRs and central management system.
Read more...
---
Boosting digital-intelligent transformation and AI applications
Dahua Technology South Africa CCTV, Surveillance & Remote Monitoring Products
2022 has been a year full of development and innovation for Dahua. The company has launched various upgrades to its existing product portfolio as well as an artillery of new products and solutions that address specific needs/problems in society.
Read more...
---
Arcules and IMMIX announce integration
News CCTV, Surveillance & Remote Monitoring Products
Arcules has announced that its integration with Immix Central Station and Guard Force is available. The integration provides Central Station and Guard Force users a way to manage, verify, and respond to security events, while using Arcules-managed video feeds.
Read more...
---
Developing an effective CCTV control room culture
Leaderware Editor's Choice CCTV, Surveillance & Remote Monitoring Training & Education
Organisational culture in organisations can be seen as the set of values, practices, focus, standards and behaviours, and ways of interacting with others that are accepted and subscribed to by the people who work there.
Read more...
---
Eagle Eye Networks releases 2023 Video Surveillance Trends Report
Eagle Eye Networks News CCTV, Surveillance & Remote Monitoring
Eagle Eye Networks has released the 2023 Trends in Video Surveillance ebook, identifying five trends that will have the largest impact on businesses around the globe in 2023.
Read more...
---
Stainless steel 8 MP dome
Axis Communications SA Products CCTV, Surveillance & Remote Monitoring
Enclosed in marine-grade stainless steel (SS 316L) and DNV-certified, the AXIS Q3538-SLVE can withstand the corrosive effects of seawater and cleaning chemicals.
Read more...
---
Enhanced image clarity and enriched AI functions
Dahua Technology South Africa CCTV, Surveillance & Remote Monitoring Products
The IPC WizMind S series is equipped with multiple intelligent functions, offers adaptability, and comes in plastic-free packaging, enabling better image performance, promoting environmental sustainability, and providing global clients with smarter vision with a stronger surveillance shield.
Read more...
---