printer friendly version
Megapixel mobile vehicle plate recognition system
September 2008
Asset Management, EAS, RFID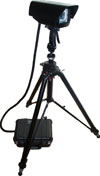 Parking And Traffic Technologies, international supplier of ANPR (automatic number plate recognition) systems, has announced the release of Smartreg Guardian, a standalone mobile vehicle plate recognition system for police enforcement.
Smartreg Guardian is a compact, point and capture, digital camera system designed to automatically read vehicle licence plates for intelligence monitoring, surveillance and enforcement. The system permits police enforcement agencies to rapidly deploy vehicle recognition cameras anywhere, anytime without any special setup or configuration requirements!
Traditional licence plate recognition systems (ANPR) in use today, typically operate from within the police vehicle or from a fixed installation. Smartreg Guardian's simple plug-and-play design, offers a new level in portability and flexibility not seen before in the industry. Both compact and lightweight, the system is small enough to fit inside a briefcase. Smartreg Guardian is powered from a compact battery source allowing the system to operate in both urban and rural locations, independent of an existing mains power supply or fixed telecoms.
Integrated IR illumination ensures that the system operates both day and night. Vehicle data, recorded by the system, is transmitted wirelessly, either locally, to a mobile display terminal, laptop or handheld device, or remotely, via GPRS, to a regional office for processing. Integrated GPS ensures that all recorded images are geographically tagged to identify the location of the vehicle for evidential purposes.
With multiple systems working together, Smartreg Guardian can also be used to provide average speed measurements and realtime vehicle statistics.
Smartreg Guardian is compliant to the UK police NAAS standards.
For more information contact Niall Dorr, +44 208 114 9474, niall.dorr@parkingandtraffic.co.uk, www.parkingandtraffic.co.uk
Further reading:
IoT security seal
Issue 4 2020 , Asset Management, EAS, RFID
With the current lockdown and ports operating at reduced capacity, the need for automation has been taken to a new level.
Read more...
---
Managing outputs, attendance and time
Issue 4 2020 , Asset Management, EAS, RFID
What started out as a great idea to bring structure, order, measurement and accountability to fieldwork, has virtually overnight turned into an indispensable tool.
Read more...
---
ZKTeco offers touchless access for people and vehicles
Issue 4 2020, ZKTeco , Asset Management, EAS, RFID
ZKTeco sports a range of touchless entrance control solutions from licence plate recognition cameras through to facial recognition and multi-modal access solutions.
Read more...
---
Li-ion UPS battery from Schneider Electric
Issue 2 2020 , Asset Management, EAS, RFID
Schneider Electric has announced the launch of the APC Smart-UPS Lithium-Ion UPS Battery to South Africa, offering double the lifespan of VRLA batteries.
Read more...
---
Taking identity management seriously
Issue 2 2020 , Asset Management, EAS, RFID
The most important and critical part of identity management is the enrolment/registration part of the process. This is where the real-world human being must be linked to the cyber world digital identity with forensic proof.
Read more...
---
Reducing identity fraud with a selfie
Access & Identity Management Handbook 2020, Technews Publishing , Asset Management, EAS, RFID
Authenticating your identity remotely via an app has become a reality with a new solution from South African company iiDENTIFii.
Read more...
---
Schneider Electric launches EcoStruxure Asset Advisor
Issue 2 2020 , Asset Management, EAS, RFID
Vendor-neutral asset risk management via sensors and cloud-based monitoring tools offers 24/7 data-driven predictive service for business continuity.
Read more...
---
Security enhancements at Sharm El-Sheikh
November 2019 , Asset Management, EAS, RFID
ADANI Systems supplied the X-ray screening equipment, including combined high-energy and low-energy systems, for Sharm El-Sheikh.
Read more...
---
Learn from their mistakes
October 2019 , Logistics (Industry), Asset Management, EAS, RFID
One of the cardinal rules of business is to learn from the mistakes you make during your journey, but sometimes another company's error can be just as instructive.
Read more...
---
SAP and Uber Freight join forces
September 2019 , Transport (Industry), Asset Management, EAS, RFID
SAP and Uber Freight announced a partnership to modernise the freight industry through intelligent process automation and better access to a network of connected and reliable drivers.
Read more...
---