printer friendly version
Mustek's new control room
September 2008
News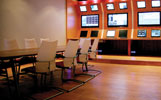 Digital Surveillance Systems, in association with Mustek, launched a state-of-the-art control room on 17 June 2008 at the Mustek premises in Midrand. The control room showcases the latest high-end surveillance and access control solutions, such as ViconNet 4.0, video analytics, mega pixel cameras, mobile DVR and advanced off-site monitoring.
Yossi Danino, director of Digital Surveillance Systems, said, "The aim of this control room is to showcase state-of-the-art security solutions, demonstrating the unlimited potential available in the market today." Interested parties seeking surveillance or access control solutions are welcome to book a demonstration session to experience the possibilities. Please contact Neil Marks on 0861 777 377 or marketing@dss.co.za for more information.
Digital Surveillance Systems also celebrated its first anniversary of its alliance with Mustek on 1 July 2008. Due to the convergence between the security and IT fields over the past few years, the move capitalises on the natural synergy between the companies.
Further reading:
Quantum secret sharing
Issue 6 2020 , News
Wits researchers have demonstrated a new quantum approach for sharing a secret amongst many parties, setting a new record for the highest dimensions and parties to date.
Read more...
---
Three cash-in-transit heists in half an hour
Issue 6 2020, Fidelity Security Group , News
Over the past six weeks the cash-in-transit industry has experienced a spike in the number of heists across the country.
Read more...
---
Programme to assist smaller MSSPs
Issue 6 2020 , News
Networks Unlimited launches new MSSP partnership with SentinelOne to make endpoint defence more accessible.
Read more...
---
Fake uniforms and using falsely branded security vehicle
Issue 6 2020 , News
On Monday 10 August, six to ten armed suspects driving what appeared to be a branded Fidelity ADT vehicle and wearing security uniforms entered a business park.
Read more...
---
From the editor's desk: Covid consolidation
Issue 6 2020, Technews Publishing , News
The global security industry has seen quite a few high-profile mergers and acquisitions over the past year or two, with an even greater number of smaller companies that don't get the headlines also merging, ...
Read more...
---
ONVIF adopts open source development
Issue 6 2020 , News
ONVIF announced it is open sourcing its network interface specifications for physical security technology.
Read more...
---
Hored networking solutions now in South Africa
Issue 6 2020, LD Africa , News
LD Africa is the sole South African distributor for Hored smart networks and smart transmission solutions.
Read more...
---
Suprema wins SIA award
Issue 6 2020, Suprema , News
Suprema Airfob Patch wins Judges' Choice Award from SIA New Product Showcase.
Read more...
---
Digitisation during COVID-19
Issue 6 2020, PSIRA (Private Security Ind. Regulatory Authority) , News
The COVID-19 pandemic has forever changed how business is conducted globally and PSIRA adapted to serve its community.
Read more...
---
Datacentrix boosts security portfolio
Issue 6 2020 , News
Datacentrix has joined the Tenable Assure Partner Programme, strengthening its security portfolio with cyber exposure solutions from Tenable.
Read more...
---