printer friendly version
Hikvision Sata DVR HDD
July 2008
Products & Solutions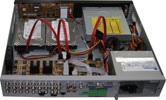 Hikvision decisively made an important decision that all its DVR HDD extensively converted into Sata, for which Hikvision has its own prospect.
Sata, which was designed as a successor to the Advanced Technology Attachment (ATA) standard, possesses obvious advantages over the older IDE - speed: faster data transfer at 300 mbps (Sata 2.0) vs. 133 mbps (IDE); hot swappable: ability to remove or add devices while operating; air flow: thinner cables that let air-cooling work more efficiently; and reliability: stronger correction capability, more reliable operation with tighter data integrity checks.
Alongside the above references, what the most reasonable is, the product lines of IDE are expected to shut down eventually, and Sata is an inevitable trend to replace IDE. Based on TI's DSP chip and advanced technology, Hikvision has simply shifted to the superior Sata HDD with its easy Sata interface and flexible internal programming to offer more competitive Sata DVR than those whose chips are based on ASIC technology which would spend further long cycle and high cost to transit.
Hikvision products are available from Pinnacle and Regal.
For more information contact Pinnacle, +27 (0)11 265 3323, jean@pinnacle.co.za, www.pinnacle.co.za or Regal, +27 (0)11 553 3300, info@regalsecurity.co.za, www.regalsecurity.co.za
Credit(s)
Further reading:
Regal celebrates successful golf day
Regal Distributors SA News & Events
Regal Distributors held its first official Regal Golf Day on 18 October at the Glendower Golf Course in Johannesburg. SMART Security Solutions was there on a hot summer's day to meet many players and sponsors around the course.
Read more...
---
Regal launches direct-to-branch WhatsApp communication
Regal Distributors SA News & Events
With a quick scan of a QR code and a few taps on your phone, installers, integrators, technicians or even end-users can chat directly with the team at their preferred Regal branch via WhatsApp
Read more...
---
Hik-Connect for Teams released
Hikvision South Africa Products & Solutions Surveillance
Hikvision has released an update for its security management platform; Hik-Connect for Teams not only meets the specific needs of individual users, but also caters to various medium-sized businesses (SMBs) and multi-site management scenarios.
Read more...
---
Revolutionise your security with integrated solutions
Secutel Technologies Products & Solutions Surveillance
By merging the capabilities of SecuVue and Secutraq, Secutel has forged a robust system empowering users to fine-tune analytics and harness facial recognition, pose detection, and XFS, among other features.
Read more...
---
Regal fusses over Fluss
Regal Distributors SA IoT & Automation Smart Home Automation
When the team from Fluss brought their Bluetooth-enabled device to Regal's research team, they were hooked. Effortless in its simplicity, the Fluss device means no more losing remotes, endless waiting at the gate for visitors, scanning fingerprints, etc.
Read more...
---
Effective access control
Flow Systems Access Control & Identity Management Products & Solutions
Flow Systems has introduced its new Extra Heavy Duty Industrial Rising Vehicle Barrier, which provides a high level of protection. It is a traditional-looking control barrier with the benefits of high-level physical protection.
Read more...
---
SafeQuip introduces lithium fire extinguishers
Fire & Safety Products & Solutions
With the use of Lithium batteries increasing in many types of portable devices and battery storage solutions, SafeQuip, in partnership with AVD Lithex, is introducing a fire extinguisher aimed at suppressing and extinguishing, and also preventing re-ignition of lithium fires.
Read more...
---
New generation of cyber-focused controllers
Gallagher News & Events Access Control & Identity Management Products & Solutions
The C7000 gives users an opportunity to leverage their hardware and firmware to build a platform designed to catapult their organisation into the future, with cybersecurity baked in from inception.
Read more...
---
Nextivity CEL-FI ROAM R41 boosts your cell signal
IoT & Automation Products & Solutions
Designed for cars, trucks, and boats, it is the industry's most powerful cellular coverage solution for on-the-go applications. It features the 4th generation IntelliBoost chip to deliver channelised coverage for mobile network operator (MNO) signals.
Read more...
---
New power protection for SA
Products & Solutions Power Management
A new generation of uninterrupted power supply (UPS) and power protection systems is now available for technology applications grappling with South Africa's escalating power cuts in both residential and commercial environments.
Read more...
---