printer friendly version
BMW dealership upgraded with video analytics
July 2008
Surveillance

A dramatic rise in theft and vandalism is costing car dealerships worldwide huge amounts in damages and increased insurance premiums.
Often sprawling, these outdoor sites offer intruders many potential hiding places. Savvy thieves also take advantage of the fact that continuously moving stock can block traditional sensors, making their job that much easier.
The challenge
The Nick Whale BMW dealership in the UK was only too familiar with the problem. With a total perimeter of 270 metres, the Warwick-based business is challenged with providing adequate protection to the 100 or so luxury vehicles on its lot at any given time. In spite of the external passive sensors that were in place, the dealership was experiencing an average of five break-ins a year, with each incident involving up to five stolen cars. The cost was becoming exorbitant, amounting to over $1 million a year, not including wasted manpower resources caused by frequent false alarms set off by the system.
Nick Whale needed a better solution, but wanted to use the existing infrastructure in order to minimise the installation costs. In 2007, the dealership's surveillance system was retrofitted with ioimage advanced tracking and intrusion detection capabilities - a practical and cost-effective solution that provides full coverage of the entire sales lot. Due to the seamless integration, the dealership's employees used the same alarm panel to activate and de-activate the system and required no additional training.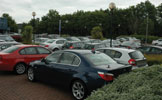 No place to hide
A key feature of the ioimage system is that it is event-driven. It tracks all motion, but filters out extraneous, environmental activity such as small animals and flying debris, which can trigger false alarms.
Nick Whale keeps the system armed after-hours. When a camera detects a security breach, alerts and photos are instantly transmitted to a remote video receiving centre which charges a fixed annual fee to monitor the site. An operator then determines whether or not there is indeed an intruder and can sound a warning over the sales lot's PA system. If the trespasser is not deterred, a security patrol is immediately dispatched to the scene.
Quick return on investment
By virtually eliminating theft from the site and slashing security manpower expenses, the ioimage system more than paid for itself very quickly. Within two months several intruders were detected and removed from the premises. "We are extremely pleased with the ioimage system," says Frank Kinner, dealer principal at Nick Whale. "Since our previous system was passive, we were never sure that it was functioning properly. With the ioimage solution, we are confident that we are getting the best coverage possible at all times. The system proved itself in just a short time."
Besides preventing countless thefts and acts of vandalism, Nick Whale is saving significant manpower resources due to a dramatic reduction in the incidence of false alarms. Maintenance costs have also plummeted, because of the system's automated sensitivity to adjust to environmental changes.
Ease of installation, operation and maintenance
"As far as intelligent video goes, ioimage systems are probably the easiest to install, operate and maintain," says Philip Atkinson, owner of systems integrator Executive Security. "They also provide better perimeter detection and set off fewer false alarms. The solution we installed at the Nick Whale dealership required no additional wiring, and each channel took just minutes to set up. Once things were up and running, users experienced a fast and simple learning curve to master the system."
The installation is also future-proof. When the time comes to expand its BMW lot, Nick Whale has the option of easily adding more ioimage appliances to monitor a larger area.
For more information contact ioimage, +972 9 954 6003, fiona@ioimage.com, www.ioimage.com
Further reading:
Pentagon appointed as Milestone distributor
Elvey Security Technologies News & Events Surveillance
Milestone Systems appointed Pentagon Distribution (an Elvey Group company within the Hudaco Group of Companies) as a distributor. XProtect's open architecture means no lock-in and the ability to customise the connected video solution that will accomplish the job.
Read more...
---
Hik-Connect for Teams released
Hikvision South Africa Products & Solutions Surveillance
Hikvision has released an update for its security management platform; Hik-Connect for Teams not only meets the specific needs of individual users, but also caters to various medium-sized businesses (SMBs) and multi-site management scenarios.
Read more...
---
The human factor side of video management systems
Leaderware Editor's Choice Surveillance Risk Management & Resilience
A video management system (VMS) is central to, and the most vital element to any control room operation using CCTV as part of its service delivery, however, all too often, it is seen as a technical solution rather than an operational solution.
Read more...
---
A simple system for complex protection
Surveillance AI & Data Analytics IoT & Automation
Reconeyez is a company that provides autonomous wireless visual verification systems with built-in artificial intelligence. Running on batteries, each device includes communication capabilities, creating a mesh network between the various devices, linking them to the control room.
Read more...
---
Revolutionise your security with integrated solutions
Secutel Technologies Products & Solutions Surveillance
By merging the capabilities of SecuVue and Secutraq, Secutel has forged a robust system empowering users to fine-tune analytics and harness facial recognition, pose detection, and XFS, among other features.
Read more...
---
Safer roads to a sustainable future
Dahua Technology South Africa Surveillance
With the ever-increasing number of vehicles on the road, it is imperative to constantly improve the quality of transportation monitoring and traffic management in urban and rural areas.
Read more...
---
From damage management to false alarm prevention
Dallmeier Electronic Southern Africa Transport (Industry) Surveillance Logistics (Industry)
Video surveillance is undergoing an exciting evolution; today's IP-based solutions can be fully integrated into digital systems. With the increasing integration of artificial intelligence (AI); logistics, in particular, can make processes more transparent and exploit previously untapped potential.
Read more...
---
Marshall Security partners with Blacklight to introduce Reconeyez to KZN
News & Events Surveillance Power Management
Marshal Security has joined forces with Blacklight Group to launch Reconeyez, a cutting-edge battery-powered surveillance platform with mesh network capability, in the KwaZulu-Natal market.
Read more...
---
Professional mobile video management in your pocket
Dallmeier Electronic Southern Africa Surveillance
With the SeMSy Mobile Client for its Domera and Panomera cameras, Dallmeier is now launching a solution that combines the functional and security requirements of professional organisations with the user-friendliness and simplicity of consumer apps.
Read more...
---
Leveraging AI to boost security in SA
AI & Data Analytics Surveillance
By shifting data analysis and processing to the edge of a company's network, decision-makers can ensure their remote offices can access real-time computing across multiple locations, supporting informed business decisions.
Read more...
---