printer friendly version
Cooled versus uncooled detectors in thermal imaging
July 2008
Surveillance

With the use of thermal cameras along borders, in total darkness and adverse weather conditions, as used currently, the only means of detecting small amounts of heat at distances of 16 km will be by using cooled detectors.
Sometimes, questions like, when do I have to use cooled and when do I use uncooled detectors, is asked when a solution is engineered.
There are many products on the market but there are mainly two types of detectors available within the thermal range of products - cooled detectors, used in long-range cameras, and uncooled detectors, used in medium- to short-range products. Cost will be a major choice in deciding which technology to use and bearing in mind that the security market is very sensitive to cost.
Cooled detectors
Modern cooled thermal imaging cameras have an imaging sensor, which is integrated with a cryocooler and this device will cool down the sensor temperature to cryogenic temperatures. This reduced temperature is very important to reduce thermally induced noise to a level lower than that of the signal, from the scene being imaged.
The coolers have moving parts and the tolerances of the mechanical parts is very critical and it wears out over time, and the helium gas works its way past the seals within the unit. The implications thereof are that the coolers have to be rebuilt every 8000 to 10 000 hours of operation.
This type of camera is the most sensitive type of camera available today, especially when small 'temperature targets' are observed over very long distances. Cooled detectors operate within the midwave infrared region, 3-5 μm range, within the electromagnetic spectrum.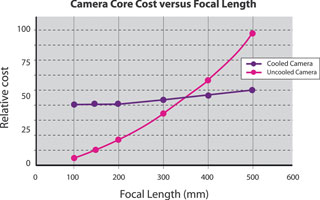 Uncooled detectors
Uncooled infrared cameras are ones in which the detector does not require cryogenic cooling. One of the common designs is based on the microbolometer. This comprises of a tiny vanadium oxide resistor with a large temperature coefficient on a silicon element with a large surface area, low heat capacity and good thermal isolation.
Changes in the temperature of a scene cause changes in the bolometer temperature, which are converted to electrical signals.
Uncooled detectors operate within the long wave infrared region, 7-12 μm range, within the electromagnetic spectrum. This is the area where most of the terrestrial temperature targets emit most of their infrared energy.
This type of camera is generally much less expensive than the cooled type camera. These cameras do not have moving parts and can work for years on end.
Conclusion
One of the cost effective factors to consider is that cooled systems will be best to use beyond detection ranges of more than 5 km. Another major contributing factor is the price of the lens of the complete system.
For more information contact Timeless Technologies, 0861 846 383, tinus@timetech.co.za, www.timetech.co.za
Acknowledgement to Flir - Technical Notes.
Further reading:
Pentagon appointed as Milestone distributor
Elvey Security Technologies News & Events Surveillance
Milestone Systems appointed Pentagon Distribution (an Elvey Group company within the Hudaco Group of Companies) as a distributor. XProtect's open architecture means no lock-in and the ability to customise the connected video solution that will accomplish the job.
Read more...
---
Hik-Connect for Teams released
Hikvision South Africa Products & Solutions Surveillance
Hikvision has released an update for its security management platform; Hik-Connect for Teams not only meets the specific needs of individual users, but also caters to various medium-sized businesses (SMBs) and multi-site management scenarios.
Read more...
---
The human factor side of video management systems
Leaderware Editor's Choice Surveillance Risk Management & Resilience
A video management system (VMS) is central to, and the most vital element to any control room operation using CCTV as part of its service delivery, however, all too often, it is seen as a technical solution rather than an operational solution.
Read more...
---
A simple system for complex protection
Surveillance AI & Data Analytics IoT & Automation
Reconeyez is a company that provides autonomous wireless visual verification systems with built-in artificial intelligence. Running on batteries, each device includes communication capabilities, creating a mesh network between the various devices, linking them to the control room.
Read more...
---
Revolutionise your security with integrated solutions
Secutel Technologies Products & Solutions Surveillance
By merging the capabilities of SecuVue and Secutraq, Secutel has forged a robust system empowering users to fine-tune analytics and harness facial recognition, pose detection, and XFS, among other features.
Read more...
---
Safer roads to a sustainable future
Dahua Technology South Africa Surveillance
With the ever-increasing number of vehicles on the road, it is imperative to constantly improve the quality of transportation monitoring and traffic management in urban and rural areas.
Read more...
---
From damage management to false alarm prevention
Dallmeier Electronic Southern Africa Transport (Industry) Surveillance Logistics (Industry)
Video surveillance is undergoing an exciting evolution; today's IP-based solutions can be fully integrated into digital systems. With the increasing integration of artificial intelligence (AI); logistics, in particular, can make processes more transparent and exploit previously untapped potential.
Read more...
---
Marshall Security partners with Blacklight to introduce Reconeyez to KZN
News & Events Surveillance Power Management
Marshal Security has joined forces with Blacklight Group to launch Reconeyez, a cutting-edge battery-powered surveillance platform with mesh network capability, in the KwaZulu-Natal market.
Read more...
---
Professional mobile video management in your pocket
Dallmeier Electronic Southern Africa Surveillance
With the SeMSy Mobile Client for its Domera and Panomera cameras, Dallmeier is now launching a solution that combines the functional and security requirements of professional organisations with the user-friendliness and simplicity of consumer apps.
Read more...
---
Leveraging AI to boost security in SA
AI & Data Analytics Surveillance
By shifting data analysis and processing to the edge of a company's network, decision-makers can ensure their remote offices can access real-time computing across multiple locations, supporting informed business decisions.
Read more...
---