printer friendly version
A view on the 2010 kick-off
July 2008
Surveillance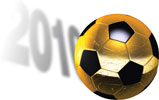 By securing the rights to host the FIFA Soccer World Cup in 2010, the world's eyes are now firmly focused on South Africa to see if the country is up to the task of hosting a successful international tournament.
Apart from pitch conditions and infrastructure, safety and security around the six-week tournament is one of the main criteria by which success will be measured. Recent crowd control catastrophes such as the Ellis Park disaster in Johannesburg in 2001 and the threat of terrorist attacks around the world have placed even greater importance on safety and security. Security guards and visible policing are usually the first lines of defence when it comes to stadium security and defusing tension among fans before, during or after matches.
However, with World Cup stadia set to handle capacities in excess of 30 000, a full overview of the venues and effective control of spectators is going to be a tall order for the guards. This is where video surveillance systems are so important; particularly Internet Protocol (IP)-based systems.
To manage the threat of criminal activity, hooligans or any other unwanted crowd behaviour, one needs to have a clear view of the crowds, by positioning cameras at various points around the stadium. However it is not always possible to have a camera positioned exactly where it is needed, especially as surveillance cameras require power to operate and with the way stadia are built, there are not always power points at the desired camera locations.
This poses a problem for analogue camera installations, but the new generation of IP cameras has evolved beyond this limitation. Because IP cameras draw power from the same Ethernet cable that connects them to the stadium's network, they can be placed at any location, provided it is within the reach of the network cable, which can extend up to 100 metres.
While supplying power to a camera is a common problem, there are instances where a power point is not always available and running cables is not possible. In such cases the IP cameras' wireless network connectivity provides the solution. Wireless IP cameras can be placed at any location in or around the stadium. All that is required is a power point, and this can be situated anywhere in the vicinity of the stadium. This is because wireless IP cameras have a range of up to 60 kilometres.
Worldwide, football fans are known for their hooliganism and, often during games, football stadia are vandalised and the surveillance cameras around the stadia are usually not spared in such malicious attacks. Tamper alarms, which are now found in IP cameras, alert operators when a camera's normal operation is interfered with. The operator can then send a guard to inspect the camera, who in turn will restore the camera to its operational state or report the case to a technician.
As the host of the world's most popular sporting event, South Africa is under tremendous pressure to stage a great tournament and do well as a team. While good results may not be guaranteed on the field, a safe and secure tournament can be guaranteed through the use of IP video surveillance systems.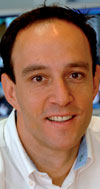 Roy Alves
Roy Alves is the country manager of Axis Communications.
Credit(s)
Further reading:
Safer roads to a sustainable future
Dahua Technology South Africa Surveillance
With the ever-increasing number of vehicles on the road, it is imperative to constantly improve the quality of transportation monitoring and traffic management in urban and rural areas.
Read more...
---
From damage management to false alarm prevention
Dallmeier Electronic Southern Africa Transport (Industry) Surveillance Logistics (Industry)
Video surveillance is undergoing an exciting evolution; today's IP-based solutions can be fully integrated into digital systems. With the increasing integration of artificial intelligence (AI); logistics, in particular, can make processes more transparent and exploit previously untapped potential.
Read more...
---
Marshall Security partners with Blacklight to introduce Reconeyez to KZN
News & Events Surveillance Power Management
Marshal Security has joined forces with Blacklight Group to launch Reconeyez, a cutting-edge battery-powered surveillance platform with mesh network capability, in the KwaZulu-Natal market.
Read more...
---
Professional mobile video management in your pocket
Dallmeier Electronic Southern Africa Surveillance
With the SeMSy Mobile Client for its Domera and Panomera cameras, Dallmeier is now launching a solution that combines the functional and security requirements of professional organisations with the user-friendliness and simplicity of consumer apps.
Read more...
---
Leveraging AI to boost security in SA
AI & Data Analytics Surveillance
By shifting data analysis and processing to the edge of a company's network, decision-makers can ensure their remote offices can access real-time computing across multiple locations, supporting informed business decisions.
Read more...
---
Safeguard surveillance devices from cyberattacks
Axis Communications SA Surveillance Information Security
Cybersecurity concerns extend through the organisation and out among its stakeholders and supply chains. It also covers video surveillance, which is critical to any organisation's physical security and asset protection strategy.
Read more...
---
Ring announces second generation indoor camera
Smart Home Automation Surveillance Residential Estate (Industry)
Introducing a removable manual privacy cover, Ring's latest indoor camera provides customers with increased privacy, control and peace of mind when it comes to home security.
Read more...
---
Body-worn evidence
Technews Publishing Forbatt SA Betatrac Telematic Solutions Secutel Technologies Surveillance Residential Estate (Industry) Products & Solutions
Body-worn cameras are no longer just a good idea or a luxury item; in fact, they are gaining popularity and finding use in various situations, one of these being in residential estates.
Read more...
---
Stop cheating with gaming analytics
Dallmeier Electronic Southern Africa Surveillance Entertainment and Hospitality (Industry)
The CAT gaming analysis solution from Dallmeier offers a range of analysis options with which casino operators can increase the 'game pace', combat fraud and gain valuable insights into the gaming action through real time data collection.
Read more...
---
Integrated, intelligent, informed and improved living
Guardian Eye Surveillance
Guardian Eye's range of solutions allow for monitoring and safeguarding your home through discreet, easy-to-maintain devices and solutions, watching your premises and alerting you in the event of unwanted happenings.
Read more...
---