printer friendly version
Internet and network alarm communicators enhancing alarm communication technology
July 2008
Infrastructure
We are living in a time where technology is developing at a frenetic pace and communication systems are becoming increasingly sophisticated.
This technological reality makes all the difference to the average security end-user as it gives them an added advantage in their security application. It is an ideal application for banks and large retail chains where significant networks have already been established and are being used for various purposes.
The introduction of GSM (global system for mobile communications) and TCP/IP (Transmission Control Protocol and Internet Protocol) technology into the market made it possible for people to unlock unique strategic security solutions to fit their control rooms, businesses and homes. Internet and network alarm communicators provides the next level of alarm signal communication using this technology, these units can be seamlessly connected to alarm panels to provide services such as alarm reports to control rooms. Saving end-users money, the networked alarm communicators uses existing Internet connection to create an instant, always on IP alarm communication solution.
"GSM technology was introduced into South Africa about four years ago," says Elvey new business development manager, Michael Brett. "This has only recently filtered through to security industry implementations during the last year and a half. The primary benefit offered by this technology is that it fills the communication gap in business and homes that do not make use of a standard telephone line. Users are less reluctant to adapt to these security-enhanced systems because they are already familiar with the cellular phone/Internet technology," comments Brett.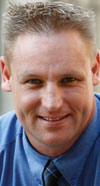 Michael Brett
The Internet and network alarm communicators provides customers with the next level of alarm signal delivery. These systems are en route to control panels enabling alarm communication to central monitoring stations over the Internet. IP network alarm communicators connect to the telephone output of any control panel that uses the Contact ID format, providing a TCP/IP connection that sends predefined Contact ID codes to a central monitoring station.
"This effectively means that end-users can access their unique system directly from the Internet Web browser, which is especially useful to companies with 24-hour Internet connections which do not use telephone landlines. The data transmissions created by the alarm communicators are small and require only a limited amount of network bandwidth," says Brett.
TCP/IP interface also provides access to central stations within seconds anywhere in the world ensuring timely and accurate delivery of the alarm signal. Even in the event the primary receiver IP address is inaccessible, the modules are capable of reporting to two different e-mail addresses, which can be associated with a personal computer, pager, enabled mobile phone or handheld PDA.
The Internet alarm communicators are great for installers as they are extremely fast in programming, easy to install and easy to use. The TCP/IP alarm communicators allow for fast emergency response due to reduced backlog at central monitoring station and increase the value of the alarm system. With system administrator software managing the system is easy as it allows clients to add and delete users and download events. The systems integration includes benefits such as account volume, signal processing capabilities and automatically switching redundancy in the event of failure. Unlike traditional telephone line alarm communication there is no fear of line cuts or line failures, ensures reliability and security is more supervised.
Credit(s)
Further reading:
Cloud platform for cyber resilience in the hybrid enterprise
Infrastructure
The Commvault Cloud brings together data protection, security, intelligence, and recovery on one platform, offering AI capabilities to defeat cyber threats, and includes integration with Microsoft Azure OpenAI Service.
Read more...
---
Rapid rise in DNS attacks drives demand for new approach
Infrastructure Risk Management & Resilience
As ransomware grows more sophisticated and DNS attacks become more frequent, businesses are increasingly trying to protect themselves by adopting innovative approaches and technologies to bolster the integrity and security of their backup systems.
Read more...
---
Majority of South African companies concerned about cloud security
Information Security Infrastructure
Global and local businesses share a common concern when it comes to cloud security. 95% of global businesses and 89% of local businesses are concerned about the security of public clouds.
Read more...
---
Consolidated cybersecurity management
Technews Publishing Editor's Choice Information Security Infrastructure
SMART Security Solutions spoke to Gareth Redelinghuys, Country Managing Director, African Cluster at Trend Micro, to find out what makes Trend stand out from the crowd and also its latest market offerings.
Read more...
---
Access to data centre secured
Suprema Access Control & Identity Management Infrastructure
GBM required a modern access control system to increase the security of its facilities in a productive environment without affecting the operation of the offices and the data centre, which are carried out 24/7/365.
Read more...
---
Africa's growth lies on shoulders of renewable energy
News & Events Infrastructure
The Africa Tech Festival from 13 to 16 November in Cape Town will unpack the challenges and discuss the pivotal role of sustainability & renewable energy in advancing technological development in Africa.
Read more...
---
Commvault appoints Graham Brown as Channel Manager for South Africa/SADC
News & Events Infrastructure
Commvault announced the appointment of industry veteran Graham Brown as Channel Manager for the South Africa/South African Development Community (SADC) region.
Read more...
---
Five considerations when using AI
AI & Data Analytics Infrastructure
Helm CEO, Dawood Patel, offers readers some insights and principles that should be considered by any organisation thinking about implementing an AI solution to leverage its power to shape a better future.
Read more...
---
Does your data hygiene pass the cleanliness test?
Information Security Infrastructure
In today's data-driven world, where every click, swipe and tap generates a trail of data, the safeguarding of information is paramount. It's no longer a case of paying a ransom, but rather defending against attacks by maintaining the hygiene of data.
Read more...
---
The complexity of data sovereignty in a multi-polar world
Infrastructure
The importance of data sovereignty and security creates complexity in a world where sharing such information across borders generates huge social and economic benefits, says Andrew Cruise, Managing Director of Routed.
Read more...
---