printer friendly version
America can wait
July 2008
News & Events
ADI International's South African subsidiary distributes a wide range of electronic security and HVAC products. The local head office is situated in Johannesburg, with main branches in Pretoria, Cape Town and Durban. It also has opened trade counters specifically to deal with the SMB market in other cities around the country.
The company recently saw Andrew Stead taking the helm from Philip Cowles, who has been bumped up the ladder to head the company's office in Belgium. Andrew is a veteran of the local security industry, previously heading Elvey before spending a few years running his own businesses in the tourism and building industries.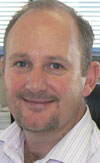 Andrew Stead
In fact, Andrew and his wife were on their way to settle in Dallas, Texas in the USA when the opportunity of Regional GM of Sub Saharan Africa at ADI was offered to him. The opportunity was one he could not pass up.
"ADI South Africa presented a few challenges and many opportunities," says Stead. "ADI is a global company with revenues exceeding $36 billion and over 139 000 employees. The security industry is in my blood and I have developed relationships with many people throughout my career, as well as personal friendships that I do not wish to lose.
"My first task on arriving at ADI was to get to know the South African team, which numbers 60 people. This challenge soon became an opportunity as I got to know the team and realised what talented people they are and what a great atmosphere pervades the company."
Even though the ADI business is a well-established, brand agnostic distribution leader, Andrew's vision sees the company continuing to grow in its traditional areas of strength and achieve accelerated growth in other, newer areas of the market. For example, in the US, the majority of ADI's customers are in the intrusion market, while the majority of the South African company's customers are in the surveillance/CCTV market.
Stead has chalked up substantial experience in the intrusion market and this strength will assist the company in exploiting more opportunities in this area. Moreover, while ADI South Africa's existing business is a strong player in the systems integrator and high-end equipment installer market, it still has some ground to make up in the SMB arena.
Stead believes the product set on offer from ADI is unique in its variety as well as its ability to suit almost any need. "Few distributors, if any, can match our product selection and we are able to deal with markets from building or stadium management software to basic alarm systems.
He also says ADI, due to its international presence, understands the manufacturing process as well as the intricacies of the security distribution market, even when the products are competitors to Honeywell. This gives it an advantage in the local market where the experience and best practices of the international company can easily be extended to local customers.
Looking to the future, Stead wants to ensure ADI continues its local growth and is recognised as a leading distributor of quality security equipment. "My motto is to offer the best service and product at a fair price. However, when you provide an excellent service and communicate effectively with your customers, price is not always an important aspect of the deal and superior customer service will define ADI in the coming years."
For more information contact ADI International, +27 (0)11 574 2500, barbara.maclean@adi-intl.com, www.adi-intl.co.za
Credit(s)
Further reading:
Helping South African university students and staff to stay safe
News & Events
Buzzer is a free mobile app that allows users to quickly and easily report incidents of crime, violence, or harassment to campus security and other relevant authorities.
Read more...
---
Tech developments lead hologram growth in 2024
News & Events Security Services & Risk Management
Micro-lenses, micro-mirrors and plasmonics are among the rapidly-emerging optical devices that have evolved on the back of holographic and diffractive technologies, and are seen as part of the natural evolution of optical science by R&D teams.
Read more...
---
Trellix detects collaboration by cybercriminals and nation states
News & Events Information Security
Trellix has released The CyberThreat Report: November 2023 from its Advanced Research Centre, highlighting new programming languages in malware development, adoption of malicious GenAI, and acceleration of geopolitical threat activity.
Read more...
---
People are craving connection
News & Events
As 2023 nears its close, global security manufacturer Gallagher Security is sharing key observations from some of the year's biggest industry events, chief among them the rising importance of community building these events facilitate.
Read more...
---
ePSiRA online system
PSiRA (Private Security Ind. Regulatory Authority) News & Events
[Sponsored] As part of the digitisation of the security industry, the Private Security Industry Regulatory Authority (PSiRA) introduced the ePSiRA online system, which allows clients to transact online.
Read more...
---
New generation of cyber-focused controllers
Gallagher News & Events Access Control & Identity Management Products & Solutions
The C7000 gives users an opportunity to leverage their hardware and firmware to build a platform designed to catapult their organisation into the future, with cybersecurity baked in from inception.
Read more...
---
New T&A terminal features revolutionary AI technology
Suprema News & Events Access Control & Identity Management AI & Data Analytics
Suprema has launched BioStation 2a, the world's first deep learning-based fingerprint recognition solution, providing powerful access control features and an improved ability to extract templates from low-quality fingerprints.
Read more...
---
South African Cyber Risk Survey 2023
News & Events
Aon South Africa has released its 2023 Cyber Risk Survey for South Africa, providing insights on current trends in cyber risk governance practices being deployed by South African companies in various market segments.
Read more...
---
Africa Online Safety Fund announces grant winners
News & Events Information Security
The Africa Online Safety Fund (AOSF) has announced the winners of this year's grants; among them are five organisations operating in South Africa to educate people about online risks.
Read more...
---
From the editor's desk: Convergence is real
Technews Publishing News & Events
      SMART Security Solutions has been talking about convergence for a long time; in other words, the intersection and even integration between the physical and information security worlds. Before writing ...
Read more...
---