printer friendly version
SAIS golf day
July 2008
News & Events
Friday 9 May saw the South African Institute of Security hold its 9th Annual Charity Golf Day at Waterkloof Golf Course and sponsored by Omega Risk Solutions. This year saw an even bigger event with 38 four-balls participating. Many of the holes had been sponsored by various companies who provided drinks to the thirsty golfers as the weather proved one of those wonderful warm autumn days that you can only find on the highveld. Toits Nissan once again provided a car should anyone manage that elusive hole in one - and once again no-one managed to drive it home.
The evening saw the golfers and their guests being entertained by Eddie Eckstein. Prizes were presented for the closest to the pin on various holes, the longest drive and the longest day.
Overall winners were the team from the SAPS, consisting of Commissioner Morgan Chetty, director Piet Croucamp, director Stefan Pieterse and Savan Marimuthu, with Mike Cowley's team second and the team from Sun City placed third.
The SAPS team (Left to right): Reggie Marimuthu; director, Piet Croucamp; Savan Marimuthu; Alec de Witt of Omega; commissioner, Morgan Chetty and director, Stefan Pieterse

Second place – (Left to right): Reggie Marimuthu, CJ van Nieker, Bennie van Kasterop, Mike Cowley and Alec de Wit. (Not pictured: Willie Theron)

Third place – (Left to right): Reggie Marimuthu, Charles Mansfield, Alec de Witt from Omega (not part of the four-ball), Jamie Stephens and Steve Senekal
The Charity that benefited this year was the South African Police Widows' and Orphans' Fund and the cheque was accepted on their behalf by director Stefan Pieterse.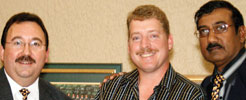 Director, Stefan Pieterse (centre) receiving the cheque on behalf of the SAPS Widows & Orphans Fund
The evening culminated in an auction of some sporting memorabilia with proceeds going to the Institute's Bursary Fund.
Next year SAIS will be celebrating the 10th Anniversary of its Golf Day - Omega has already offered to sponsor this again and the date has been booked at Waterkloof for Friday 8 May.
For more information contact SA Institute of Security, 086 111 1418, saqccfire@tiscali.co.za, www.instituteofsecurity.co.za
Further reading:
Helping South African university students and staff to stay safe
News & Events
Buzzer is a free mobile app that allows users to quickly and easily report incidents of crime, violence, or harassment to campus security and other relevant authorities.
Read more...
---
Tech developments lead hologram growth in 2024
News & Events Security Services & Risk Management
Micro-lenses, micro-mirrors and plasmonics are among the rapidly-emerging optical devices that have evolved on the back of holographic and diffractive technologies, and are seen as part of the natural evolution of optical science by R&D teams.
Read more...
---
Trellix detects collaboration by cybercriminals and nation states
News & Events Information Security
Trellix has released The CyberThreat Report: November 2023 from its Advanced Research Centre, highlighting new programming languages in malware development, adoption of malicious GenAI, and acceleration of geopolitical threat activity.
Read more...
---
People are craving connection
News & Events
As 2023 nears its close, global security manufacturer Gallagher Security is sharing key observations from some of the year's biggest industry events, chief among them the rising importance of community building these events facilitate.
Read more...
---
ePSiRA online system
PSiRA (Private Security Ind. Regulatory Authority) News & Events
[Sponsored] As part of the digitisation of the security industry, the Private Security Industry Regulatory Authority (PSiRA) introduced the ePSiRA online system, which allows clients to transact online.
Read more...
---
New generation of cyber-focused controllers
Gallagher News & Events Access Control & Identity Management Products & Solutions
The C7000 gives users an opportunity to leverage their hardware and firmware to build a platform designed to catapult their organisation into the future, with cybersecurity baked in from inception.
Read more...
---
New T&A terminal features revolutionary AI technology
Suprema News & Events Access Control & Identity Management AI & Data Analytics
Suprema has launched BioStation 2a, the world's first deep learning-based fingerprint recognition solution, providing powerful access control features and an improved ability to extract templates from low-quality fingerprints.
Read more...
---
South African Cyber Risk Survey 2023
News & Events
Aon South Africa has released its 2023 Cyber Risk Survey for South Africa, providing insights on current trends in cyber risk governance practices being deployed by South African companies in various market segments.
Read more...
---
Africa Online Safety Fund announces grant winners
News & Events Information Security
The Africa Online Safety Fund (AOSF) has announced the winners of this year's grants; among them are five organisations operating in South Africa to educate people about online risks.
Read more...
---
From the editor's desk: Convergence is real
Technews Publishing News & Events
      SMART Security Solutions has been talking about convergence for a long time; in other words, the intersection and even integration between the physical and information security worlds. Before writing ...
Read more...
---