printer friendly version
Getting the right storage solution for your surveillance requirements
June 2008
CCTV, Surveillance & Remote Monitoring
The emergence of network video was welcomed with great enthusiasm in the surveillance industry.
This was mainly due to the fact that network video effectively put an end to the reliance on video cassettes as a storage medium for video footage. In their place, hard disk drives have been used to store all footage, be it audio or video.
As great as they are, hard disk drives are not unlimited in their storage capacity. This gives rise to the question of how much hard disk space is needed for a surveillance system to operate effectively.
There are several factors that need to be considered when determining the hard disk storage requirements for a surveillance system. Top of these is the number of cameras that will be installed on the system. Also important is the number of hours per day the cameras will be recording. For instance, whether the cameras will be recording constantly throughout the day or whether recording will be motion or event triggered. Other important considerations include frame rate, compression, image quality and the amount of time recorded material needs to be kept.
All these factors interact with one another to either increase or decrease the storage requirements in a system. For example, in a system that uses JPEG or Motion JPEG, where single files are received, the ideal storage requirements can be achieved by adjusting or manipulating the frame rate, resolution and compression.
When MPEG-4 is used, the images are received in a continuous data stream instead of individual files, and it is the bit rate that determines the necessary storage requirements, while the bit rate is in turn determined by the specific frame rate, resolution and compression, as well as the level of motion in the covered scene.
With regards to physical equipment, there are two approaches to hard disk storage. One is to have the storage attached to the actual server running the system, referred to as direct attached storage, and the other is a detached storage solution where the storage is separate from the server.
Direct attached storage is the most common hard disk storage solution in small to medium-sized installations. As the name suggests, the hard disk is located in the same PC or application server that runs the system. Available storage space is determined by the PC and the number of hard disks it can hold. Depending on the PC, direct attached storage can offer up to 1,2 Terabytes of storage space.
Detached storage, on the other hand, is best suited for applications where the storage requirements exceed the limitations of direct attached storage.
Detached storage solutions take one of two forms, one being network attached storage, where a single dedicated storage device is connected to a local area nNetwork (LAN), offering shared storage to all clients on the network. This type of storage solution is relatively easy to install and manage, and provides storage space greater than that offered by direct attached storage. The only shortfall is that network attached storage provides very limited throughput for incoming data.
The other form of detached storage, storage area network, is a high-speed, special-purpose network for storage. It is connected to one or more servers via fibre. Users can access any one of the storage devices on the network through any of the servers. Storage area networks are highly scalable and can offer hundreds of terabytes worth of storage space.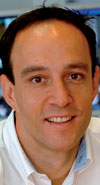 Roy Alves is the country manager of Axis Communications South Africa.
Credit(s)
Further reading:
AI technology to empower vertical markets
Dahua Technology South Africa Mining (Industry) CCTV, Surveillance & Remote Monitoring Products
Dahua WizMind is a full portfolio of solutions comprising project-oriented products that use deep learning algorithms to provide more business value to its global customers and deliver reliable and comprehensive AI solutions for vertical markets.
Read more...
---
Elvey partners with HALO
Elvey Security Technologies News CCTV, Surveillance & Remote Monitoring
Elvey Group has partnered with HALO Europe to provide Africa's first body-worn solution with zero upfront costs. This includes an IP68-certified body camera and a 4G-connected device.
Read more...
---
Regal announces new partnership
Regal Distributors SA CCTV, Surveillance & Remote Monitoring
Having a bird's eye view of your surveillance data, with the capability to drill down to the details obtained via connected security solutions, is a game changer for security operators, companies and even officers on the ground.
Read more...
---
Invisible connection and tangible protection via cloud
Dahua Technology South Africa Perimeter Security, Alarms & Intruder Detection CCTV, Surveillance & Remote Monitoring Products
Dahua Technology has launched its AirShield security solution that uses advanced, stable and reliable RF communication technology and cloud services, integrating alarm hubs, various detectors and accessories, with several software apps.
Read more...
---
Hikvision expands solar-powered solutions
CCTV, Surveillance & Remote Monitoring Products
Hikvision is offering a portfolio of solar solutions, the 4G solar-powered camera kit, a wireless bridge, and mobile solar security tower solutions to assist in keeping remote and isolated areas safe in a simple, practical, and cost-effective way.
Read more...
---
Affordable entry-level cameras from Dallmeier
Dallmeier Electronic Southern Africa CCTV, Surveillance & Remote Monitoring Products
Dallmeier has introduced the 'E' version of the DOMERA camera family, offering high image quality with 2 MP and 5 MP resolution, and providing detailed images even in low light conditions.
Read more...
---
The importance of the operator's frame of reference
Leaderware Editor's Choice CCTV, Surveillance & Remote Monitoring Security Services & Risk Management Mining (Industry)
The better the operator's frame of reference and situational awareness, and the more informed they are in dealing with CCTV surveillance in the mining industry, the more successful they are likely to be in surveillance.
Read more...
---
Enhancing surveillance on mines
Avigilon Technews Publishing Axis Communications SA Forbatt SA Hikvision South Africa Bosch Building Technologies Editor's Choice CCTV, Surveillance & Remote Monitoring Integrated Solutions Mining (Industry)
Smart Security approached a number of surveillance vendors to find out what the latest in surveillance technology is that can make a difference to security operations in mines, as well as general operations.
Read more...
---
Surveillance to improve worker safety
Axis Communications SA Mining (Industry) CCTV, Surveillance & Remote Monitoring Integrated Solutions
With substantial deposits of mineral resources, mining is critical for South Africa's economic growth and prosperity; however, mining can be dangerous, especially for the people working on the ground and in the shafts.
Read more...
---
Radar-video fusion camera
Axis Communications SA CCTV, Surveillance & Remote Monitoring Mining (Industry) Products
The AXIS Q1656-DLE Radar-Video Fusion Camera device brings video and radar analytics together in AXIS Object Analytics to deliver detection and visualisation.
Read more...
---