printer friendly version
Hot tips for load shedding periods
May 2008
Fire & Safety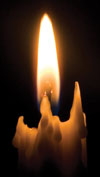 According to Chubb Fire, more often than not, it is not fire that kills, but the lack of control that does.
Picture the following scenario...
One morning a homeowner experiences one of the recurring load shedding exercises while she is ironing her dress. In the ensuing confusion and haste to get ready and arrive at work on time, she forgets the iron is still plugged into the power socket and worst of all, is still on!
She arrives home after dark and as she drives up the driveway notices her lights, set to a timer switch, are not on. However all the neighbours' lights are on so it cannot still be part of the morning's load shedding exercise.
Upon entering the house she is immediately faced with an acrid smell of burning. She searches the house and eventually opens the door to the ironing room. The power had been restored after she had left for work. The water in the tank of the steam iron had evaporated, leaving the dry iron to overheat. The plastic outer covering of the iron had melted eventually creating a short circuit that tripped the mains.
What saved her from a devastating fire and quite possibly the total loss of the house and all its contents?
* The electrical installation was in accordance with all the correct standards.
* The iron was left upright by chance - this prevented the plate from burning through the ironing board.
* The iron was placed on the 'iron stand area' of the ironing board.
What could have made this situation worse?
* The iron was not filled with water.
* The iron was left with its plate flat on the padded surface of the ironing board.
What should the correct procedure have been?
* Understand that uncontrolled heat sources can destroy.
* Make time to check every heat source before leaving the property - every time you leave.
In addition, power cuts, for whatever reason, are forcing people to light, cook and stay warm by using basic methods such as candles, gas, paraffin, wood or charcoal. Please make sure every care is taken to ensuring these methods are safe and that the area you occupy, whether at work or home, is safe before you leave or go to sleep at night.
Remember that:
* Candles can fall over and ignite other combustibles. Ensure that they are only used in secure, non-combustible holders that cannot fall over.
* Ensure candles and other open flame- or heat-generating items are used away from curtains etc.
* Do not place open flame- or heat-generating items on carpets or areas that are combustible.
* Some appliances require flammable liquids to operate. Store these liquids in secure containers clearly marked for the purpose intended and only use small amounts at a time. Remember paraffin in soft drinks bottles is attractive to children - this can have disastrous consequences, possibly even the death of a child.
* Keep matches, firelighters and cigarette lighters out of the reach of children.
* Teach children the dangers of open flames and playing with matches.
* Fire extinguishers are cheap in comparison to life and assets.
* Winter is on its way - power cuts will lead to a greater need for open/basic forms of energy as mentioned above.
Further reading:
Technoswitch partners with UK's Hyfire
Technoswitch Fire Detection & Suppression News Fire & Safety Products
UK-based wireless fire technology pioneer Hyfire, has confirmed partnership agreements that will see its products sold in South Africa, for the first time, through local fire and safety stalwart, Technoswitch.
Read more...
---
Bespoke fire-risk systems for agri and food processing
Fire & Safety
ASP Fire highlights its specialised expertise in the agri and food-processing industries, where compliance is vital to save lives, reduce the costs of fire damage, and protect equipment and buildings from major damage.
Read more...
---
Incorporate fire safety in the design phase
Fire & Safety
ASP Fire CEO Michael van Niekerk says companies can prevent their infrastructure project from going up in flames by incorporating fire safety in the design phase.
Read more...
---
Fire-fighting force at Vergelegen
Editor's Choice Fire & Safety Residential Estate (Industry)
Vergelegen wine estate in Somerset West, and its neighbours, are set to enjoy greater peace of mind this summer, thanks to the delivery of a brand new fire truck .
Read more...
---
Rhino103 extinguishing control panel
Technoswitch Fire Detection & Suppression Fire & Safety Products
Technoswitch has released the Rhino103 extinguishing control panel range, designed and manufactured in South Africa to comply with EN54 parts 2 and 4, and EN12094.
Read more...
---
Technoswitch partners with Ciqurix for video fire detection
Technoswitch Fire Detection & Suppression News Fire & Safety
Technoswitch is pleased to announce the signing of an exclusive distribution agreement with Ciqurix (UK), a leading supplier of video fire detection products.
Read more...
---
Fire protection for new Fuchs warehouse
Fire & Safety
The new warehouse at Fuchs Lubricants South Africa in Isando, Johannesburg, not only incorporates the latest technology but complies with stringent fire detection and prevention requirements.
Read more...
---
Fire-safety risks during load shedding
News Fire & Safety
The current load shedding implemented by electricity utility Eskom, as it faces unplanned breakdowns, poses a heightened fire risk for homeowners and their families.
Read more...
---
FlameSpec flame detectors from Technoswitch
Technoswitch Fire Detection & Suppression Fire & Safety
The FM-approved FlameSpec detectors address slow-growing fires and fast eruptions of fire while maintaining high performance and reliable detection in all weather and light conditions.
Read more...
---
Improved hydraulic performance and efficiency
Johnson Controls Global Products Fire & Safety
Tyco 5.8K LFII sprinkler from Johnson Controls Global Products brings improved hydraulic performance and efficiency to residential fire protection.
Read more...
---