printer friendly version
Securing your network while securing your premises
May 2008
CCTV, Surveillance & Remote Monitoring
Besides superior image quality, intelligent cameras and lower total cost of ownership, Internet Protocol (IP) surveillance systems have also grown in popularity because of their remote accessibility. This is the ability to access the cameras in realtime from anywhere in the world via the Internet.
As with all networked equipment, network cameras have an IP address. This makes it possible for anyone who has an always-on Internet connection to access the camera regardless of their location or device, provided they have the correct IP address. This exposes the IP system to the threats that are commonly associated with the Internet such as hacking and malware.
By its nature, surveillance is all about confidentiality. The data transmitted and saved on a network surveillance system may contain privileged information such as customer information and trade secrets. It goes without saying that the protection of this data should be at the heart of any web-based surveillance system.
Like any secure transmission or delivery process, there are several steps that need to be followed to ensure data integrity is maintained. The first of these is authentication.
Authentication is the most basic aspect of network security. Before gaining access to the network, the user or device needs to identify itself. This is done by providing some kind of identification, for example a username and password or even fingerprint identification in the more sophisticated systems. Most authentication programmes in use today are based on the 802.1x standard.
This standard provides authentication to devices attached to a local area network (LAN) port, establishing a connection or preventing access from that point if authentication fails. In an IP surveillance system, this means that even if a foreign camera is connected to the network through a port, it will still need to be authenticated to gain access to the network and use it.
Apart from keeping outsiders from entering the network, there is sometimes the need to limit network access to only certain individuals in the organisation. But how do you limit access to certain areas on the network without hampering people's ability to do their job?
This question brings us to the next step in securing the network. Even though an authentication identity may be legitimate, it still needs to be validated to gain access to the network. Whenever an authentication code is entered, it is compared to a database or list of correct and approved identities. This is called authorisation. It makes it possible to limit certain sections of the network to only certain individuals in the organisation, and in the same way limits access to certain cameras within a network surveillance system.
The final step in protecting data within a network is through encryption. Encrypting data prevents outsiders from being able to read or use the data. It is important to note though, that encryption could substantially decrease network performance.
Through all this, the protection of single devices against intrusion should not be neglected. Devices such as PCs, servers and individual network cameras should also be protected from unauthorised users, viruses and similar unwanted items.
Access to PCs and servers can be controlled through the use of complex username and password combinations. These should be at least six characters long, combining letters and numbers, and featuring both lower- and uppercase letters.
To protect devices from viruses and worms, a good quality virus scanner with up-to-date filters is recommended. Furthermore, if the LAN is connected to the Internet, it is important to use a firewall to regulate traffic to and from the Internet.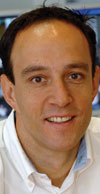 Roy Alves
Roy Alves is the country manager at Axis Communications South Africa.
Credit(s)
Further reading:
Avoiding human error at ports
LD Africa Transport (Industry) CCTV, Surveillance & Remote Monitoring Products Logistics (Industry)
LD Africa introduced a local port to the AxxonSoft Port Security System ,a solution that helps overcome the element of human error and eliminate paperwork.
Read more...
---
Compact, lightweight bullet cameras with support for analytics
Axis Communications SA Products CCTV, Surveillance & Remote Monitoring
Axis Communications announced two new outdoor-ready bullet-style cameras featuring deep-learning processing units for analytics based on deep learning on the edge.
Read more...
---
Numerous challenges for transport and logistics
Transport (Industry) CCTV, Surveillance & Remote Monitoring Security Services & Risk Management Logistics (Industry)
Operators are making significant investments in automation and digitalisation in order to address security concerns, improve loss prevention as well as efficiency, and reduce unit order costs.
Read more...
---
A key to urban transport challenges
Axis Communications SA Transport (Industry) CCTV, Surveillance & Remote Monitoring Integrated Solutions Logistics (Industry)
There are many enabling technologies that can impact transportation in South Africa, but a good place to start is by considering the applications for smart physical technology with the ability to collect and respond to data.
Read more...
---
Hikvision aims for solutions
Technews Publishing Hikvision South Africa Editor's Choice CCTV, Surveillance & Remote Monitoring News Integrated Solutions Conferences & Events
Hikvision recently held a roadshow titled Industry X, where the company highlighted its latest products and solutions, supported by partners and distributors.
Read more...
---
Reliable, low-maintenance video appliances
Technews Publishing Editor's Choice CCTV, Surveillance & Remote Monitoring News IT infrastructure Products
Symetrix, part of the Agera Group, has added the AES range of video recording servers, storage appliances and workstations to its portfolio.
Read more...
---
A new full-colour era
Dahua Technology South Africa CCTV, Surveillance & Remote Monitoring
Traditionally, there have been two options for using surveillance cameras in the dark: flooding the scene with visible light, or alternatively using infrared (IR) illumination.
Read more...
---
AIoT delivers dynamic digital platforms
Hikvision South Africa CCTV, Surveillance & Remote Monitoring
Many stadiums or venues are seeking new, smart solutions that can help venue operators to stay on top of real-time situations dynamically on digitally driven platforms, and to achieve more efficient and sustainable venue management.
Read more...
---
Upgraded security and AI monitoring at upmarket estate
Watcher Surveillance Solutions Editor's Choice CCTV, Surveillance & Remote Monitoring Integrated Solutions Residential Estate (Industry)
Estate upgrades and enhances its security through a partnership between surveillance specialist Watcher and the incumbent guarding company.
Read more...
---
Security solutions that go the distance
Avigilon Logistics (Industry) CCTV, Surveillance & Remote Monitoring Asset Management, EAS, RFID Transport (Industry)
Avigilon self-learning video analytics help detect potentially critical events and issue an alert within the ACC dashboard, allowing officers to then verify event alarms.
Read more...
---