printer friendly version
IP remote video monitoring evolves
February 2008
Surveillance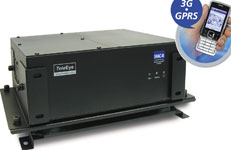 As remote video monitoring evolves, solution providers are noticing a significant shift from traditional security services offered by the remote video response centre (RVRC), to services that include management services and reporting which are now offered to the customer.
With the integration of CCTV systems into not only access control, but also other electronic equipment such as fire systems, digital PLCs, weighing equipment, point of sale and other industrial electronic devices, this has opened the way for a host of new services that a RVRC can now offer its customers.
The RVRC's ability to interact live with remote sites makes it the ideal platform for remote management and security applications. Some companies however still prefer to look after their own remote management requirements.
For companies wishing to create their own remote management facility, while still enjoying the benefits of a RVRC for security purposes, they are now able to do so from a single CCTV system.
"Cross border monitoring is now a reality," says TeleEye South Africa MD, Philip Smerkovitz. "With traditional remote monitoring systems the main emphasis was on security. With the remote transmission capabilities now available, businesses can now use remote monitoring for their business, security and management needs from a single platform."
BS8418 compliance is an important factor when choosing a remote monitoring system. BS 8418 is a British detector activated CCTV system code of practice that provides essential design, installation, commissioning, operating and remote monitoring guidelines for the systems.
To achieve this standard, the functionality of the chosen CCTV transmission system becomes paramount, to allow for effective communication between the RVRC and site.
Traditionally, remote video monitoring and video alarm verification systems have been limited to 'site to RVRC or security control room' applications with the customer having very little or no interaction with the system. Some of the reasons for this have been the systems' limitations to support concurrent users via different connectivity methods and a lack of adequate security features to prevent users from interfering with the critical applications of the RVRC. This often results in the customer having to make a further investment in a CCTV system for management purposes.
CCTV systems featuring standard video compression technologies such as JPEG, JPEG2000, M-JPEG, MPEG-1, MPEG-2 or MPEG-4 are prone to RVRC critical applications being hampered by concurrent users of the system. One of the reasons for this is that all these standard video coders compress the incoming analogue video and output a single digital video stream. The DVR uses this digital video stream for both recording and transmission to remote users through the Ethernet and serial port. If the RVRC and other remote users are connected concurrently via broadband, narrowband or LAN, the RVRC video performance will be affected by the other users' differing transmission rates.
TeleEye offers the RX and NX product lines, with technologies that can overcome these problems. The SMAC-M Multi Stream compression technology produces five separate digital data streams from a single analogue video signal allowing a data stream to be reserved for recording, another for critical applications of the RVRC, while management concurrently interacts with the system locally or remotely from the PCs, laptops and mobile phones via the remaining data streams. The multiple video streams of SMAC-M coder operate independently.
The security mode feature allows the system administrator to set up different login accounts for individual users with different users' authorities. Hence the system administrator can authorise a certain set of users to carry out certain functions while he can restrict the access of certain cameras from the RVRC or some other users and also reserve features for the RVRC security application.
The range of application software including live monitoring from mobile phones, allows RVRC, management and mobile users to concurrently access the system without affecting each other.
TeleEye static sites communicate to the RVRC via fixed or wireless LAN or WAN connections, telco links, broadband, narrowband and dial mediums. Apart from fixed network mediums (due to lack of availability, vehicle applications or site failover), the systems can still operate effectively as it allows video transmission via 3G or GPRS mobile networks, which is essential to the operation of the RVRC.
For more information contact TeleEye SA, +27 (0)11 557 9200, info@teleeye.co.za, www.teleeye.co.za
Credit(s)
Further reading:
Pentagon appointed as Milestone distributor
Elvey Security Technologies News & Events Surveillance
Milestone Systems appointed Pentagon Distribution (an Elvey Group company within the Hudaco Group of Companies) as a distributor. XProtect's open architecture means no lock-in and the ability to customise the connected video solution that will accomplish the job.
Read more...
---
Hik-Connect for Teams released
Hikvision South Africa Products & Solutions Surveillance
Hikvision has released an update for its security management platform; Hik-Connect for Teams not only meets the specific needs of individual users, but also caters to various medium-sized businesses (SMBs) and multi-site management scenarios.
Read more...
---
The human factor side of video management systems
Leaderware Editor's Choice Surveillance Risk Management & Resilience
A video management system (VMS) is central to, and the most vital element to any control room operation using CCTV as part of its service delivery, however, all too often, it is seen as a technical solution rather than an operational solution.
Read more...
---
A simple system for complex protection
Surveillance AI & Data Analytics IoT & Automation
Reconeyez is a company that provides autonomous wireless visual verification systems with built-in artificial intelligence. Running on batteries, each device includes communication capabilities, creating a mesh network between the various devices, linking them to the control room.
Read more...
---
Revolutionise your security with integrated solutions
Secutel Technologies Products & Solutions Surveillance
By merging the capabilities of SecuVue and Secutraq, Secutel has forged a robust system empowering users to fine-tune analytics and harness facial recognition, pose detection, and XFS, among other features.
Read more...
---
Safer roads to a sustainable future
Dahua Technology South Africa Surveillance
With the ever-increasing number of vehicles on the road, it is imperative to constantly improve the quality of transportation monitoring and traffic management in urban and rural areas.
Read more...
---
From damage management to false alarm prevention
Dallmeier Electronic Southern Africa Transport (Industry) Surveillance Logistics (Industry)
Video surveillance is undergoing an exciting evolution; today's IP-based solutions can be fully integrated into digital systems. With the increasing integration of artificial intelligence (AI); logistics, in particular, can make processes more transparent and exploit previously untapped potential.
Read more...
---
Marshall Security partners with Blacklight to introduce Reconeyez to KZN
News & Events Surveillance Power Management
Marshal Security has joined forces with Blacklight Group to launch Reconeyez, a cutting-edge battery-powered surveillance platform with mesh network capability, in the KwaZulu-Natal market.
Read more...
---
Professional mobile video management in your pocket
Dallmeier Electronic Southern Africa Surveillance
With the SeMSy Mobile Client for its Domera and Panomera cameras, Dallmeier is now launching a solution that combines the functional and security requirements of professional organisations with the user-friendliness and simplicity of consumer apps.
Read more...
---
Leveraging AI to boost security in SA
AI & Data Analytics Surveillance
By shifting data analysis and processing to the edge of a company's network, decision-makers can ensure their remote offices can access real-time computing across multiple locations, supporting informed business decisions.
Read more...
---