printer friendly version
Working in mysterious ways
November 2007
Access Control & Identity Management

Motivation
The Salesian Institute, a charitable organisation that works with Cape Town's street children, is one of the latest converts to biometrics.
The organisation, a Roman Catholic religious order, was founded in the mid 19th century by Saint John Bosco to care for the young and poor children of the industrial revolution and has a global community of over 34 000 priests, brothers and sisters in some 130 countries.
The first community members arrived in Cape Town in 1896, and the Institute's current home was built in 1910. It currently runs a series of initiatives for street children including Learn to Live which provides a full school educational programme for between 80 and 120 students at any time. The Institute also has an 18-month residential skills programme for young men to provide rehabilitation and skills training.
Following a mid 2007 audit by the Department of Social Services, the Institute was advised to improve the time and attendance system used for its 45 staff.
This presented the Institute with a dilemma. While it needed to comply with government recommendations, purchasing a T&A system would draw money from budgets allocated to its educational projects, thus disadvantaging the street children it supports.
Rewards
Father Naughton, bursar for the Salesian Institute, says, "We reconciled ourselves to the fact that we needed to implement a new system. We researched the different solutions on the marketplace and decided that a fingerprint T&A system would be more effective than a conventional clock card system."
The Institute contacted SuperVision's Cape Town office to ask for advice on which biometric technology was the most appropriate for its environment.
Charlie Stewart, SuperVision's sales and marketing manager, says, "As soon as we heard about the Salesian Institute's work we decided that this was one project we must support. This feeling was reinforced when we met with Father Naughton and his team and saw the wonderful work the Institute is doing for some of the most underprivileged members of society."
SuperVision contacted ADI International, who supplies it with Sagem biometric terminals, to ask if the company would be interested in contributing to the project and the two companies agreed to donate a complete T&A system to the Salesian Institute.
ADI provided an MA100 reader with a Sagem Verif dongle and Maci software license, while SuperVision donated an enrolment reader, its T&A software and its services to install the system.
Implementation
The biometric terminal is installed next to the guard room at the main entrance to the Salesian Institute's building in Green Point and is used by all staff when they arrive at and leave work.
A network connection allows the terminal to upload profiles and download clocking information to the Institute's HR PC from where clockings are checked and salaries paid.
Review
Father Naughton comments, "As we are almost entirely funded by charitable donations, it is incredibly difficult for us to justify expenditure on infrastructure or any activity which is not directly related to our guiding mission to care for the young and poor. We were delighted that SuperVision and ADI share our vision and were willing to provide us with a worldclass time and attendance system."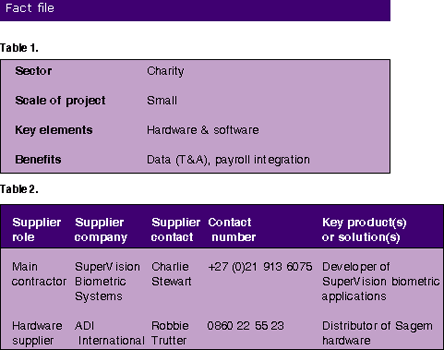 Credit(s)
Further reading:
Cloud-based or on-premises access control
Salto Systems Africa Access Control & Identity Management Products
Choosing between cloud-based and on-premises access control solutions can be a difficult decision, however, the best solution for your organisation, property, or building type will depend on a range of factors.
Read more...
---
Improved security health check tool
Gallagher Access Control & Identity Management Products
Gallagher Security has streamlined its free Security Health Check tool, making it easier than ever to protect against potential system risks and improve business efficiencies.
Read more...
---
Suprema showcases integrated security solutions
Suprema Access Control & Identity Management Products
Apart from being an access terminal that supports multiple credentials such as facial recognition, RFID, mobile and QR codes, the BioStation 3 also supports VoIP Intercom and real-time video monitoring features to make it a truly multi-functional reader.
Read more...
---
Local electronic locks
Access Control & Identity Management
YeboTech is an electronics manufacturing company, founded in 2005, which designs, markets and sells an electronic key and locking systems, aimed at replacing all conventional mechanical locks.
Read more...
---
Selecting the correct access control system
Enkulu Technologies Access Control & Identity Management
Frazer Matchett, Managing Director of Enkulu Technologies, suggests the right questions to ask when selecting an access control solution; not just the access system, but the integrated solution that fits your requirements.
Read more...
---
Integrated guarding services
XtraVision Integrated Solutions Access Control & Identity Management Industrial (Industry)
XtraVision offers a few tips on how to go about planning and setting up an integrated approach to sustainable and successful security services, from the initial risk assessment to the technology and people required.
Read more...
---
Paxton secures multi-tenant office in Cape Town
Paxton Integrated Solutions Access Control & Identity Management Products
Cecilia Square in Paarl, Cape Town is an office building from where several businesses operate. The multi-tenant site has recently undergone a full refurbishment, including a complete upgrade of its security system for access control.
Read more...
---
AI face recognition OEM module
Suprema News Access Control & Identity Management Products
Suprema AI, a company specialized in artificial intelligence–based integrated security solutions, recently launched its high-performance face recognition OEM module called 'Q-Face Pro' in response to the growing need for contactless security solutions.
Read more...
---
KWAL raises a glass to security upgrade
Turnstar Systems Access Control & Identity Management Products
The Kenya Wine Agencies Limited (KWAL) was in need of an integrated security upgrade. This is where Turnstar came into the picture to provide a solution that would keep KWAL secure and efficient.
Read more...
---
Dahua Insider Series for touchless access
Dahua Technology South Africa Access Control & Identity Management Products
The Insider Series Access Control Solution offers touchless access (via Bluetooth) using the DMSS mobile app; it has three distance modes and two trigger modes (normal and shake).
Read more...
---