printer friendly version
Clinic's security and productivity prescription
November 2007
CCTV, Surveillance & Remote Monitoring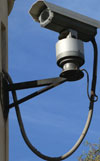 Clinic uses IP-surveillance to improve security, and productivity, and secure investment.
Mission
Life Brenthurst Clinic in Johannesburg needed to modernise its video surveillance system. As with similar facilities throughout the city, petty crime and instances of low productivity stemming from people evading responsibility needed to be managed, and Life Brenthurst Clinic was determined to be at the forefront in excellent service delivery.
An existing analogue CCTV system, when it did reveal incidents, delivered such poor image quality that it was useless for providing evidence or helping to manage the problems.
Solution
Axis Partner, Camsecure, a provider of integrated surveillance solutions, recommended replacing the analogue cameras, multiplexers and VCRs with Axis network cameras and a recording and monitoring solution from NUUO.
The first phase of the installation comprised 18 Axis 207 cameras indoors and an Axis 214 PTZ outside the main entrance. For budgetary reasons, the outside analogue cameras were retained but brought into the digital environment via an Axis 240Q video server. A dedicated Gigabit Ethernet network was installed to transport the image.
Result
The system proved itself in short order on all fronts. On the security front, a cellphone thief was caught within minutes; a high-quality image of a bogus doctor captured by the system circulated to medical institutions resulted in his apprehension at another site; and long-term loiterers were identified and able to be managed.
Abuse of equipment and excessive smoke breaks were detected and now remedied, and opportunities for improving admissions handling for a better patient experience identified. Management sees an overall performance improvement, better housekeeping and cost savings as key success areas.
Securing the investment base
The Life Brenthurst Clinic is a long-established clinic with an excellent reputation that needed to modernise its video surveillance system. A high-quality monitoring system was seen as a key element in the clinic's strategy to deliver excellent service in the face of industry-wide staff and skills shortages. The existing CCTV system delivered poor quality monochrome images that were hard to access (from tapes) when needed but, in any event, largely useless.
Cutting cost of ownership
Camsecure, an Axis partner with many years' experience of both analogue and network surveillance systems, proposed that the clinic install a pure network-based system. The cost of IP video cameras was raised as an objection, but Camsecure not only showed that the total system cost would be in budget, but also demonstrated how much more utility it could deliver.
Rapid deployment and ease of expansion were other strong selling points. The elimination of dozens of cable runs was a further major advantage. The old system had 32 cameras with coaxial and power cables choking up the trunking. Mohamed Bera, services manager at the clinic, remarks: "Now we have just one network cable that supports all the cameras. It just makes life so easy for everyone who has to work in the services spaces."
The cost of maintaining the system has also dropped as the in-house IT support team has the competencies needed, so they no longer have to rely on outside contractors. The control room staff rapidly felt at home with the system with its familiar PC-based paradigm.
Delivery above expectation
The new system has proven itself effective in more ways than anticipated. Security staff in the parking area and on the road outside are more effective as the manager can see when they are not carrying out their duties properly.
A second phase extending the IP camera coverage to all outside areas and adding cameras for nursing stations and ward approaches has already been approved. "We are now in a position to prevent incidents rather than reacting after the occurrence."
Credit(s)
Further reading:
AI technology to empower vertical markets
Dahua Technology South Africa Mining (Industry) CCTV, Surveillance & Remote Monitoring Products
Dahua WizMind is a full portfolio of solutions comprising project-oriented products that use deep learning algorithms to provide more business value to its global customers and deliver reliable and comprehensive AI solutions for vertical markets.
Read more...
---
Elvey partners with HALO
Elvey Security Technologies News CCTV, Surveillance & Remote Monitoring
Elvey Group has partnered with HALO Europe to provide Africa's first body-worn solution with zero upfront costs. This includes an IP68-certified body camera and a 4G-connected device.
Read more...
---
Regal announces new partnership
Regal Distributors SA CCTV, Surveillance & Remote Monitoring
Having a bird's eye view of your surveillance data, with the capability to drill down to the details obtained via connected security solutions, is a game changer for security operators, companies and even officers on the ground.
Read more...
---
Invisible connection and tangible protection via cloud
Dahua Technology South Africa Perimeter Security, Alarms & Intruder Detection CCTV, Surveillance & Remote Monitoring Products
Dahua Technology has launched its AirShield security solution that uses advanced, stable and reliable RF communication technology and cloud services, integrating alarm hubs, various detectors and accessories, with several software apps.
Read more...
---
Hikvision expands solar-powered solutions
CCTV, Surveillance & Remote Monitoring Products
Hikvision is offering a portfolio of solar solutions, the 4G solar-powered camera kit, a wireless bridge, and mobile solar security tower solutions to assist in keeping remote and isolated areas safe in a simple, practical, and cost-effective way.
Read more...
---
Affordable entry-level cameras from Dallmeier
Dallmeier Electronic Southern Africa CCTV, Surveillance & Remote Monitoring Products
Dallmeier has introduced the 'E' version of the DOMERA camera family, offering high image quality with 2 MP and 5 MP resolution, and providing detailed images even in low light conditions.
Read more...
---
The importance of the operator's frame of reference
Leaderware Editor's Choice CCTV, Surveillance & Remote Monitoring Security Services & Risk Management Mining (Industry)
The better the operator's frame of reference and situational awareness, and the more informed they are in dealing with CCTV surveillance in the mining industry, the more successful they are likely to be in surveillance.
Read more...
---
Enhancing surveillance on mines
Avigilon Technews Publishing Axis Communications SA Forbatt SA Hikvision South Africa Bosch Building Technologies Editor's Choice CCTV, Surveillance & Remote Monitoring Integrated Solutions Mining (Industry)
Smart Security approached a number of surveillance vendors to find out what the latest in surveillance technology is that can make a difference to security operations in mines, as well as general operations.
Read more...
---
Surveillance to improve worker safety
Axis Communications SA Mining (Industry) CCTV, Surveillance & Remote Monitoring Integrated Solutions
With substantial deposits of mineral resources, mining is critical for South Africa's economic growth and prosperity; however, mining can be dangerous, especially for the people working on the ground and in the shafts.
Read more...
---
Radar-video fusion camera
Axis Communications SA CCTV, Surveillance & Remote Monitoring Mining (Industry) Products
The AXIS Q1656-DLE Radar-Video Fusion Camera device brings video and radar analytics together in AXIS Object Analytics to deliver detection and visualisation.
Read more...
---