printer friendly version
Lifestyle estates grow in popularity
May 2007
Residential Estate (Industry)
There has been an exponential growth in residential estates in recent years. These range from estates of around 40 units to the big developments of 3000 to 4000 units.
These estates all have one thing in common: they satisfy the needs of those who are seeking an aesthetically pleasing and secure lifestyle.
Typically, lifestyle estates have generous common ground with children's playgrounds and recreational facilities such as tennis courts or jogging trails. Some have lakes or look onto flowing rivers or dams. There are golf estates and equestrian estates, game conservation estates and ecological estates.
Owners who pay for pleasing aesthetics of this scale, also demand a professional security service. Marcel Pienaar, who looks after the security needs of ADT's lifestyle estates' clients nationally, says that today a professional security service must take note of, and counter, the growing sophistication of criminals.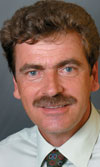 Marcel Pienaar
Criminals are becoming better informed and use their own reconnaissance to find new ways of gaining access to estates. There are more and more cases of criminals threatening guards with firearms and using violence, tailing people from shopping malls and targeting units that they have gained information about from their informers.
As part of his role, Pienaar does a complete security evaluation for prospective clients. "Each estate is unique and ADT offers a security service that is tailored to blend seamlessly into the culture and lifestyle of the particular estate," he says. "ADT aims to provide a focused and professional security service that delivers premium results and offers peace of mind to owners and their investment. As part of ADT's global reach, we also have access to a wide range of new high-tech security devices which can be implemented according to specific needs."
"The role of the developer is crucial," he says. "Construction and equipment must be of an acceptable standard. If standards are lowered for, say, the construction of a perimeter wall, electric fencing or alarm installation, this may result in the eventual failure of the security measures. Accordingly, ADT has strict standards for all aspects of the security service it provides, whether relating to equipment or the performance demanded of its guarding division."
Pienaar adds that a professional security supplier must always stay one step ahead of the criminal. Thus, any movement or activity at the approaches to an estate should be visible from the guardhouse and there should be adequate lighting at the entrance. Tinted windows make it more difficult for criminals to see what is going on inside the guardhouse. If there is an intercom at the access gates, and the gates can be opened and closed by remote control without the guards leaving the guardhouse, they are less vulnerable to surprise attack from outside.
"The key to a successful professional service is an appropriate split between communication and security," says Pienaar. "Our access gate guards and patrol guards are trained to communicate with residents and assist them in emergencies or unexpected situations and to act promptly and decisively when danger threatens. At all times there is close interaction between our guarding and armed response divisions."
For more information contact Marcel Pienaar, ADT, +27 (0)11 259 3535, mpienaar@tycoint.com, www.adt.com
Further reading:
Visitor management for estates
Access & Identity Management Handbook 2020, Powell Tronics , Residential Estate (Industry), Access Control & Identity Management
Residential estates and business parks around South Africa have installed access control systems that aim to streamline access for both pedestrians and vehicular traffic.
Read more...
---
Residential Estate Security Conference 2019
October 2019, Technews Publishing , Editor's Choice, Residential Estate (Industry), Conferences & Events
Hi-Tech Security Solutions hosted the Residential Estate Security Conference in August, focusing on the people, technology and processes involved in an effective security solution for estates.
Read more...
---
Frictionless access with a wave
October 2019, IDEMIA , Access Control & Identity Management, Residential Estate (Industry)
IDEMIA was the Platinum Sponsor for the Residential Estate Security Conference 2019 and set up its MorphoWave Compact frictionless fingerprint biometric scanner at the entrance to the conference.
Read more...
---
Streamlined access and reporting
October 2019, Comb Communications , Access Control & Identity Management, Residential Estate (Industry)
The main focus of the Comb stand was its practical demonstration of the MK II Lite intercom system with third-party integrated products.
Read more...
---
A committed service provider
October 2019, Elf Rentals - Electronic Security Solutions , Perimeter Security, Alarms & Intruder Detection, Residential Estate (Industry)
The theme Elf promoted through its sponsorship was that it offers clients its own financial commitment and willingness to accept the risk of equipment failure.
Read more...
---
Thermal cameras with artificial intelligence
October 2019, Dahua Technology South Africa , Perimeter Security, Alarms & Intruder Detection, CCTV, Surveillance & Remote Monitoring, Residential Estate (Industry)
Dahua Technology showcased solutions that are important to residential estates, namely perimeter protection.
Read more...
---
Customised and integrated solutions
October 2019, Suprema , Access Control & Identity Management, Residential Estate (Industry)
iVisit offers both high-end and low-end residential complexes a cost-effective visitor management solution that is fully integrated into Suprema's offerings.
Read more...
---
Securing estate perimeters
October 2019, Nemtek Electric Fencing Products , Perimeter Security, Alarms & Intruder Detection, Residential Estate (Industry)
Nemtek has a range of products designed to secure the perimeters of estates, however its display at the conference focused on its Network Energizer and its Dual-Action Tension Sensor.
Read more...
---
Access solutions for every estate
October 2019, Impro Technologies , Access Control & Identity Management, Residential Estate (Industry)
Impro's flagship Access Portal solution comprises one of the most user-friendly software solutions on the market.
Read more...
---
A balanced, fair industry
October 2019, PSIRA (Private Security Ind. Regulatory Authority) , Residential Estate (Industry), Security Services & Risk Management, Associations
PSiRA is focused on supporting the effective promotion and regulation of the private security industry.
Read more...
---