printer friendly version
Dispelling the myths of IP video - Myth #1: IP surveillance is still five years away
February 2007
CCTV, Surveillance & Remote Monitoring
In this series, Roy Alves, country manager of Axis Communications South Africa, examines 10 myths about IP video.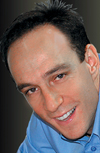 Roy Alves
Five years is an eternity in today's progressive IP industry, but we do not even have to wait one year. With the ever-changing security landscape and continued expansion of network infrastructures, IP surveillance is already upon us.
The initial migration to IP-based installations began in 1996, when Axis Communications introduced the world's first network camera. At that time, the network camera was seen as a gimmick, just a gadget for the IT propeller-heads. Two years later, network cameras and video servers were introduced to the security industry at the ISC West show. At that stage most industry pundits and insiders were still unfamiliar with the concept of network video and more than a few were sceptical about its viability and potential.
Now, it is difficult to find an exhibitor that does not offer an IP surveillance solution. As ASIS (American Society for Industrial Security) has noted: "It is the direction security is moving - and moving quickly - with or without us." In fact, IP surveillance has moved so quickly that it is now at our fingertips and those who wait five years will be left in the 20th century's security market.
The past
Analog CCTV surveillance systems, ie, analog cameras, VCRs and also DVRs, are a legacy that is still dominating the security market. While they previously provided unmatched benefits in the surveillance arena, traditional CCTV solutions today are an ageing technology in the security industry. Many CCTV benefits are now considered disadvantages when compared to IP surveillance solutions. For instance, the ability to centralise all surveillance monitoring was once considered a major benefit of CCTV security systems. That first 'C' - closed circuit TV - was considered an advantage. Today, however, security experts are putting increased importance on IP surveillance solutions which can be viewed from any location in the world. In addition, expensive installation cabling, proprietary hardware for recording and specialised equipment and staffing have all ignited frustration with CCTV surveillance systems.
The present
It is estimated that approximately half a million network cameras have already been installed worldwide, clearly showing it to be a viable option in today's market rather than a technology scheduled to be integrated in five years. IP surveillance is evolving everyday and there are countless applications for IP-based systems that can impact an organisation's security.
For example, in case of an emergency, law enforcement authorities and emergency crews arriving on the scene of a facility with an IP-based security system can use the wireless modems on their laptops to log in to the system and view conditions inside the building.
IP surveillance allows for a more flexible, scalable and cost-efficient system by using off-the-shelf IT hardware such as switches and PC servers. Almost any existing security installation, from key card access to alarms, can integrate with network video technology to provide one integrated system instead of different islands for access control, video, fire and HVAC. Two additional factors driving the market shift are that systems now increasingly include more intelligence down to the camera level, and offer resolutions much higher than analogue CCTV systems can provide.
IP surveillance solutions are currently being used in hundreds of applications across the world. But these examples are just the tip of the iceberg: schools are taking advantage of network cameras to increase security and protect students; government agencies are using IP surveillance for security in police departments, federal prisons and state court systems; museums are setting up ad-hoc systems to cover special exhibitions; stores are monitoring customer head-count with intelligent cameras; and many more examples. In the wake of the increased fears of terrorist attacks in recent years, many of the world's transportation agencies have turned to IP surveillance to increase their security umbrella, including Departments of Transportation (DOT), railways and airports.
According to J.P. Freeman, the network camera market is continuing to gain strength and is expected to overtake the analog CCTV camera market by 2008. As physical security continues its merge with the fast moving IT industry, smart chief security officers will realise that IP surveillance is the new security standard.
The future is now
Considering the technological advancements, related market drivers and the changing security landscape, the migration to IP-based solutions will inevitably continue to expand and evolve. Companies that lead the way by using IP video solutions will do more than just enjoy the ability to leverage existing infrastructure and see improvements in performance and functionality; they will gain an edge over their competitors and will be among the first to achieve a greater level of security.
Whether it is on cost, performance, reliability, or any other measure, IP surveillance has proven itself to be a security solution for today and one that will grow and improve well into the future.
For more information contact Roy Alves, Axis Communications South Africa, +27 (0)11 548 6780, roya@axis.com, www.axis.com
Credit(s)
Further reading:
Efficient storage for security
Issue 7 2020, Dell EMC , CCTV, Surveillance & Remote Monitoring
There is a dramatic increase in the amount of storage and computing power required to support today's safety and security systems.
Read more...
---
Safe restaurant reopening technology
Issue 7 2020, Dahua Technology South Africa , CCTV, Surveillance & Remote Monitoring
Denmark's Arkaden Food Hall makes use of Dahua People Counting and Flow Control solution for safe reopening.
Read more...
---
Forbatt SA invests in South Africa's security industry
Issue 7 2020, Forbatt SA , CCTV, Surveillance & Remote Monitoring
Forbatt SA is set to offer an improved service to the industry by making sure it has the products and solutions the industry needs, as well as a new showroom.
Read more...
---
Secure by default
Issue 7 2020, Axis Communications SA, CA Southern Africa , Editor's Choice
A Secure by Default strategy means taking an holistic approach to solving security problems at the root cause, rather than treating the symptoms of a cybersecurity defect.
Read more...
---
Analytics with your existing cameras
Issue 7 2020, Secutel Technologies , CCTV, Surveillance & Remote Monitoring
With SecuVue from Secutel Technologies, it is possible for any business to monitor their offices, warehouses or stores remotely, from any part of the world.
Read more...
---
Consolidating control rooms and service delivery within a COVID-19 environment
Issue 6 2020, Leaderware , CCTV, Surveillance & Remote Monitoring
It is essential to have informed, coordinated and professional responses within control rooms at this time of increasing turmoil.
Read more...
---
Technology driving the healthcare industry
Issue 6 2020, Duxbury Networking , CCTV, Surveillance & Remote Monitoring
Seeing cameras as sensors opens up new possibilities, and each one of them responds to typical demands inside a hospital, clinic or nursing home.
Read more...
---
Turn cameras into traffic sensors
Issue 6 2020, Duxbury Networking , CCTV, Surveillance & Remote Monitoring
Safer communities and cities are achieved through a mixture of technology and human resources, working together in a holistic manner.
Read more...
---
Mobotix thermal technology increases security
Issue 6 2020, Duxbury Networking , CCTV, Surveillance & Remote Monitoring
Installations, machinery, equipment and material available on company premises require effective and cost-efficient protection. In addition, operational safety, optimisation of workflows and protection ...
Read more...
---
Getting a visual on Covid-19 screening
Issue 6 2020, Graphic Image Technologies , CCTV, Surveillance & Remote Monitoring
Should organisations be investing in thermal camera technology to simply contain and limit the spread of the virus?
Read more...
---