printer friendly version
RCG launches biometrics, RFID and security products in SA
February 2007
News
A new supplier of biometrics, RFID and security products has entered the South African market.
RCG Systems SA is a joint venture between Techno Investment in South Africa and RC Group (RCG), listed on the London Stock Exchange.
RCG is a leading international developer, manufacturer and solutions provider in the biometrics, security and RFID industries.
"RCG has an aggressive growth strategy with a clear focus on developing new applications and revenue streams for global roll-out, particularly in the security applications industry," says RCG Systems SA operations manager Mike Cox.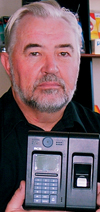 Mike Cox
Master Distributors of the products include Norbain and ADI. As part of its marketing strategy, RCG is running an extensive advertising campaign and a series of road shows with its Master Distributors.
Locally, RCG's flagship products will include the i4+ high-end biometric time and attendance solution and S903 biometric fingerprint access control system. RFID capabilities can be included in all RCG products.
RCG has concluded a development agreement to integrate both product ranges into every existing payroll package available in South Africa. This will seamlessly integrate time and attendance, while reducing fraud and operational costs.
Biometrics and RFID
RCG manufactures and distributes its own biometrics, RFID and security products and boasts the specialised capacity of combining biometrics with RFID.
RFID tagging and biometric recognition techniques are both deployed effectively in RCG's 'track-n-trace' solution for human and object tracking. This convergence helps differentiate RCG's solutions from its competitors.
RCG has taken an holistic approach in product development. "Enhancement of customer security and productivity is the focus of RCG's research and development strategy," says Cox.
"Our products and solutions not only provide verification of human and object identification, but add value to end users through applications such as time and attendance management, enterprise resource tracking, asset management and security management."
Utilising this approach, biometrics and RFID have become the gateway to an increasingly large range of meaningful applications.
Product offerings
During 2006 RCG launched a variety of products and solutions and attracted major orders, attesting to its technological competence. In 2006, RCG introduced the Fx Series, comprising FxGuard, FxAlert and Fx Windows Logon.
FxGuard is the first face recognition application that runs primarily on TCP/IP offering a fast and highly accurate face verification engine.
FxAlert is a security system capable of automatically detecting and identifying human faces.
It is equipped with RCG's latest face recognition technology featuring an ultra-fast, reliable and scalable 'watch list' matching engine.
SecureBook Fx9 combines the best of today's mobile computing technologies with the latest biometric face recognition technology. It includes active RFID and file encryption capabilities for enhanced security.
RCG's success with the Fx-series boosted its confidence in launching another new series, the S-series. The first product in this series is the S901, a biometric fingerprint access control device.
Using an advanced fingerprint sensor and a highly accurate algorithm for fingerprint recognition, the S901 delivers excellent performance and reliability.
RCG has jointly developed an intelligence security network (ISN) with GE and Sony.
This ISN uses eight interconnecting modules and is sustained by advanced biometrics, RFID, CCTV and DVR technologies that capture, store, track, record, project and display information via a monitoring station.
"The availability of RCG's product range in SA will provide companies with the very best in biometrics, RFID and security solutions with a stable and well-supported reseller infrastructure and high-level service," says Cox.
For more information contact Michael Cox, RCG, +27 (0)11 807 0707.
Further reading:
New hires at iPulse
Issue 7 2020, iPulse Systems , News
iPulse has welcomed two new employees into its ranks. Shai Weil has been appointed as operations director, while Corneli Botha is the new customer sales liaison.
Read more...
---
HID Global acquires Access-IS
Issue 7 2020, HID Global , News
HID Global acquires provider of miniaturised reader devices that combine key technologies for mission-critical markets.
Read more...
---
Securing digital transformation
Issue 7 2020 , News
Schneider Electric partners with Fortinet to strengthen ability to secure operations across the business lifecycle and unlock the advantages of a secure IIoT.
Read more...
---
Suprema integrates with Paxton's Net2 access control
Issue 7 2020, Suprema , News
Suprema has announced it has integrated its devices with Paxton's access control system, Net2.
Read more...
---
Free cybersecurity courses
Issue 7 2020 , News
Check Point Software partners with Harvard and MIT-founded edX to deliver free online courses to help close the cybersecurity skills gap.
Read more...
---
Fidelity partners with Auto & General Insurance
Issue 7 2020, Fidelity Security Group , News
Fidelity Services Group in partnership with Auto & General Insurance has launched Fidelity InSure, a comprehensive vehicle, home, and building insurance offering.
Read more...
---
More apps for open camera OS
Issue 7 2020 , News
The App Challenge will result in 21 new apps running on the Security & Safety Things' camera OS, based on the Android Open Source Project.
Read more...
---
Milestone Systems announces Thomas Jensen as new CEO
Issue 7 2020, Milestone Systems , News
Milestone Systems announced that its board of directors has appointed Thomas Jensen as chief executive officer. Jensen will assume the role on October 1, 2020.
Read more...
---
Suprema announces its first virtual event
Issue 7 2020, Suprema , News
Suprema will be hosting its first virtual event, Suprema Connect 2020, which is scheduled to take place over one month from September 15.
Read more...
---
From the editor's desk: Waiting for PoPI
Issue 7 2020, Technews Publishing , News
A while ago we heard of yet another cyber breach, this time from Experian.
Read more...
---