printer friendly version
HeiTel goes mobile
October 2006
Asset Management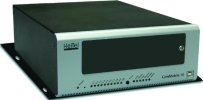 HeiTel, a manufacturer of video ­surveillance equipment, has launched a DVR for use in transport vehicles, such as armoured cars, as well as local public transport.
Like its popular CamDisc svr series, this new generation of equipment has four or 10 video inputs and a host of additional functions in addition to all of svr's proven features.
When it is coupled to the vehicle's electrical system, the DVR will record on a special 2,5-inch removable hard disk, tailored for mobile use through shock-resistant bearings.
The varying voltage input of 8 to 40 V d.c. ensures that the CamMobile series can be operated directly using the voltages standard in vehicles. At the same time, an integrated voltage transformer provides a central and economical supply of 12 V d.c/350 mA for all of the cameras installed in the vehicle.
For live image transmission, image evaluation and parameterisation, CamMobile has an Ethernet network interface and an additional multistandard interface, tailored for wireless communication, for the connection of external adapters, particularly suitable for efficient image transmission to standardised mobile networks.
Commenting on HeiTel's new range, M.J. Oosthuizen, product manager at Norbain SA, says CamMobile will be factory-supplied with a web server designed for security applications.
"Although the multistation browser interface manages without ActiveX elements or other costly plugins, all of the important functions - such as live image transmission, camera switching, multi-image display, image quality settings and the control of all notable PTZ systems - are available to the user at any time and in any location," he says. "We are also able to provide remote access depending on coverage afforded by the cellular service providers.
"Like all HeiTel products, the CamMobile series is also compatible with higher-ranking control centres that are equipped with receiving software from the CamControl software family.
"For example, should a number of properties or large vehicle fleets need to be managed efficiently from a central office, HeiTel's Event Management System will do so.
"Other performance-orientated features of the new product include video management tailored to the features of HeiTel products, dynamic alarm management, freely definable action plans and a database structure that has been perfected for control centre applications."
HeiTel is represented locally by Norbain South Africa.
For more information contact M.J. Oosthuizen, Norbain SA, +27 (0) 11 887 1546.
Further reading:
Simplify AARTO compliance for fleets
Guardian Eye IoT & Automation Asset Management Transport (Industry) Logistics (Industry)
While there are challenges around the management and implementation of the AARTO Amendment Act, there are also benefits that need to be understood today to ensure compliance and value tomorrow.
Read more...
---
Logistics operators stand up to safety challenges
Logistics (Industry) Asset Management Transport (Industry)
The second annual Webfleet Road Safety Report for 2023 outlines common safety factors, challenges and solutions that South African transport operators face; deteriorating roads, poor vehicle maintenance, congestion and driver fatigue are common challenges.
Read more...
---
People screening goes mobile
Xscann Technologies News & Events Asset Management
Xscann Technologies has delivered a new mobile solution with added value for people screening. This turnkey solution requires no civil works as it is an all-in-one complete body scanning solution built in a shipping container.
Read more...
---
Securing road transport across Africa
Technews Publishing Editor's Choice Asset Management Transport (Industry) Logistics (Industry) Risk Management & Resilience
SMART Security Solutions spoke to Filipe de Almeida, the Portugal & Spain Regional TAPA EMEA Lead, and Massimo Carelle, the TAPA EMEA Africa Region Lead, about securing transport and logistics in hostile environments.
Read more...
---
Electronic Document Centre uses Synology
Infrastructure Asset Management
Electronic Document Centre (EDC), a semi-government company operating under Emirates Post Group, opted for Synology to streamline its data management infrastructure. This decision has led to improved operational efficiency and enhanced collaboration.
Read more...
---
Telematics help protect SA trucks against expanding risks
Logistics (Industry) Asset Management
South Africa's road freight transport sector currently accounts for about 85% of all goods transported in the country and is growing rapidly annually. "To ensure that goods are delivered safely, promptly, and affordably is a challenge," says Justin Manson of Webfleet.
Read more...
---
The right security solution removes the opportunity
Asset Management Retail (Industry)
South African retailers are facing a multitude of challenges, including economic fluctuations, changing consumer behaviour, increased competition, supply chain disruptions, regulatory changes and the need to adapt to digital transformation, not to mention theft.
Read more...
---
Tips for successful fleet management
Asset Management Transport (Industry)
Fleet Domain, part of the Argility Technology Group, has announced best practices aimed at reducing fleet management costs and delivering a successful fleet management programme.
Read more...
---
Château Gâteaux optimises delivery process through MultiTRAX
Asset Management Logistics (Industry)
With twenty outlets and still growing, Château Gâteaux has implemented an Argility solution in its primary locations to streamline deliveries and allow customers to track their delivery in real time.
Read more...
---
Making cash management more intelligent
Deposita Retail (Industry) Asset Management Products & Solutions
By using state of the art SaaS cash and payment management solutions, keeping a close eye on the situation is a breeze. In fact, it'll save you loads of stress, time, and overhead costs.
Read more...
---