printer friendly version
First commercialised RFID-radar system
April 2006
Asset Management
Trolley Scan, a Johannesburg-based developer of RFID (radio frequency identification) technologies announced the delivery of the first commercialised version of a new RFID technology that they have trademarked 'RFID-radar'. The first client is an IT company based in Europe.
Says Mike Marsh, managing director of Trolley Scan, "The delivery of the first RFID-radar system to our client in Europe, marks the end of a hectic six months of development. Just six months ago we stumbled by chance on a method of measuring the distance, with great accuracy and over long distances, that a signal travelled from a transponder back to a reader. We have had to build concept-proving equipment, conduct extensive field tests and design the first version of the commercial equipment. The testing included 14 000 range measurements to verify consistency and accuracy. The system contains four parallel computers to perform the massive numerical calculations for which we had to write and debug thousands of lines of code. In addition we had to write handbooks for the operators. This delivery marks a milestone in the development of this exciting technology.

Mike Marsh
"The breakthrough with RFID-radar is the ability to measure the distance travelled by a signal from a transponder to a reader accurately, using minimal radio spectrum to reduce effects on other users, and with very low cost transponders and readers. This invention allows us to develop a new generation of RFID reader, a reader that can identify and locate exactly many transponders in a very large reading zone.
"The new technology will result in the development of an entire new set of applications for computer-based equipment. Applications could include the location of goods in a warehouse; tracking of individual animals in a herd; the monitoring of the movement of assets in a building; the location of parcels and airline luggage in a warehouse; the monitoring of children in a creche; or the monitoring of security zones to ensure sensitive areas are avoided. As all measurements are performed from one set of antennas, the equipment can even be mounted on a forklift truck to locate goods in a warehouse relative to the current position of the vehicle."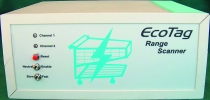 Front panel of RFID-radar console
The commercialisation will promote the development of longer-range RFID systems, using lower power passive transponder technology. The delivered system operates in the EU RFID band at 869,5 MHz with very low power. Due to the wideband nature of the transponders, and the flexibility of the reader, the system can be set to operate at any of the UHF frequencies in the 860-960 MHz bands, making it suitable for use in all countries. Currently operating ranges of 40 metres are practical, but it is expected to extend this to 100 metres in the near future.
In the future there will be RFID readers that just give identity information, and there will be RFID-radar type readers that give identity, location and tracking information.
South Africa has played a major part in the global development of RFID. In 1994, a demo of technology invented at CSIR by the author of a supermarket trolley in Pick 'n Pay, (Menlo Park, Pretoria) being scanned automatically was the start of a revolution that has led to companies like Walmart mandating that suppliers start using this technology.

Typical low cost transponder used in RFID-radar
This article relates to another major development in the field of radio frequency identification technology where for the first time we are able to measure the distance between the readers and the transponders in an RFID system. This was thought impossible until early August this year - once again showing how South African developed technology can lead the way.
RFID has been identified by the financial press as one of the top 10 most important technologies that are expected to impact our futures in the short term. This is a rapidly emerging technology that will have a major impact on the electronics industry, the IT industry and even on how goods are sold in a retail store. The developments announced below are world firsts advancing the boundaries of performance of this technology.
RFID-radar
RFID-radar is a new development that includes a measurement of range from the reader to the transponder. This measurement is made repeatedly allowing the reader to report range and tracking information for all transponders in the zone. The major development comes from the ability to measure the range accurately from a single reader position. This single measurement point allows mobile operation, as well as 2D and 3D location information of all transponders in the zone.
The measurement of range is a major breakthrough, as the radio signals travel at 300 000 kilometres/second and the timing accuracy measurements are limited to 1/10 000th of a second. The RFID-radar has to operate in the very limited radio spectrum shared with the many users who use radio devices, such as cellphones.
RFID-radar uses just 10 kHz of radio spectrum and is so environmentally friendly that two RFID-radar systems can operate within 4 m of each other.
The RFID-radar delivers positioning accuracy of each transponder in the zone to 0,5 m with a maximum range of 100 m. The pointing accuracy of a vector for locating in 2D and 3D can be as accurate as 1° for each transponder.
The addition of position information encourages the development of much further scanning range from single readers and lower power transponders, as now the identity and exact location can be determined.
For more information contact Mike Marsh, Trolley Scan, 011 648 2087, info@trolleyscan.com, www.rfid-radar.com
Credit(s)
Further reading:
Simplify AARTO compliance for fleets
Guardian Eye IoT & Automation Asset Management Transport (Industry) Logistics (Industry)
While there are challenges around the management and implementation of the AARTO Amendment Act, there are also benefits that need to be understood today to ensure compliance and value tomorrow.
Read more...
---
Logistics operators stand up to safety challenges
Logistics (Industry) Asset Management Transport (Industry)
The second annual Webfleet Road Safety Report for 2023 outlines common safety factors, challenges and solutions that South African transport operators face; deteriorating roads, poor vehicle maintenance, congestion and driver fatigue are common challenges.
Read more...
---
People screening goes mobile
Xscann Technologies News & Events Asset Management
Xscann Technologies has delivered a new mobile solution with added value for people screening. This turnkey solution requires no civil works as it is an all-in-one complete body scanning solution built in a shipping container.
Read more...
---
Securing road transport across Africa
Technews Publishing Editor's Choice Asset Management Transport (Industry) Logistics (Industry) Risk Management & Resilience
SMART Security Solutions spoke to Filipe de Almeida, the Portugal & Spain Regional TAPA EMEA Lead, and Massimo Carelle, the TAPA EMEA Africa Region Lead, about securing transport and logistics in hostile environments.
Read more...
---
Electronic Document Centre uses Synology
Infrastructure Asset Management
Electronic Document Centre (EDC), a semi-government company operating under Emirates Post Group, opted for Synology to streamline its data management infrastructure. This decision has led to improved operational efficiency and enhanced collaboration.
Read more...
---
Telematics help protect SA trucks against expanding risks
Logistics (Industry) Asset Management
South Africa's road freight transport sector currently accounts for about 85% of all goods transported in the country and is growing rapidly annually. "To ensure that goods are delivered safely, promptly, and affordably is a challenge," says Justin Manson of Webfleet.
Read more...
---
The right security solution removes the opportunity
Asset Management Retail (Industry)
South African retailers are facing a multitude of challenges, including economic fluctuations, changing consumer behaviour, increased competition, supply chain disruptions, regulatory changes and the need to adapt to digital transformation, not to mention theft.
Read more...
---
Tips for successful fleet management
Asset Management Transport (Industry)
Fleet Domain, part of the Argility Technology Group, has announced best practices aimed at reducing fleet management costs and delivering a successful fleet management programme.
Read more...
---
Château Gâteaux optimises delivery process through MultiTRAX
Asset Management Logistics (Industry)
With twenty outlets and still growing, Château Gâteaux has implemented an Argility solution in its primary locations to streamline deliveries and allow customers to track their delivery in real time.
Read more...
---
Making cash management more intelligent
Deposita Retail (Industry) Asset Management Products & Solutions
By using state of the art SaaS cash and payment management solutions, keeping a close eye on the situation is a breeze. In fact, it'll save you loads of stress, time, and overhead costs.
Read more...
---