printer friendly version
Small but powerful
March 2006
Surveillance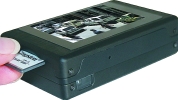 The latest portable digital video recorder (PVR) addition to the Eagle CCTV stable is the E-M5DVR. What separates this recorder from the rest of the PVRs on the market is its miniature size and high quality recording.
Extremely compact, the E-M5DVR has an aluminium-mag-alloy metal case and has been built to withstand the ruggedness required by investigators and/or users of such recorders. Ideal for body-worn applications, the E-M5DVR with battery, SD card and screen is slightly smaller than a standard packet of cigarettes. It comes included with a belt-worn carry case.
The unit is configured by an on-screen-display with IR remote control and has a single button for easy recording activation. With the single button activation, use of the recorder by non-technical operators is made easier.
LED indicators notify the operator of recording having started. On a 1 GB SD card and the PVR set on D1 resolution, the E-M5DVR can record for ±70 minutes. Recordings can be played back via the AV output to a standard monitor or VCR. Alternatively video clips can be exported to a PC via the USB port.
These are in a standard .AVI format and can be played back using standard video for windows players.
As the E-M5DVR has been specially designed for surveillance applications not simply as a multimedia recorder, it has many special features. One of the main faults with other PVRs is when the PVRs battery runs out, then the unit switches off and the file in many cases becomes corrupted.
For more information contact Nathan Bearman, Eagle CCTV, 021 423 4943, nathan@eagle.co.za or visit www.eaglecctv.co.za
Further reading:
Safer roads to a sustainable future
Dahua Technology South Africa Surveillance
With the ever-increasing number of vehicles on the road, it is imperative to constantly improve the quality of transportation monitoring and traffic management in urban and rural areas.
Read more...
---
From damage management to false alarm prevention
Dallmeier Electronic Southern Africa Transport (Industry) Surveillance Logistics (Industry)
Video surveillance is undergoing an exciting evolution; today's IP-based solutions can be fully integrated into digital systems. With the increasing integration of artificial intelligence (AI); logistics, in particular, can make processes more transparent and exploit previously untapped potential.
Read more...
---
Marshall Security partners with Blacklight to introduce Reconeyez to KZN
News & Events Surveillance Power Management
Marshal Security has joined forces with Blacklight Group to launch Reconeyez, a cutting-edge battery-powered surveillance platform with mesh network capability, in the KwaZulu-Natal market.
Read more...
---
Professional mobile video management in your pocket
Dallmeier Electronic Southern Africa Surveillance
With the SeMSy Mobile Client for its Domera and Panomera cameras, Dallmeier is now launching a solution that combines the functional and security requirements of professional organisations with the user-friendliness and simplicity of consumer apps.
Read more...
---
Leveraging AI to boost security in SA
AI & Data Analytics Surveillance
By shifting data analysis and processing to the edge of a company's network, decision-makers can ensure their remote offices can access real-time computing across multiple locations, supporting informed business decisions.
Read more...
---
Safeguard surveillance devices from cyberattacks
Axis Communications SA Surveillance Information Security
Cybersecurity concerns extend through the organisation and out among its stakeholders and supply chains. It also covers video surveillance, which is critical to any organisation's physical security and asset protection strategy.
Read more...
---
Ring announces second generation indoor camera
Smart Home Automation Surveillance Residential Estate (Industry)
Introducing a removable manual privacy cover, Ring's latest indoor camera provides customers with increased privacy, control and peace of mind when it comes to home security.
Read more...
---
Body-worn evidence
Technews Publishing Forbatt SA Betatrac Telematic Solutions Secutel Technologies Surveillance Residential Estate (Industry) Products & Solutions
Body-worn cameras are no longer just a good idea or a luxury item; in fact, they are gaining popularity and finding use in various situations, one of these being in residential estates.
Read more...
---
Stop cheating with gaming analytics
Dallmeier Electronic Southern Africa Surveillance Entertainment and Hospitality (Industry)
The CAT gaming analysis solution from Dallmeier offers a range of analysis options with which casino operators can increase the 'game pace', combat fraud and gain valuable insights into the gaming action through real time data collection.
Read more...
---
Integrated, intelligent, informed and improved living
Guardian Eye Surveillance
Guardian Eye's range of solutions allow for monitoring and safeguarding your home through discreet, easy-to-maintain devices and solutions, watching your premises and alerting you in the event of unwanted happenings.
Read more...
---