printer friendly version
Touchscreen technology for key security solution
March 2006
Asset Management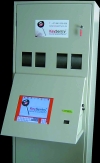 Renowned for its specialised LCD touchscreen products, Apex Cash Control Solutions (Apex CCS) recently supplied KeySentry Security Systems with one of its particular liquid crystal display (LCD) touchscreen panels, allowing the company to create a new application for the management of vehicle keys for the automotive industry.
"This application will cut a big chunk of unnecessary expenses from car dealers' floors and offer a secure means for dealerships to store vehicle keys," says Chris Wilken of KeySentry Security Systems.
The Vehicle Key Management System, developed by KeySentry Security Systems, combines mechanical engineering and information technology to deliver a computerised steel cabinet that functions as a key safe and dispenser that allows for meticulous asset monitoring and management. However, KeySentry required a unique touchscreen system combined with a biometric fingerprint reader to facilitate ease of operation of the key safe dispenser.

Says Wilken: "The addition of touchscreen technology is a recent enhancement, allowing for the development of a totally integrated unit and ensuring ease of use. We researched touchscreen technology and only Apex CCS could provide us with a touch solution that would meet the distinct requirements of the design of our application."
The Apex CCS LCD panels are sealed in a metal frame, which not only protects equipment from dust and other environmental hazards, but provides a rigid support that allows for effortless mounting and easy maintenance.
Wilken continues: "The inclusion of Apex CCS' touchscreen technology has made it possible for us to deliver the solution as an integrated unit that conforms strongly with the requirements of the automotive industry, ie, a robust self-contained unit that allows for stringent access authorisation and provides a physically secure environment to safeguard high-value, high-risk items. Systems already in the field will be retrofitted with Apex touchscreens and all future versions of the solution will include this technology. Apex's understanding of the application and the technology has been vital in the development of our final product."
Says Peter Held, managing director at Apex CCS: "The use of touchscreen technology has moved beyond restaurant point of sale (POS) and industrial environments, and is now being eagerly adopted in numerous sectors as part of a complete application/solution design. Uptake is being driven by lower pricing and advances in design that expand the areas of application. The robustness of the equipment ensures easier maintenance and a lower total cost of ownership.
The KeySentry product, more than two years in development, is also ideal for car hire agencies, transport companies and organisations that must manage a fleet of vehicles. Currently placed at several major dealers in the country, including DaimlerChrysler, BMW, Toyota, McCarthy, Barlow World and Imperial, the KeySentry system is designed around a sophisticated database and requires biometric identification and authorisation to access keys. Touchscreen selection and input makes interfacing with the system a cinch, while electronic tagging is applied for dispensing and asset management.
Wilken continues: "Large dealers are losing up to R200 000 a year in replacing keys and boot accessories, and paying traffic fines. The individuals responsible for these lapses cannot be identified as there is little key control. Costs thus fall to the dealer principal. An additional concern is ensuring authorised use of vehicles and knowing whether a vehicle is available for showing or has been adequately secured thereafter.
"The key management systems currently in place make use of a single bolt or lock for all keys or allow access with smartcards that are easily lost, stolen or swapped out. With the KeySentry system, keys for vehicles can now only be accessed by authorised individuals and the vehicle and keys remain their responsibility until the keys are checked back into the safe. Strong reporting functionality ensures dealers know exactly which vehicles are available."
Offering much more than just physical security and asset management functions, the software included in the KeySentry system allows companies to track the performance of dealers, the frequency of requests for particular vehicle models, and more. "Strong reporting functionality has been built into the solution to enable assessment of sales staff performance, increase customer service and assist management in numerous other aspects of dealership and fleet management," notes Wilken.
For more information contact Chris Wilken, KeySentry, chris@keysentry.co.za or Peter Held, Apex CCS, 011 768 9015.
Further reading:
Simplify AARTO compliance for fleets
Guardian Eye IoT & Automation Asset Management Transport (Industry) Logistics (Industry)
While there are challenges around the management and implementation of the AARTO Amendment Act, there are also benefits that need to be understood today to ensure compliance and value tomorrow.
Read more...
---
Logistics operators stand up to safety challenges
Logistics (Industry) Asset Management Transport (Industry)
The second annual Webfleet Road Safety Report for 2023 outlines common safety factors, challenges and solutions that South African transport operators face; deteriorating roads, poor vehicle maintenance, congestion and driver fatigue are common challenges.
Read more...
---
People screening goes mobile
Xscann Technologies News & Events Asset Management
Xscann Technologies has delivered a new mobile solution with added value for people screening. This turnkey solution requires no civil works as it is an all-in-one complete body scanning solution built in a shipping container.
Read more...
---
Securing road transport across Africa
Technews Publishing Editor's Choice Asset Management Transport (Industry) Logistics (Industry) Risk Management & Resilience
SMART Security Solutions spoke to Filipe de Almeida, the Portugal & Spain Regional TAPA EMEA Lead, and Massimo Carelle, the TAPA EMEA Africa Region Lead, about securing transport and logistics in hostile environments.
Read more...
---
Electronic Document Centre uses Synology
Infrastructure Asset Management
Electronic Document Centre (EDC), a semi-government company operating under Emirates Post Group, opted for Synology to streamline its data management infrastructure. This decision has led to improved operational efficiency and enhanced collaboration.
Read more...
---
Telematics help protect SA trucks against expanding risks
Logistics (Industry) Asset Management
South Africa's road freight transport sector currently accounts for about 85% of all goods transported in the country and is growing rapidly annually. "To ensure that goods are delivered safely, promptly, and affordably is a challenge," says Justin Manson of Webfleet.
Read more...
---
The right security solution removes the opportunity
Asset Management Retail (Industry)
South African retailers are facing a multitude of challenges, including economic fluctuations, changing consumer behaviour, increased competition, supply chain disruptions, regulatory changes and the need to adapt to digital transformation, not to mention theft.
Read more...
---
Tips for successful fleet management
Asset Management Transport (Industry)
Fleet Domain, part of the Argility Technology Group, has announced best practices aimed at reducing fleet management costs and delivering a successful fleet management programme.
Read more...
---
Château Gâteaux optimises delivery process through MultiTRAX
Asset Management Logistics (Industry)
With twenty outlets and still growing, Château Gâteaux has implemented an Argility solution in its primary locations to streamline deliveries and allow customers to track their delivery in real time.
Read more...
---
Making cash management more intelligent
Deposita Retail (Industry) Asset Management Products & Solutions
By using state of the art SaaS cash and payment management solutions, keeping a close eye on the situation is a breeze. In fact, it'll save you loads of stress, time, and overhead costs.
Read more...
---