printer friendly version
High-tech security for mines
March 2006
Integrated Solutions
Maintaining tight security is a fundamental and critical requirement in mines. Unlike corporates, where the assets at risk are generally tools that enable the workforce to deliver a core service (eg, PCs, manufacturing equipment), a mining house's greatest assets are highly compressed forms of wealth - ie, gems or precious metals - which are also its core business. Proven, flexible, open, high-performance and highly reliable security solutions that can adapt to meet a mine's specific needs are crucial.
Security solutions that meet the needs of the corporate market are rarely suited to mining environments where employees work directly with precious metals and minerals, necessitating regular physical searches. Mining houses cannot abuse these measures however, as they must meet health, human rights and human resource guidelines and regulations.
Technologically driven security solutions for mines include access control, perimeter intrusion detection and alarm systems, as well as closed circuit TV cameras. Functionality, quality of solution and reporting requirements for these solutions extend beyond the standards usually supplied, however.
CCTV solutions that 'will do' for corporates do not have the magnification or image quality needed to see the small shiny glare of stolen gems or metals. Mines are also rough, dusty, often corrosive environments and security equipment must thus be robust and very securely mounted to withstand these conditions. A fingerprint/biotechnology solution, for example, may fail if it cannot withstand the hand 'abuse' it will be subject to.
Mines are rated strictly on the security policy and procedures they implement to manage risk. Reporting for statistical analysis purposes is particularly important. To define risk and accurately measure losses, the measurement process must be auditable through detailed reporting. The risk ratios in any single environment in a mine can, for example, be directly correlated to its asset value (richness of mineral or gem vein) versus the number or workers in that space or moving through it.
Signal monitoring is critical as 'downtime' on, say, a camera due to physical damage or other malfunction escalates risk exposure exponentially. An additional concern is tailoring security solutions to function within the limitations of the remote areas in which mines are situated, such as restriction to low-bandwidth satellite connections for access or other controls.
Tough security measures
Illustrating the tight security in mines, a typical procedure in a high security zone may require all who enter to strip down and put on the mines' clothing. On leaving, they may be searched and, sometimes, X-rayed. Health and human rights requirements limit the exposure of any individual to the amount of gamma radiation from X-rays, as well as the number of searches they must undergo, however, and sophisticated software is essential to track the movements and search procedures carried out on individual employees.
Open security systems are essential to allow for the development of specific functionality, such as security searches and integration with other products such as X-ray machines and barriers. The system will also need to keep an accurate record of which employees have been searched and exposed to radiation. For example, the mine needs to establish how many 'free walks' (entry without being searched) employees have had. In addition, the system needs to feature speed of operation as check areas must allow access for many employees at a time. Johnson Controls' CardKey access solution, for example, allows for complex calculations that ensure regular checks are executed on individual employees over a wide period of time and that X-rays are regulated to limit over-exposure.
Stringent solution assessment criteria
Mines must apply stringent assessment criteria to the selection of products. These should include global representation, research and development, size of company, technical abilities and integration. Using proven technology is a must. Using a solution provider that will be able to adapt the solution to a unique environment and enable specific security policies and integration of various solutions is critical.
While boxed solutions may offer a lower initial cost, the high level of functionality in more sophisticated, open products ensures lower total cost of ownership and an improved long-term return on investment. Above all, the solution must be reliable and capable of flexible, high performance levels.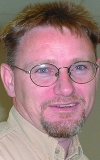 Neil Cameron, Johnson Controls
For more information contact Neil Cameron, Johnson Controls, 011 438 1600, neil.cameron@jci.com
Further reading:
Hikvision unveils range of network speakers
Hikvision South Africa Integrated Solutions
Hikvision has recently unveiled its latest audio product line, featuring various advanced network speakers. Each product is designed to meet different application needs, ensuring flexibility and adaptability across numerous environments.
Read more...
---
HDR multi-camera solution for autonomous mobility
IoT & Automation Integrated Solutions
e-con Systems has launched the STURDeCAM31, a small form factor camera that has been engineered to make autonomous mobility safer by ensuring reliable and superior imaging quality even in challenging outdoor lighting conditions.
Read more...
---
Integrating control rooms and response
WatchManager Integrated Solutions Residential Estate (Industry)
Control rooms have become a standard in large estates, and remote control rooms are finding a home even in smaller estates due to cost efficiencies and the increasing reliability of analytics and artificial intelligence.
Read more...
---
The difference between a SOP and a SOP
Residential Estate (Industry) Integrated Solutions Security Services & Risk Management Risk Management & Resilience
SOPs are a touchy issue that need careful attention and automation to ensure they deliver the desired security results. Beyond design and automation, implementation is the ultimate road to success.
Read more...
---
The benefits of centralised management
Gallagher Integrated Solutions Products & Solutions
Integrating multiple services within one central operating platform allows for fast, effective responses to any security event; it also enables operators to efficiently manage other estate operations from one platform.
Read more...
---
Ensuring peace of mind
Fang Fences & Guards Editor's Choice Integrated Solutions Residential Estate (Industry)
With the rapid advance of technology and artificial intelligence, electronic security systems are not only extremely reliable in safeguarding properties, but a well-designed, implemented and maintained system will prevent crimes before they can happen.
Read more...
---
A comprehensive approach to estate security
ZKTeco Integrated Solutions Access Control & Identity Management
While many residents in gated estates feel secure due to the array of security measures in place, a key challenge is the lack of comprehensive situational awareness of security systems.
Read more...
---
Stadium security with Panomera
Editor's Choice Surveillance Integrated Solutions Entertainment and Hospitality (Industry)
To be able to better identify and track perpetrators and thus reduce financial and non-material damage in a soccer stadium, the operator opted for a video security solution from Dallmeier.
Read more...
---
Plan to use AI? Get your data ready
Integrated Solutions Infrastructure
Artificial Intelligence (AI) is often perceived as an intelligent system that can handle any task. However, this notion crumbles when the AI is given poorly formatted or incorrect data. You cannot simply provide a few spreadsheets or databases to AI and expect it to work flawlessly.
Read more...
---
Smart water management
Axis Communications SA Surveillance Integrated Solutions
South Africa is currently facing a water crisis, with scarcity and inefficient water management posing significant challenges to sustainable, consistent access to water. Smart technology and powerful partnerships may offer a proactive solution to SA's water crisis.
Read more...
---