printer friendly version
Retail security - a new approach
August 2005
CCTV, Surveillance & Remote Monitoring

The proliferation of shopping malls is seen as a sign of our prosperity and booming economy, yet the more we build the more interesting and complex it becomes to provide a sufficient level of security for the shop owners and their patrons. Add to this the ever-increasing number of diverse events laid on by the centre management to attract a broader segment of the population; interacting and hopefully spending money at their mall. It is obvious that shopping malls are a soft target for thieves, pick pockets, gangs and even possibly terrorism.
Having supplied a number of CCTV systems to various shopping malls we know from experience that the security purchase is the grudge spend. It needs to come from the bottom line and directly affects the profitability of any development; as a result the common cry is for a cheaper solution that provides the bare minimum. One installer was requested to install unbranded cameras because of price, yet within days the centre management was complaining about the quality of picture especially in low light conditions at night - the solution was to spend more money and purchase day/night brand name cameras; the result - a happy customer.
What will happen to the shopping mall if there is a serious crime or terrorism act? It will turn shoppers away and people will always remember the negative aspect of the particular shopping mall. It is for this reason alone that shopping malls should set aside a proper budget for security systems that can reduce the guarding costs due to pre-warning of situations. This is what ObjectVideo's video early warning (VEW) does, as it is an intelligent threat analysis software.

ObjectVideo has been introduced in a number of shopping malls and retail areas in North America and Europe. The system is also being used in a wide range of other applications worldwide and is proving to be invaluable at reducing false alarms and providing the level of reliability that you would expect from a quality system. ObjectVideo interfaces with cameras to provide a range of preset rules and reactions according to your requirements. Users are able to identify when someone leaves a package alone, pick up on the person loitering for too long outside the bank, highlight the person that is defacing the walls, track an individual moving through the shopping mall, cover the parking area and note the suspicious person wandering from car to car. ObjectVideo's software can provide all of this and interact through the control room to e-mail, remote control centre, or mobile phone/PDA via SMS or MMS.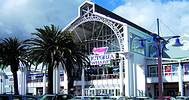 This option can be integrated to any existing CCTV security system or used in conjunction with many of Vision Catcher's other products. However, should you wish to stick to the basics of cameras and DVR we are able to provide a large selection of both analog and IP solutions. What is more we can reduce your installation costs for cabling by utilising unshielded twisted pair (UTP) options. In conclusion; it is imperative that shopping malls and retail outlets offer some form of protection to their customers, by offering a guarding service you know that this is not a foolproof solution. Why not take the opportunity of implementing your security as well as a till interface and a management tool to cover your staff under the umbrella of one complete security system.
Credit(s)
Further reading:
Drones and cybersecurity?
October 2019 , CCTV, Surveillance & Remote Monitoring
Hacker drones can eavesdrop electronically on conversations, can perform network attacks, or can create fake wireless access points.
Read more...
---
Body-worn cameras transforming security
October 2019 , CCTV, Surveillance & Remote Monitoring, Security Services & Risk Management
Police Service Northern Ireland now has over 7 000 officers using 2 500 cameras covering approximately 173 000 incidents each year.
Read more...
---
Camera Selection Guide 2019
CCTV Handbook 2019 , CCTV, Surveillance & Remote Monitoring
The Camera Selection Guide 2019 includes a range of IP, analogue, thermal and speciality cameras aimed at a broad range of surveillance functions.
Read more...
---
Intelligent analytics and the brains to match
September 2019, Bosch Building Technologies , CCTV, Surveillance & Remote Monitoring, Integrated Solutions
What if the brains behind our security cameras could be trained to improve their cognitive ability to pay attention, learn, and problem-solve according to specific rules and situations?
Read more...
---
AI-powered autonomous Drone-in-a-Box
September 2019 , CCTV, Surveillance & Remote Monitoring, Integrated Solutions
Organisations in the mining, energy and industrial, oil and gas, ports and terminals sectors can optimise security and business operations, whilst reducing risks and operational costs
Read more...
---
Cybersecurity for video surveillance systems
September 2019, Mobotix , Cyber Security, CCTV, Surveillance & Remote Monitoring
Video surveillance systems are increasingly accessible over any IP network, which has led to the rise of potential cyberattack.
Read more...
---
What are the cybersecurity issues in video surveillance?
November 2019, Axis Communications SA , Editor's Choice, CCTV, Surveillance & Remote Monitoring, Cyber Security
he importance of the data captured by surveillance cameras – and what can be done with it – has led to a new breed of cybercriminals, looking for insights to steal and sell.
Read more...
---
The safe city and its need for interoperability
November 2019 , Integrated Solutions, CCTV, Surveillance & Remote Monitoring
Interoperability continues to present one of the greatest challenges, particularly with video management systems, video recording devices and cameras.
Read more...
---
A platform approach to safer and smarter cities
November 2019, Milestone Systems , CCTV, Surveillance & Remote Monitoring
Selecting the right platform to manage the vast data collected from smart and safe cities is critical to the ultimate success of the project.
Read more...
---
Creating safe cities with smart technology
November 2019, Secutel Technologies , CCTV, Surveillance & Remote Monitoring
In a digital age, where resilience and responsiveness are paramount to fighting crime and creating a safer world, CCTV systems are becoming part of every city's infrastructure.
Read more...
---