printer friendly version
Retail security system flexibility and controlled access
August 2005
Access Control & Identity Management
Shopping malls, convenience stores and large retail outlets are particularly challenging when it comes to installing effective security systems. Doing this properly, however, will save retail business owners significant amounts of money by curtailing theft, as well as reducing the potential for losses through 'inside jobs'.
Digiplex, a unique integrated system by international security giant, Paradox Security Systems, offers a dynamic security solution for retail businesses. It is very flexible in terms of installation, featuring a modular security system with integrated access control. Its user interface is also particularly easy to use, leaving less room for false alarms caused by employees who are not yet familiar with the security system.
In retail security, the objective for the service provider is to install a system with a central control point from where a retail outlet or entire shopping centre can be effectively monitored - within the shortest possible timeframe. The catch is that hundreds or even thousands of people will need to be granted legitimate access at all hours - without compromising the overall level of security.
The issue of access
The shopping centre and larger retail environment has many quirks, with the need for flexible access to areas such as stock rooms, storage areas and administration offices being one of the biggest security headaches for business owners. Retail businesses annually spend millions on surveillance equipment, or simply opt to keep some areas locked up.
This, however, is not particularly feasible, as authorised personnel require access to these areas on a regular basis - or even outside regular trading hours - in order to perform their work duties.
The Digiplex Access Control System security infrastructure allows authorised individuals to enter designated areas by means of unique, employee-specific identification cards or tags.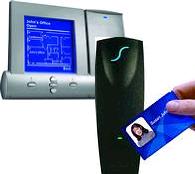 Access reader and card
This means that unlike surveillance equipment, which is far from foolproof, restricted identification-linked access brings with it a strong element of accountability. This in itself serves to curtail losses through theft, without imposing a constant sense of being watched upon employees.
There are many large but inflexible access control systems on the market. Many of these feature integrated time and attendance packages, yet are not always the most suitable or cost-effective solution for shopping centres or similar retail environments.
The system supports door and window intrusion detectors, motion detectors and smoke detectors, protecting the retail environment from a host of other threats apart from crime. It is compatible with wireless security technology, making it a sound long-term security investment with measurable returns on investment over time.
The second part of the retail security challenge relates to the speed at which the system can be installed. The longer a security upgrade or initial installation takes, the longer the retail environment may be vulnerable to an undetected breach. It is therefore imperative to get the job done as quickly as possible.
Using a modular system enables the service provider to install keypads, motion detectors and related accessories in a surprisingly short space of time. Its devices all communicate data to and from a central control panel via a four-wire combus. By adding plug-and-play expansion modules, the system can be customised to render a far higher level of security and environmental adaptability.
A modular system's integrity depends on two factors, namely the reliability of its modules and its ability to communicate with consistency via the system's wiring.
Using the right combus
Conventional combus systems only communicate when something happens, ie, when an actual security breach occurs. This simple on/off communication mechanism is unfortunately more prone to generating false alarms. It also cannot distinguish between breaches and modular or combus failure.
As such, many security service providers regard this type of system with scepticism due to its vulnerability towards wiring tampering or module sabotage.
The Digiplex Security System uses a four-wire combus that features GuardWall Technology, a dynamic encrypted communication protocol that efficiently communicates data between the control panel and all the modules and plug-and-play satellite modules. This specialised combus immediately recognises and notifies the security controller when wiring tampering or modular disablement is detected.
For more information contact Spectrum Communications, 0800 82 1688, security@spectrumcom.co.za, www.spectrumcom.co.za
Credit(s)
Further reading:
Enhanced biometric technology for mines
September 2019, ZKTeco , Mining (Industry), Access Control & Identity Management
Biometric identification and authentication are currently used at various mines in South Africa and in the SADC region.
Read more...
---
Improving access in mines
October 2019, Astra Fasteners , Mining (Industry), Access Control & Identity Management, Products
The VP1 controller provides full access control and remote monitoring of intelligent locks without having to wire into a network or install, manage and maintain software.
Read more...
---
Invixium and Pyro-Tech partner in South Africa
October 2019 , News, Access Control & Identity Management
Invixium, a manufacturer of IP-based biometric solutions and Pyro-Tech Security Suppliers have announced a new distribution partnership.
Read more...
---
Suprema receives FBI PIV/FAP30 certification
October 2019, Suprema , News, Access Control & Identity Management
Suprema has announced that the company's BioMini Slim 3 has received FBI PIV (Personal Identity Verification) and Mobile ID FAP30 certification.
Read more...
---
Frictionless access with a wave
October 2019, IDEMIA , Access Control & Identity Management, Residential Estate (Industry)
IDEMIA was the Platinum Sponsor for the Residential Estate Security Conference 2019 and set up its MorphoWave Compact frictionless fingerprint biometric scanner at the entrance to the conference.
Read more...
---
Streamlined access and reporting
October 2019, Comb Communications , Access Control & Identity Management, Residential Estate (Industry)
The main focus of the Comb stand was its practical demonstration of the MK II Lite intercom system with third-party integrated products.
Read more...
---
Customised and integrated solutions
October 2019, Suprema , Access Control & Identity Management, Residential Estate (Industry)
iVisit offers both high-end and low-end residential complexes a cost-effective visitor management solution that is fully integrated into Suprema's offerings.
Read more...
---
Access solutions for every estate
October 2019, Impro Technologies , Access Control & Identity Management, Residential Estate (Industry)
Impro's flagship Access Portal solution comprises one of the most user-friendly software solutions on the market.
Read more...
---
SALTO achieves Environmental Product Declaration (EPD)
October 2019, Salto Systems Africa , News, Access Control & Identity Management
SALTO Systems has announced that it has received the first Environmental Product Declaration (EPD) for XS4 smart locking solutions, including the XS4 Original model for the European and Scandinavian standard ...
Read more...
---
Managing staff effectively
September 2019, dormakaba South Africa, iPulse Systems , Integrated Solutions, Access Control & Identity Management
Workforce management solutions allow organisations to track the relationship between productivity and the cost of employment, incorporating issues such as health and safety, T&A, rostering and more.
Read more...
---