printer friendly version
Retail security system flexibility and controlled access
August 2005
Access Control & Identity Management
Shopping malls, convenience stores and large retail outlets are particularly challenging when it comes to installing effective security systems. Doing this properly, however, will save retail business owners significant amounts of money by curtailing theft, as well as reducing the potential for losses through 'inside jobs'.
Digiplex, a unique integrated system by international security giant, Paradox Security Systems, offers a dynamic security solution for retail businesses. It is very flexible in terms of installation, featuring a modular security system with integrated access control. Its user interface is also particularly easy to use, leaving less room for false alarms caused by employees who are not yet familiar with the security system.
In retail security, the objective for the service provider is to install a system with a central control point from where a retail outlet or entire shopping centre can be effectively monitored - within the shortest possible timeframe. The catch is that hundreds or even thousands of people will need to be granted legitimate access at all hours - without compromising the overall level of security.
The issue of access
The shopping centre and larger retail environment has many quirks, with the need for flexible access to areas such as stock rooms, storage areas and administration offices being one of the biggest security headaches for business owners. Retail businesses annually spend millions on surveillance equipment, or simply opt to keep some areas locked up.
This, however, is not particularly feasible, as authorised personnel require access to these areas on a regular basis - or even outside regular trading hours - in order to perform their work duties.
The Digiplex Access Control System security infrastructure allows authorised individuals to enter designated areas by means of unique, employee-specific identification cards or tags.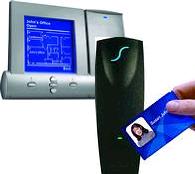 Access reader and card
This means that unlike surveillance equipment, which is far from foolproof, restricted identification-linked access brings with it a strong element of accountability. This in itself serves to curtail losses through theft, without imposing a constant sense of being watched upon employees.
There are many large but inflexible access control systems on the market. Many of these feature integrated time and attendance packages, yet are not always the most suitable or cost-effective solution for shopping centres or similar retail environments.
The system supports door and window intrusion detectors, motion detectors and smoke detectors, protecting the retail environment from a host of other threats apart from crime. It is compatible with wireless security technology, making it a sound long-term security investment with measurable returns on investment over time.
The second part of the retail security challenge relates to the speed at which the system can be installed. The longer a security upgrade or initial installation takes, the longer the retail environment may be vulnerable to an undetected breach. It is therefore imperative to get the job done as quickly as possible.
Using a modular system enables the service provider to install keypads, motion detectors and related accessories in a surprisingly short space of time. Its devices all communicate data to and from a central control panel via a four-wire combus. By adding plug-and-play expansion modules, the system can be customised to render a far higher level of security and environmental adaptability.
A modular system's integrity depends on two factors, namely the reliability of its modules and its ability to communicate with consistency via the system's wiring.
Using the right combus
Conventional combus systems only communicate when something happens, ie, when an actual security breach occurs. This simple on/off communication mechanism is unfortunately more prone to generating false alarms. It also cannot distinguish between breaches and modular or combus failure.
As such, many security service providers regard this type of system with scepticism due to its vulnerability towards wiring tampering or module sabotage.
The Digiplex Security System uses a four-wire combus that features GuardWall Technology, a dynamic encrypted communication protocol that efficiently communicates data between the control panel and all the modules and plug-and-play satellite modules. This specialised combus immediately recognises and notifies the security controller when wiring tampering or modular disablement is detected.
For more information contact Spectrum Communications, 0800 82 1688, security@spectrumcom.co.za, www.spectrumcom.co.za
Further reading:
A contact-free hotel experience
Issue 7 2020, Technews Publishing , Access Control & Identity Management
Check-in and go straight to your room without stopping at the reception desk at Hotel Sky in Sandton and Cape Town.
Read more...
---
AI digitises coronavirus management
Issue 7 2020, NEC XON , Access Control & Identity Management
NEC XON is using NeoFace Watch and specialised thermography cameras to measure temperature and identify employees and visitors.
Read more...
---
Combining visual and IR face recognition
Issue 7 2020, Suprema , Access Control & Identity Management
The FaceStation F2 offers face recognition and anti-spoofing performance.
Read more...
---
Anviz unveils FaceDeep5
Issue 7 2020, ANVIZ SA , Access Control & Identity Management
Anviz Global has unveiled its new touchless facial recognition identity management and IoT biometric device.
Read more...
---
Touchless biometric options
Issue 6 2020, Entry Pro , Access Control & Identity Management
When it comes to estate access control management, the foremost topic of conversation at the moment seems to be the importance of touchless biometrics.
Read more...
---
Fast access to Kevro production facilities
Issue 6 2020, Turnstar Systems , Access Control & Identity Management
Employee and visitor access at Kevro's Linbro Park premises in Gauteng is controlled through eight Dynamic Drop Arm Barriers from Turnstar.
Read more...
---
Know your facial recognition temperature scanner
Issue 6 2020, ViRDI Distribution SA , Access Control & Identity Management
Facial recognition with temperature measurement is, for the most part, available in one of two technologies – thermopile and thermography/IRT.
Read more...
---
Suprema integrates with Paxton's Net2 access control
Issue 6 2020, Suprema , Access Control & Identity Management
Suprema has announced it has integrated its devices with Paxton's access control system, Net2.
Read more...
---
Contactless check-in at hotels
Issue 6 2020 , Access Control & Identity Management
Onity has delivered the DirectKey mobile access solution to hotel chains around the globe, which allows for contactless check-in and property access.
Read more...
---
UFace facial recognition now in SA
Issue 6 2020, Trac-Tech , Access Control & Identity Management
Trac-Tech has secured the distribution rights to the UFace range of contactless biometric facial recognition and identity management IoT devices.
Read more...
---