printer friendly version
Bosch extends camera range
April 2005
CCTV, Surveillance & Remote Monitoring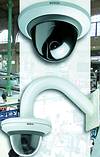 Bosch Security Systems has recently added three new models to its range of FlexiDomeXT plug-and-play, vandal-resistant, fixed-dome cameras. The new models allow a choice of an additional three auto-iris VariFocal lens types that provide options for really wide angles of between 52 to 102°. This allows full coverage of confined areas such as elevators, bank vaults or prison cells. Also available is a telephoto lens with an exceptionally narrow angle of 24°, ideal for really close-up views in a bank or retail environment. The third addition, with a speed of F1.2, is designed for sensitive low-light applications.
NightSense increases the camera's sensitivity by a factor of three through spatial integration of the sensor signal to ensure maximum image quality at very low light levels, and is now available in all colour cameras in the FlexiDomeXT range. When the light fades, such as during dusk, NightSense takes over and automatically switches the camera from colour to the high-sensitivity monochrome mode, thus allowing around-the-clock surveillance.
FlexiDomeXT cameras are designed for surface mounting, with an optional accessory for mounting on hard walls or ceilings. Mounting possibilities are now extended with additional options.
Introduced in the third quarter of 2003, cameras from Bosch's FlexiDomeXT range have been installed in many different sizes and types of applications all over the world.
For more information contact Bonny Pedra, Bosch Security Systems, 011 651 7810, bonny.pedra@za.bosch.com, www.boschsecuritysystems.com
Credit(s)
Further reading:
Qognify VMS adds support for Pelco IP camera series
CCTV, Surveillance & Remote Monitoring Products
The latest IP camera series from Pelco can now be used with Qognify's advanced video solution for corporate and enterprise projects, increasing the overall number of camera models and third-party devices supported in Qognify VMS to more than 6 500.
Read more...
---
VIVOTEK launches VAST Security Station
CCTV, Surveillance & Remote Monitoring Products
VIVOTEK officially launched its AI security system, VAST Security Station (VSS), in March, available to users in three flexible tiers: VSS Lite, VSS Standard, and VSS Professional.
Read more...
---
Keeping students, staff and communities safe
Vumacam News CCTV, Surveillance & Remote Monitoring Security Services & Risk Management
South African schools are facing increasing security challenges, making effective surveillance systems more important than ever. To address this issue, Vumacam is offering advanced security solutions with security partners, aimed at keeping students, staff, and the community safe.
Read more...
---
Helping to care for zoo animals
Hikvision South Africa CCTV, Surveillance & Remote Monitoring
Zoo keeps an eye on the safety of animals and visitors through the installation of Hikvision 4 MP turret, 12 MP Fisheye cameras, as well as PTZs, NVRs and central management system.
Read more...
---
Boosting digital-intelligent transformation and AI applications
Dahua Technology South Africa CCTV, Surveillance & Remote Monitoring Products
2022 has been a year full of development and innovation for Dahua. The company has launched various upgrades to its existing product portfolio as well as an artillery of new products and solutions that address specific needs/problems in society.
Read more...
---
Arcules and IMMIX announce integration
News CCTV, Surveillance & Remote Monitoring Products
Arcules has announced that its integration with Immix Central Station and Guard Force is available. The integration provides Central Station and Guard Force users a way to manage, verify, and respond to security events, while using Arcules-managed video feeds.
Read more...
---
Developing an effective CCTV control room culture
Leaderware Editor's Choice CCTV, Surveillance & Remote Monitoring Training & Education
Organisational culture in organisations can be seen as the set of values, practices, focus, standards and behaviours, and ways of interacting with others that are accepted and subscribed to by the people who work there.
Read more...
---
Eagle Eye Networks releases 2023 Video Surveillance Trends Report
Eagle Eye Networks News CCTV, Surveillance & Remote Monitoring
Eagle Eye Networks has released the 2023 Trends in Video Surveillance ebook, identifying five trends that will have the largest impact on businesses around the globe in 2023.
Read more...
---
Stainless steel 8 MP dome
Axis Communications SA Products CCTV, Surveillance & Remote Monitoring
Enclosed in marine-grade stainless steel (SS 316L) and DNV-certified, the AXIS Q3538-SLVE can withstand the corrosive effects of seawater and cleaning chemicals.
Read more...
---
Enhanced image clarity and enriched AI functions
Dahua Technology South Africa CCTV, Surveillance & Remote Monitoring Products
The IPC WizMind S series is equipped with multiple intelligent functions, offers adaptability, and comes in plastic-free packaging, enabling better image performance, promoting environmental sustainability, and providing global clients with smarter vision with a stronger surveillance shield.
Read more...
---