printer friendly version
Johnson Controls launches new Cardkey P2000
April 2005
Cyber Security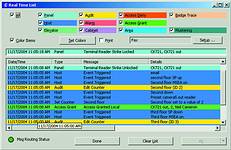 Johnson Controls has launched the latest version of the Cardkey P2000 security management systems, featuring a number of enhancements. In addition to a new remote redundancy option for increased system reliability, the system offers new features to help facilities meet certain guidelines set by the transportation security administration (TSA) and the food and drug administration (FDA), highly relevant in the context of airports and drug manufacturing plants.
A new remote redundancy option enables host servers to be mirrored over a commercial quality wide-area network, ensuring security even when the primary host site is down or compromised. When integrated with closed-circuit television, the system provides significantly enhanced security with the flexibility to retrofit many geographically dispersed locations.
"Our customers rely on us to understand their business, not just their security needs. This is particularly true among our customers in the heavily regulated transportation and life sciences industries. As a systems integrator with a long history of serving facilities in a wide variety of markets, Johnson Controls is well positioned to deliver customised solutions," says Neil Cameron, divisional manager, Johnson Controls.
"Through innovative solutions and unstructured thinking we are paving the way for facilities to make a critical contribution to organisational goals. Johnson Controls creates environments in which cost, productivity and shareholder value are as important as safety, health and comfort, positively impacting bottom line results," Cameron adds.
For more information contact Neil Cameron, Johnson Controls, 011 886 8997, neilc@jcsa.co.za, www.johnsoncontrols.com
Credit(s)
Further reading:
Prevention-first approach to cybersecurity
News Cyber Security
Check Point CEO, Gil Shwed, highlights the increasing importance of artificial intelligence in defending evolving networks and protecting against cyber threats at annual CPX 360 customer and partner event.
Read more...
---
How much protection does cyber insurance really give businesses?
Cyber Security Security Services & Risk Management
If organisations don't meet even the minimum requirements of security and data protection, insurance will do them little good. Instead, it needs to be just one part of the digital resiliency toolbox.
Read more...
---
Introducing adaptive active adversary
Cyber Security Products
New adaptive active adversary protection; Linux malware protection enhancements; account health check capabilities; an integrated zero trust network access (ZTNA) agent for Windows and macOS devices; and improved frontline defences against advanced cyberthreats and streamline endpoint security management.
Read more...
---
Eleven steps to an effective ransomware response checklist
Editor's Choice Cyber Security
Anyone is a viable target for ransomware attacks and should have a plan in place to deal with a worst-case scenario. Fortinet offers this ransomware attack response checklist to effectively deal with an active ransomware attack.
Read more...
---
Blurring the lines between data management and cybersecurity
Cyber Security IT infrastructure
In the past, data management and cybersecurity would fall under separate domains, but with more organisations making the shift to the cloud, data management and data protection have merged, essentially blurring the lines between the two.
Read more...
---
Recession? Do not skimp on cybersecurity
Cyber Security Security Services & Risk Management
While economists are studying their crystal balls, businesses have to prepare for the worst, and preparing for a recession means cutting costs and refocusing resources; however, they must ensure they do not end up creating an enormous risk.
Read more...
---
Organisations are increasing modern data protection for cloud workloads
Cyber Security
The Veeam Cloud Protection Trends Report for 2023 identifies what is driving IT leaders to change strategies, roles and methods related to both production and protection of cloud-hosted workloads.
Read more...
---
Cybersecurity in Africa: The challenges and solutions
Training & Education Cyber Security
Africa faces a significant challenge when it comes to the availability and distribution of cybersecurity talent and secure IT infrastructures. Facing this challenge will require supporting and nurturing the next generation of security graduates and professionals.
Read more...
---
Zero Trust to dominate 2023
Cyber Security Access Control & Identity Management
Traditional ways of safeguarding data are no longer sufficient in 2023. Zero Trust has emerged as a more proactive way for businesses to keep their systems, data, and networks protected against compromise.
Read more...
---
Cybersecurity in 2023
Technews Publishing Gallagher Cyber Security
What is on the cybersecurity menu in 2023? Hi-Tech Security Solutions offers two views from industry players on the risk environment and what to look out for in the cyber world in the coming year.
Read more...
---