printer friendly version
Johnson Controls launches new Cardkey P2000
April 2005
Cyber Security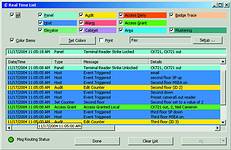 Johnson Controls has launched the latest version of the Cardkey P2000 security management systems, featuring a number of enhancements. In addition to a new remote redundancy option for increased system reliability, the system offers new features to help facilities meet certain guidelines set by the transportation security administration (TSA) and the food and drug administration (FDA), highly relevant in the context of airports and drug manufacturing plants.
A new remote redundancy option enables host servers to be mirrored over a commercial quality wide-area network, ensuring security even when the primary host site is down or compromised. When integrated with closed-circuit television, the system provides significantly enhanced security with the flexibility to retrofit many geographically dispersed locations.
"Our customers rely on us to understand their business, not just their security needs. This is particularly true among our customers in the heavily regulated transportation and life sciences industries. As a systems integrator with a long history of serving facilities in a wide variety of markets, Johnson Controls is well positioned to deliver customised solutions," says Neil Cameron, divisional manager, Johnson Controls.
"Through innovative solutions and unstructured thinking we are paving the way for facilities to make a critical contribution to organisational goals. Johnson Controls creates environments in which cost, productivity and shareholder value are as important as safety, health and comfort, positively impacting bottom line results," Cameron adds.
For more information contact Neil Cameron, Johnson Controls, 011 886 8997, [email protected], www.johnsoncontrols.com
Credit(s)
Further reading:
NIST's impact on cybersecurity
Cyber Security
Through its NIST Cybersecurity Framework, the non-regulatory agency empowers organisations to take a proactive approach towards managing and mitigating cyber risks, enabling them to stay resilient against the ever-evolving threat landscape.
Read more...
---
Best practice tips for strengthening data privacy system
Security Services & Risk Management Cyber Security
International cybercriminals are increasingly targeting South African organizations, making data privacy more difficult to maintain. A standardization expert offers insight to help combat this threat.
Read more...
---
AI-powered cyber protection for consumers
IT infrastructure Cyber Security
Acronis Cyber Protect Home Office is designed for the evolving landscape of cyber threats by integrating Acronis' cyber protection and secure backup solutions, combining AI-powered defence mechanisms, robust data backup, remote management tools, and mobile device protection.
Read more...
---
A surge of cybersecurity for the energy sector
Government and Parastatal (Industry) Cyber Security
With a rapid transition towards renewable energy, the energy sector has an increased reliance on technology. This makes it particularly vulnerable with regards to cybersecurity, as it depends on interconnected systems and digital technologies.
Read more...
---
Secure backup strategies imperative for business continuity
IT infrastructure Cyber Security
Cybercrime is on the rise, and businesses need to adjust how they manage their data to fend off attackers, or risk irreparable damage, writes Lisa Strydom, Senior Manager Channel and Alliance for Africa at Veeam Software.
Read more...
---
CHI selects NEC XON as trusted cybersecurity partner
News Cyber Security Industrial (Industry)
CHI Limited, Nigeria's leading market player in fruit juices and dairy products, has engaged in a strategic cybersecurity partnership with NEC XON, a pan-African ICT systems integrator.
Read more...
---
Mitigating escalating DDoS cyberattacks
Cyber Security
As cyberattacks, particularly those of the Distributed Denial of Services (DDoS) variety, continue to rise at an unprecedented rate across Africa, it is no longer a question of 'if' your organisation will be targeted, but rather 'when'.
Read more...
---
Six effective antidotes to modern cyber adversaries
Cyber Security
As the head of cybersecurity at NEC XON, Armand Kruger has witnessed the transformation from hooded hackers to a sophisticated dark economy that poses unprecedented threats and is run like a business.
Read more...
---
Key strategies for businesses in the face of cyber threats
Cyber Security Security Services & Risk Management
Businesses face severe financial and reputational consequences due to data breaches and daily website hacks, and not all organisations are adequately prepared to combat these escalating threats.
Read more...
---
Cyberattacks are inevitable for small businesses
Cyber Security
The recent cyberattack on Microsoft is a stark reminder that no organisation, regardless of its size or industry, is immune to cyber threats. Even small businesses, often assuming they are less attractive targets, are vulnerable.
Read more...
---