printer friendly version
Here is looking at you
April 2005
IT infrastructure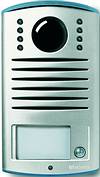 BTicino, distributed locally by Elvey Security Technologies, presents modern and high-performance means of communication, which are even easier to install thanks to the assembly kits that provide many functions. These include door entry units fitted with monitors, with avant-garde technology and designed to match all lifestyles.
Look who is here ...
The Video 2-wire kit, Linea 2000, is a prestigious model because of the number of functions provided and the ease of the modular principle: top-of-the-range technology for problem-free assembly.
The Linea 2000 entrance panel, with its futuristic design, is fitted with a pivoting camera, and up to five independent video internal units can be connected.
The system allows intercommunication between the internal units and the addition of control functions without extra wiring.
An extended ear ...
BTicino's high-technology systems allow communication with the outside from all corners of the home and revolutionise the concept of the door entry unit.
As two internal units can be added, the analog audio kit, Linear 2000, is recommended for installations that may be expanded.
The number of internal units can in fact be easily adapted as needs evolve. The entrance surface mounting panel, Linear 2000, is characterised by an up-to-the-minute and ergonomic design. The opportunity of activating other electrical commands such as garden light, gate opening and garage opening makes this kit particularly fit for tenders or high-profile refurbishments.
For more information contact Gideon Wheeler, Elvey Security Technologies, 011 401 6700, sales@elvey.co.za, www.elvey.co.za
Credit(s)
Further reading:
What is the 3-2-1 rule
IT infrastructure
Data corruption is a bit like a car accident. It does not happen often to a person, but when it does, even a minor fender bender can create inconvenience, and a major smash can cause months, even years, of problems.
Read more...
---
Undersea cable incidents highlight need for network resilience
IT infrastructure
South Africa's undersea cable network is an indispensable digital lifeline, tethering the country to the global digital community. Daily, these cables process terabytes of data, underpinning near every local sector.
Read more...
---
Secure backup strategies imperative for business continuity
IT infrastructure Cyber Security
Cybercrime is on the rise, and businesses need to adjust how they manage their data to fend off attackers, or risk irreparable damage, writes Lisa Strydom, Senior Manager Channel and Alliance for Africa at Veeam Software.
Read more...
---
The state of edge security report
News IT infrastructure
Edge computing has grown from being a niche use case in a handful of industries to offering a major opportunity for enterprises across industries to spread computing power around the world.
Read more...
---
Managing the allure of Azure (without the costs)
IT infrastructure
Microsoft Azure has proven an appealing digital solution for organisations wanting to embed digital and embrace digital transformation, but the cost has to be carefully managed.
Read more...
---
Migrating to the cloud? Beware the many hurdles
IT infrastructure Security Services & Risk Management
While there are undoubtedly many benefits, there are also numerous hurdles to cloud adoption. Some of the biggest challenges revolve around managing cloud spend, understanding the cost components of cloud infrastructure, and how those costs can scale.
Read more...
---
How managed services keep the edge ecosystem afloat
IT infrastructure
A survey by the Uptime Institute found that the impact of data centre downtime has grown in severity, making the availability (of data centres), at the core and at the edge, a key concern for organisations.
Read more...
---
Where do backups belong
IT infrastructure
On paper, you should throw all your backups into the cloud. It is cheaper and more accessible, and you do not need to own or run the underlying infrastructure. Reality disagrees as cloud data costs can skyrocket.
Read more...
---
Manage security systems remotely
Hikvision South Africa CCTV, Surveillance & Remote Monitoring IT infrastructure Products
Hikvision launched a new generation of smart managed switches that, in conjunction with the Hik-Partner Pro mobile app, enable installers to remotely deploy and configure security systems with comprehensive operation and maintenance capabilities.
Read more...
---
Synology enhances functions for advanced surveillance integration
Technews Publishing CCTV, Surveillance & Remote Monitoring IT infrastructure Products
With the capability to function as both an API client and server, Surveillance Station offers a versatile platform for integration, whether it's embedding video streams into other platforms or overlaying external data onto recorded video.
Read more...
---