printer friendly version
When physical and logical converge
April 2005
Access Control & Identity Management
The physical security element is controlled by the security department while the logical security is controlled by the IT department. Both utilise databases of people and information about where and when they are allowed to access system resources.
Today they can operate in conjunction with each other by deploying a common credential, such as a smartcard at the personnel level and unified single user interface at the system administrator level.
The smartcard is a logical point for the convergence primarily because it is a shared real estate item that has a contact smartcard used for logical security systems and a contactless smartcard used for physical security systems. The fact that this is a common carrier for physical and logical security credentials is driving the two departments to work together out of necessity.
This is the single biggest factor that is driving physical and logical integration. It is forcing both organisations to understand how the card and its data are managed and maintained. It is forcing the two organisations to work together on policies for encoding, printing and distribution.
Corporate security policies are naturally evolving, such that logical and physical security systems will share and utilise the same infrastructures. Physical security systems are utilising corporate computing resources such as network backbone, anti-virus software, firewalls and data centre servers to provide a stable platform for the physical security system. The logical security systems are utilising the corporate access card to leverage biometric deployments and cashless vending systems and secure login as a way to strengthen the security of their computing infrastructure.
With the utilisation of shared resources, it is a natural progression that the security policies will extend between the two systems. It does no good for a cardholder to be deactivated from using his/her badge for accessing a building when the certificates on the badge are still active for accessing the corporate network.
Today, these two infrastructures loosely communicate between each other. As the natural downsizing and consolidation of security functions occur, the management and monitoring of these systems will move to a single user interface. The security system of the future needs to have the ability to manage several sets of disparate data. An integrated framework is needed to support these two systems.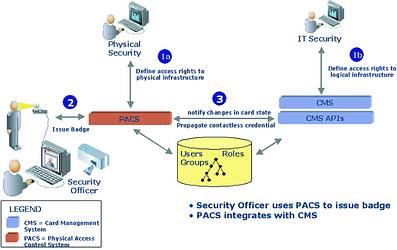 To address segregation of responsibilities (physical and logical security fiefdoms), the roles and responsibilities of the end users must be separated such that the same application can be used to manage the systems, but the data can be viewed and managed independently if needed.
As one is implementing business policies it is imperative that consideration is given to the deployment realities before implementation. The software and the card tokens are simply the tools used to implement the processes and business practices of the organisation. Whilst policies and practices can be updated based on the capabilities provided by these new tools, the starting point must be to have the existing rules clearly defined for all stakeholders at the outset.
In order to identify and clarify these rules it is important to run through a pre-deployment checklist, which should at least ask the following questions:
The credential
* Who determines the topology, layout and colour schemes of the card?
* Who determines the level of interoperability required?
* Who determines the level and types of encryption required?
* Who performs background checks or security clearances?
* Who controls assignment of a credential number for new users, contractors, interagency or department transfers?
* Who determines non-standard functionality?
Access permissions
* Who assigns physical access permissions?
* Who assigns logical access permissions?
* Who administers physical access permissions?
* Who administers logical access permissions?
The database
* Which system will be the 'Master' database?
* Who secures and houses the Master database?
* Who controls the 'Hot List' of deactivated/invalidated credentials?
* Who establishes communication between the Master database and physical access control system?
* What is the frequency of updates?
* What type of data feed is used between the Master database and physical access control system?
Before implementation of the system it is vital that the IT department is fully engaged so as to establish network infrastructure requirements such as VLANs, assignment of dedicated IP addresses and DHCP ranges etc.
Let the application drive the technology
In conclusion it is vital to the success of the project that the goals are fully defined at the outset, having done this it is then possible to pick the appropriate technologies to meet them. Do not fall into the trap of focusing on the 'kitchen sink' approach for smartcard systems, rather pick essential elements and build upon them. Identify the needs both today and in the future and reconcile them with both your budget and projected savings.
For more information contact Phil Mailes, Lenel, 0944 148 381 5234, [email protected], www.lenel.com
Further reading:
Paxton opens first experience centre in South Africa
Paxton News Access Control & Identity Management
The new Paxton Experience Centre in Johannesburg is now open and welcoming security installers and end users who want to see Paxton's products in action.
Read more...
---
Securing a luxurious residential estate
Turnstar Systems Residential Estate (Industry) Access Control & Identity Management
Turnstar Systems recently partnered with Balwin Munyaka Residential Estate to secure the entrance to its Crystal Lagoon, ensuring only authorised residents and guests can access the site.
Read more...
---
Visitor management via QR code
ATG Digital Access Control & Identity Management Products
ATG Digital has launched its QR Code Reader to enhance access control's security and efficiency. The new QR Code Reader enables seamless, contactless access control, creating an efficient user journey.
Read more...
---
District secures activity centre
Paxton Access Control & Identity Management Products
Paxton's Net2 access control solution is a user-friendly and flexible networked access control system, which made installing and managing access control security at an activity centre straightforward.
Read more...
---
GardaWorld partners with Gallagher
Gallagher Access Control & Identity Management
Access control via facial recognition was at the top of GardaWorld's wish list, and Gallagher's integration with IDEMIA's VisionPass played a crucial role in delivering a seamless experience.
Read more...
---
ZK-IWB Series
ZKTeco Products Access Control & Identity Management
Experience the ultimate virtual meeting solution with ZKTeco's ZK-IWB system. Featuring a built-in 13-megapixel UHD camera and 6-microphone array, the solution ensures clear audio and video experiences with an 8 metre pickup distance.
Read more...
---
Security for critical industries
ZKTeco Government and Parastatal (Industry) Access Control & Identity Management
The traditional reliance on human observation and physical presence for security is being complemented and, in many cases, replaced by biometric technology to enhance risk management and ensure comprehensive protection.
Read more...
---
Access to nuclear plants
Suprema Access Control & Identity Management
Korea Hydro & Nuclear Power was in need of a fully redundant access control system that should provide enhanced performance while still being able to interoperate with existing equipment.
Read more...
---
Secure your site during outages
Paxton Access Control & Identity Management
The PaxLock Pro range is our collection of wireless, battery powered smart door handles. They are efficiently designed to consume minimal energy to operate, and the batteries generally last around two years.
Read more...
---
Securing data centres and control rooms
Access Control & Identity Management
The demand for data centres and control rooms to store and manage digital information is at an all-time high, however, the rise in cyber threats and physical security risks has raised concerns about how companies can effectively protect these vital infrastructures.
Read more...
---