printer friendly version
Maximising perimeter security
April 2005
Perimeter Security, Alarms & Intruder Detection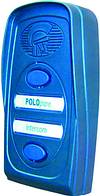 The property has been barricaded with electric fencing, perimeter alarm systems and automatic gates so that unwanted guests are kept out, now a means must be provided by which wanted guests can alert the occupants of the house or building in order to get in.
The simplest and most practical solution is an intercom system. In fact because this communication mechanism allows for visitors to be screened before they are given entry to the property, the intercom becomes an important part of a perimeter protection system.
In the South African market the audio intercom system remains the most viable and consequently most popular communication system due to its simplicity and affordability.
Centurion Systems has developed an intercom system with a specific view to satisfying the requirements of the local market.
This new product targets the entry level sector where to date the systems might be very well priced but lack expandability, functionality and reliability when subjected to local operating conditions such as lightning and electrical surges etc.
The POLOphone offers a value-for-money intercom system with a unique style and outstanding features.
Installation makes use of only two wires throughout. To power the unit, 12 V d.c. from a gate motor battery or DC power supply can be connected to any entry panel or handset in the system.
The system also offers versatility and expandability. From a basic one-to-one kit for the average home, components can be very simply added to the system to expand it into an ideal unit for large houses or small office installations.
* Up to two entry panels.
* Each entry panel fitted with one or two call buttons.
* Two groups of phones.
* Up to three phones per group.
* Each call button rings one of the two groups of phones.
* Intercommunication between two groups of phones.
This degree of expandability is typically only available with much larger and more expensive systems.
To enhance the reliability of the system substantial protection circuitry has been incorporated into both the electronics of the phone and entry panel to guard against lightning and electrical surges.
The design of the POLOphone handset is state-of-the-art. The hole in the centre of the handpiece allows it to clip over the cradle and merge smoothly into one compact unit.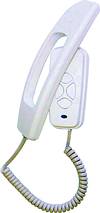 With the handpiece remaining in position, the hole in the handpiece exposes the buttons on the face of the cradle allowing operation of the gate/door release and any auxiliary features.

Each phone can independently operate the door lock or gate motor linked to each entry panel. Each phone has a further auxiliary pushbutton to operate an extra facility at the gate/door entrance (pedestrian opening) or switch on a light outside. Finally, a small window has been provided in the face of the phone cradle to accommodate a status indicator light (LED) that can be connected to the gate operator or entrance door.
For more information contact Judy Lewis, Centurion Systems, 011 699 2400, [email protected]
Credit(s)
Further reading:
June Coetzer joins Olarm as Partner Manager
News Perimeter Security, Alarms & Intruder Detection
Armed with a solid background in sales and business development, June Coetzer recently joined Olarm as an additional Partner Manager covering Gauteng and the surrounding areas.
Read more...
---
No missed alarms and reduced false alarms
Perimeter Security, Alarms & Intruder Detection Products
Remote sites have always been more vulnerable to opportunistic intrusion, but over the last two years in particular, sites such as solar farms or industrial parks have become more common targets for criminals.
Read more...
---
Olarm launches Olarm LINK
Olarm News Perimeter Security, Alarms & Intruder Detection Products
Olarm LINK extends the Olarm PRO communicators smart control with additional sensing and control, allowing multiple users to control a wide range of devices, including gate access, garage motors, boom gates, water pumps and more.
Read more...
---
Olarm launches the Olarm LINK
Olarm Perimeter Security, Alarms & Intruder Detection News Products
Building on the success of smart-enabling, monitoring and controlling alarm panels and electric fences, Olarm has a new solution for customers to integrate gates, garage doors, pumps and other electrical products with the Olarm APP and Olarm PRO communicator.
Read more...
---
Ultimate smart monitoring and reliability
Olarm Perimeter Security, Alarms & Intruder Detection News Products
Olarm is gearing up to unveil its latest product, the Olarm MAX, set to be available in late 2023, which will redefine smart monitoring by offering unparalleled connectivity options and functionality.
Read more...
---
New distributed acoustic sensors in EMEA
Perimeter Security, Alarms & Intruder Detection Products
OPTEX introduces new EchoPoint Distributed Acoustic Sensors (DAS) for advanced point location intrusion detection, using intelligent detection algorithms to provide point detection of +/- 6 m in a range of up to 100 km.
Read more...
---
Matt De Araujo joins Ajax Systems
Ajax Systems News Perimeter Security, Alarms & Intruder Detection
Matt De Araujo has joined Ajax Systems as Head of Sales in sub-Saharan Africa with a goal to strengthen the local team and exceed expectations.
Read more...
---
RDC expands its production capabilities
Radio Data Communications Perimeter Security, Alarms & Intruder Detection Products
Local electronics manufacturer, RDC, recently acquired a new SMT (surface mount technology) machine to boost its manufacturing output and meet the needs of its global customer base.
Read more...
---
Invisible connection and tangible protection via cloud
Dahua Technology South Africa Perimeter Security, Alarms & Intruder Detection CCTV, Surveillance & Remote Monitoring Products
Dahua Technology has launched its AirShield security solution that uses advanced, stable and reliable RF communication technology and cloud services, integrating alarm hubs, various detectors and accessories, with several software apps.
Read more...
---
Protecting perimeters and open spaces
XtraVision Perimeter Security, Alarms & Intruder Detection
XtraVision provides some insight into the use of drone technology with the SAMM Fotas fibre detection systems to secure perimeters and other remote assets and locations.
Read more...
---