printer friendly version
arivia.kom takes on Europe
April 2005
News
IT solutions company arivia.kom has increased its foothold in the European market with international acclaim for the service quality of its subsidiary, Face Technologies.
Madrid-based communications multinational business initiatives directions (BID) awarded Face Technologies the International Star Quality Award, gold class, for service excellence.
BID president and CEO, Jose E. Prieto, presented awards to representatives from more than 10 countries, including Face Technologies, the sole South African representative. Other award-winning companies were from India, Morocco, Portugal, Venezuela and Brazil, amongst the more than 70 countries present at the event. BID has annually awarded businesses around the world for their quality and excellence for the past 28 years. Candidates for the awards are independently assessed through on-line surveys with more than 165 companies world wide receiving awards.
Face Technologies has a reputation for successfully delivering turnkey, niche identification solutions for governments, using the latest advancements in biometric and smartcard technologies. The company has provided social service, transport, identification, voter and security solutions to the governments of South Africa, Namibia, Botswana, Zanzibar, Zambia, Uganda, Lesotho, Tanzania, Malawi and Poland, to name a few, and has taken the decision to enter the European market and export its skills to emerging economies in Europe.
The company launched into Europe with the awarding of a multimillion rand contract with the Government of Poland, for the development of a central, computerised register of vehicles and driver permits. This contract is particularly auspicious since the European Union gained 10 new member countries, including Poland, on 1 May 2004.
Face Technologies director and arivia.kom executive George Stander explains: "The collapse of the Soviet Union and the end of the Cold War brought significant changes to the European geopolitical order. As a result, the European integration process has rapidly accelerated to include the central and eastern European countries. In this new context, these countries face very different political and economic situations, and enormous investment is required if the applicant countries are to meet the standards and comply with European union legislation when they join. Thus, the Polish government recognised the requirement to modernise its transportation database. Due to our record of accomplishment and our technology partnerships in Europe, we were selected as a subcontractor to Softbank SA, a Polish IT company."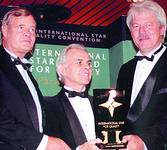 (L-R) George Stander, Face Technologies, seen with Jose E. Prieto, BID, and Hannes Koegelenberg, Face Technologies
According to Stander, the BID award is recognition from international players that Face Technologies is a force to be reckoned with, and a quality organisation. While Face Technologies is brand independent, it has always given preference to world-class products such as SAGEM on biometric projects, and partners with the best technology suppliers in the world such as Thales (France), Dermaloc (Germany), Identis (USA) and NEC (Japan and USA).
"In the field of biometrics and smartcards, Face Technologies is as cutting edge as can be, "comments Stander. "Let us just say we use not First-World, but future-world technology. We are the company that introduced the first handheld, mobile card verification device to the Department of Transport last year, a completely home-grown innovation using the most advanced technologies available."
For more information see www.arivia.co.za
Further reading:
Johnny Aucamp joins iPulse exco
News
Johnny Aucamp has joined iPulse Systems as its chief sales officer (CSO), adding a massive boost to the executive team.
Read more...
---
From the editor's desk: Security and resilience
Technews Publishing News
It's often said that South Africans are a resilient bunch, and history has proven this correct. When it comes to security, both cyber and physical, resilience is key to an effective defensive plan. ...
Read more...
---
Hikvision aims for solutions
Technews Publishing Hikvision South Africa Editor's Choice CCTV, Surveillance & Remote Monitoring News Integrated Solutions Conferences & Events
Hikvision recently held a roadshow titled Industry X, where the company highlighted its latest products and solutions, supported by partners and distributors.
Read more...
---
Olarm launches PRO 4G communicator
Olarm News Perimeter Security, Alarms & Intruder Detection Products
Olarm has announced an additional 4G/LTE version of its Olarm PRO smart communicator. It is aimed at areas suffering from poor connectivity by providing support for 4G, 2G and Wi-Fi networks.
Read more...
---
ADI Expo returns to South Africa
Technews Publishing ADI Global Distribution News
September saw the return of the ADI Expo to South Africa. The Johannesburg event was held at the Focus Rooms and the Durban event, two days later, at the Southern Sun Elangeni & Maharani.
Read more...
---
Technoswitch Awards dinner for 2022
Technews Publishing News Fire & Safety
Technoswitch hosted its fifth awards dinner at Montecasino in September, where customers and suppliers celebrated a year of success.
Read more...
---
Suprema joins FiRa Consortium
Suprema News Access Control & Identity Management
Suprema recently became a member of the FiRa Consortium, a consultative body that establishes standards for ultra-wideband (UWB) technology, the next generation of wireless communication.
Read more...
---
Reliable, low-maintenance video appliances
Technews Publishing Editor's Choice CCTV, Surveillance & Remote Monitoring News IT infrastructure Products
Symetrix, part of the Agera Group, has added the AES range of video recording servers, storage appliances and workstations to its portfolio.
Read more...
---
ZYTEQ Fire Engineering Summit 2022
ZYTEQ Fire Fire & Safety News
Cape Town-based ZYTEQ Fire hosted its inaugural Engineering Summit at the Commodore Hotel in Cape Town and the Leonardo Hotel in Sandton, Johannesburg.
Read more...
---
Nomad launches early adopter programme
Editor's Choice News Integrated Solutions Smart Home Automation
Participants in Nomad's Early Adopter Programme will receive 10% of their volume order to facilitate testing before the commercial launch later this year.
Read more...
---