printer friendly version
Technical trends in CCTV surveillance: 'Object and threat identification'
February 2005
CCTV, Surveillance & Remote Monitoring
The drive internationally over the past two years has been towards IP-based products. It has been interesting to see the spread of these products into South Africa and the various commentary surrounding IP products as the solution for surveillance within the country. Unfortunately we are still restricted in bandwidth by the telecommunications companies and although Voice over IP (VOIP) deregulation comes to the fore in March, is it really going to provide us with the panacea we have all been looking for?
We at Vision Catcher have attended a number of the key exhibitions worldwide and kept up to date with international publications and to our minds there are a number of other trends that we believe will take off within the South African market at a similar level to that of IP-based products. It is easy to see why IP products have run well in the UK and Europe; this is primarily because of the huge investment in fibre-optic cabling that took place in the early '80s for cable TV and as a result of its demise the fibre channels are available for a myriad of other applications. In South Africa, we are able to utilise Diginet ISDN lines giving us more bandwidth for a price and in some cases with clever management can use ADSL lines but with their associated volume restrictions. We believe that threat identification and the selective use of information is a preferred route rather than clogging up the bandwidth and increasing the need for operator selection.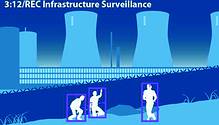 Object and threat identification, we believe, will lead the way in current trends. It has always been important to ensure clarity of picture so that evidence may be used historically for prosecution or disciplinary matters. Hence, the requirement for a better quality of recorded image as the starting point for any solution. However, it is what happens at the event point that we need to focus on. We can set up rules for the handling of an event by an operator or we can interact those rules into a management information system to prioritise on an event to assist the operator. But what else can we do to help the operator?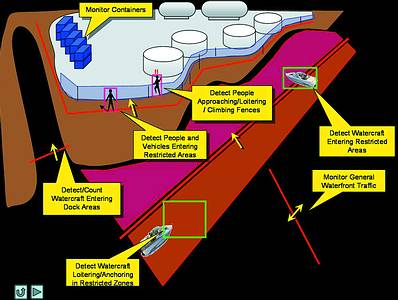 Intelligent video surveillance software solves many of today's complex security challenges. Using products such as Object Video's Video Early Warning (VEW) system that is able to identify the difference between an object, an animal or a human will give operators the edge. This allows them to focus on an event that corresponds to a set of predetermined rules rather than leaving the operator to make an on the spot decision of the event, if he has seen it! The requirement is being able to alert you to the person going in the wrong entrance, the package that has been left behind, the boat approaching your oil installation, the person climbing over the fence, the missing painting on the wall - all of this without physical trip wires.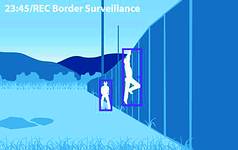 Using these threat identification systems we are able to reduce the data being transferred to those key events to a relevant portion. We can even look to increase the recorded size and therefore the resolution of these events to enable more accurate recorded information of the event or relevant person.
In today's world we need to be more precise with the definitions of what we are trying to achieve from a security solution. To be able to identify a threat and highlight this to an operator will give him/her the ability to reduce the potential negative effects - loss of life or loss of goods. Then to even be able to supply the event at a resolution that allows for prosecution is surely what every end user wants. With products such as Object Video's VEW and the high resolution camera SentryScope, Vision Catcher sees the security trend moving towards simplifying the operator's role rather than giving him even more work to do by streaming more video into his control room through IP.
Credit(s)
Further reading:
Efficient storage for security
Issue 7 2020, Dell EMC , CCTV, Surveillance & Remote Monitoring
There is a dramatic increase in the amount of storage and computing power required to support today's safety and security systems.
Read more...
---
Safe restaurant reopening technology
Issue 7 2020, Dahua Technology South Africa , CCTV, Surveillance & Remote Monitoring
Denmark's Arkaden Food Hall makes use of Dahua People Counting and Flow Control solution for safe reopening.
Read more...
---
Forbatt SA invests in South Africa's security industry
Issue 7 2020, Forbatt SA , CCTV, Surveillance & Remote Monitoring
Forbatt SA is set to offer an improved service to the industry by making sure it has the products and solutions the industry needs, as well as a new showroom.
Read more...
---
Analytics with your existing cameras
Issue 7 2020, Secutel Technologies , CCTV, Surveillance & Remote Monitoring
With SecuVue from Secutel Technologies, it is possible for any business to monitor their offices, warehouses or stores remotely, from any part of the world.
Read more...
---
Consolidating control rooms and service delivery within a COVID-19 environment
Issue 6 2020, Leaderware , CCTV, Surveillance & Remote Monitoring
It is essential to have informed, coordinated and professional responses within control rooms at this time of increasing turmoil.
Read more...
---
Technology driving the healthcare industry
Issue 6 2020, Duxbury Networking , CCTV, Surveillance & Remote Monitoring
Seeing cameras as sensors opens up new possibilities, and each one of them responds to typical demands inside a hospital, clinic or nursing home.
Read more...
---
Turn cameras into traffic sensors
Issue 6 2020, Duxbury Networking , CCTV, Surveillance & Remote Monitoring
Safer communities and cities are achieved through a mixture of technology and human resources, working together in a holistic manner.
Read more...
---
Mobotix thermal technology increases security
Issue 6 2020, Duxbury Networking , CCTV, Surveillance & Remote Monitoring
Installations, machinery, equipment and material available on company premises require effective and cost-efficient protection. In addition, operational safety, optimisation of workflows and protection ...
Read more...
---
Getting a visual on Covid-19 screening
Issue 6 2020, Graphic Image Technologies , CCTV, Surveillance & Remote Monitoring
Should organisations be investing in thermal camera technology to simply contain and limit the spread of the virus?
Read more...
---
Flexible temperature screening options for challenging times
Issue 6 2020, Hikvision South Africa , CCTV, Surveillance & Remote Monitoring
A thermal imaging camera is an effective screening device for detecting individuals with elevated skin temperature. This type of monitoring can provide a rapid screening approach in high-traffic areas.
Read more...
---