printer friendly version
Stop vehicle thieves
December 2004 Asset Management, EAS, RFID, Security Services & Risk Management, Products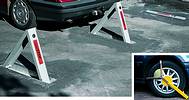 The Carstop parking post consists of two channel shaped arms hinged by a 20 mm axle at the extremities of a tray. The tray is concreted into the ground, increasing the integrity of the unit and making the mounting tamperproof. The device is activated by lifting both arms and locking them together at the top with an integral, encapsulated push lock that is secure and tamperproof. The A-frame thus formed creates the best possible vehicle barrier. When the car is reversed against the unit the bumper rides up the A-frame reducing pressure off the wheels until the tyres lose traction and spin, immobilising the vehicle. All this time the force and weight of the vehicle is directed into the concrete base, exerting minimal force on the axles of the Carstop. The heavier the vehicle, the stronger the unit becomes.
Installation is quick and easy. The depth of the excavation is a mere 250 mm, well away from all services and is neat and tidy. There is a down locking facility in the standard unit. Carstop can also be ordered with a disc type lock. A surface mounted model is available for suspended floors and its height has been reduced to just over 60 mm to accommodate low vehicles.
The patent holders and manufacturers of Carstop are Razor-Spike International, which pioneered and made a name for itself with Razor Spike anticlimb wall and perimeter spikes in both the local and overseas markets.
A range of portable wheel clamps is also available. These products provide visual, physical protection to vehicles and trailers.
For more information contact Razor-Spike International, 011 887 8787, [email protected], www.razorspike.co.za
Further reading:
Look before you leap into a back-up power solution
Editor's Choice Security Services & Risk Management
Before you rush into purchasing a back-up power solution, you need to take a considered and long-term view of how to get yourself as close to grid independence as possible.
Read more...
---
All-mobile people management solution with facial recognition
Editor's Choice Integrated Solutions Security Services & Risk Management Products
The new mobile Incident Desk People Management platform with facial recognition combines identification data on suppliers, staff, sub-contractors and even people on watch lists, for less than the cost of traditional service management tools.
Read more...
---
Passion, drive and hard work
Technews Publishing Editor's Choice CCTV, Surveillance & Remote Monitoring Security Services & Risk Management
Colleen Glaeser is a leader in the security market, having made her mark in the male-dominated security industry through determination and hard work, along with a vision of making the world a safer place.
Read more...
---
Are you your insider threat?
Technews Publishing Editor's Choice Security Services & Risk Management Commercial (Industry)
Insider threats are a critical aspect of risk management today, but what happens when it is the owner of the company acting fraudulently and making sure none of his staff can catch him?
Read more...
---
Global GPS tracking and IoT management platform
Technews Publishing Asset Management, EAS, RFID
Wialon, Gurtam's flagship product, is a telematics and IoT platform currently tracking over 3.2 million units in over 150 countries.
Read more...
---
Gallagher releases Command Centre v8.70
Gallagher News Integrated Solutions Products
Command Centre v8.70 introduces a range of features and enhancements to create operational efficiencies and improved site security, including a next-generation integration with HALO Smart Sensors.
Read more...
---
Trackforce Valiant acquires TrackTik Software
News Integrated Solutions Security Services & Risk Management
Trackforce Valiant, a provider of security workforce management solutions, announced the acquisition of TrackTik Software, a cloud-based security workforce management provider.
Read more...
---
GJD launches the GEM external curtain detector
Perimeter Security, Alarms & Intruder Detection Products
The GEM is a wired outdoor PIR curtain detector with up to 12 m selectable detection range and a narrow invisible curtain beam, making it highly effective in protecting properties against crime.
Read more...
---
Four cameras in one
Duxbury Networking CCTV, Surveillance & Remote Monitoring Products
The new M5000 multidirectional 15 MP camera from Axis features three 5 MP sensors and one PTZ camera with 10x optical zoom and HDTV 1080p, delivers sweeping overviews and zoomed-in details.
Read more...
---
Surveillance for net zero container showroom
CCTV, Surveillance & Remote Monitoring Products
VIVOTEK tailored a surveillance solution specifically for a net zero showroom by addressing the most critical part of access control as well as corner-to-corner indoor and outdoor surveillance.
Read more...
---