printer friendly version
New four reader controller for Cardax FT
December 2004
Cyber Security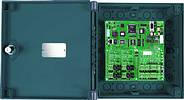 Gallagher Security Management Systems announces a new controller variant in the Controller 3000 product range, the Cardax FT Controller 3000-4R.
The existing Cardax FT Controller 3000 (now referred to as the 8R variant) gives a straightforward design for access control and alarms management, which was enhanced with the I/O expansion board and 8-input expansion board.
"The Cardax FT Controller 3000-8R, with the Cardax FT Remote Arming Terminal supported our move into the intruder alarms arena. The new 4R Controller will cement this move into the small systems market," explains Kahl Betham, Cardax product manager.
The Cardax FT Controller 3000-4R has on-board reader connections for four Cardax readers (hence the name), or two Wiegand format readers, and has eight balanced inputs and four relay outputs.
The Cardax FT Remote Arming Terminal is a versatile, user-friendly, keypad interface for onsite alarms management in the field, and is supported by either the 4R or 8R Controller 3000.
For more information contact Gallagher SMS, 011 397 2986, [email protected], www.cardax.com
Credit(s)
Further reading:
Poor router security makes SMBs vulnerable to attack
Cyber Security
While major malware and ransomware incidents frequently make headlines in the media, router vulnerabilities are not as frequently publicised, but the outcomes of these violations could be immensely damaging.
Read more...
---
Cybercriminals eye South African SMEs lack of security
Cyber Security
Just as a business owner wouldn't underinsure a tangible business asset such as a factory, SMEs shouldn't leave their digital assets unlocked and in plain sight of criminals.
Read more...
---
Harnessing the power of AI-driven XDR
Cyber Security
According to AIMultiple, 90% of infosec personnel in the U.S. and Japan said they're anticipating an increase in these automated attack campaigns, due in no small part to the public availability of AI research.
Read more...
---
Be prepared for the increase in reconnaissance
Cyber Security
Because ransomware has become so lucrative, cybercriminals are becoming more devious and putting significantly more energy into reconnaissance.
Read more...
---
Cybereason expands presence across sub-Saharan Africa
News Cyber Security
Cybereason has appointed Chantél Hamman as its new channel director focused on growing the company's presence across sub-Saharan Africa.
Read more...
---
How to weather the approaching perfect storm
Cyber Security
Cybercrime is spiking and security skills are scarce, and small and medium enterprises (SMEs) are particularly vulnerable as the financial impact of falling victim to these security breaches can result in their total collapse.
Read more...
---
Cyber resilience is more than security
Industrial (Industry) Cyber Security IT infrastructure
Kate Mollett, regional director at Commvault Africa advises companies to guard against cyberattacks in the shipping and logistics sector using an effective recovery strategy.
Read more...
---
Preventing cyberattacks on critical infrastructure
Industrial (Industry) Cyber Security
Cyberattacks have the potential to disrupt our lives completely, and in instances where critical national infrastructure is attacked, they could disrupt the country's entire economy, leading to loss of life and livelihoods.
Read more...
---
Cybersecure surveillance cameras
HiTek Security Distributors News CCTV, Surveillance & Remote Monitoring Cyber Security
Provision-ISR builds customer trust and opens up new opportunities with Check Point Quantum IoT Protect Firmware built into Provision-ISR cameras.
Read more...
---
Gallagher releases Command Centre v8.70
Gallagher News Integrated Solutions Products
Command Centre v8.70 introduces a range of features and enhancements to create operational efficiencies and improved site security, including a next-generation integration with HALO Smart Sensors.
Read more...
---