printer friendly version
Total hands-on surveillance control from Panasonic
December 2004
CCTV, Surveillance & Remote Monitoring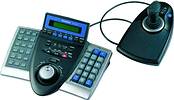 Catering for the increasingly sophisticated surveillance market, NPC (Electronics) Limited - the exclusive importer and distributor of Panasonic products in South Africa (Panasonic) - has introduced the first total system controller solution to the local market.
Designed for use with the Panasonic WJ-HD300, WJ-HD500 and WJ-HD200 series of digital disk recorders and other PS-data devices, the Panasonic WV-CU650 System Controller balances simplicity and functionality, giving users total hands-on surveillance control capabilities.
Modern in look and feel, the WV-CU650 is configured with the operator in mind: operation is simplified and streamlined, allowing attention to be focused on the surveillance task. For example, the jog dial and shuttle ring are positioned in the centre of the unit, giving quicker and smoother control of every search operation and system setting. The unit also boasts one-touch access to record, replay and search functions; while the larger numeric keypad gives direct access to the various cameras linked to the system.
Then there is the detached 3D joystick, which enables users to pan, tilt and zoom seamlessly - great for following any subject under surveillance. Inherently user-friendly, the joystick can be positioned for use by either left- or right-handed users and the stick height can be adjusted to fit the operator's hand-size. Soft padding minimises user fatigue while easy-to-reach buttons facilitate instinctive, touch-recognition usage.
Importantly, the WV-CU650 provides integrated system control, including:
* Camera control, which is greatly enhanced by the keypad-driven camera access and the joystick's direct pan, tilt and zoom functionality.
* Recorder control, which is maximised through dedicated record, play and search buttons, as well as the smooth jog dial and shuttle ring motions.
* Switcher control, which is facilitated by dedicated image switching and sequencing buttons.
"Taking total control of a surveillance system has never been this easy," says Mags Anthony, director, Panasonic Broadcast and Closed Circuit Video Equipment. "The WV-CU650 is not only user-friendly yet fully functional, but it is also aesthetically pleasing and adds a hi-tech feel to any set-up. What is more, you can daisy-chain up to four units in a system and assign varying user levels to each for management control purposes. It is simple, yet sophisticated; compact, yet delivers comprehensive control capabilities."
For more information contact Cedric Greeves, Panasonic, 011 313 1400, [email protected], www.panasonic.co.za
Further reading:
IDIS releases latest-generation 6 MP and 8 MP PTZ cameras
CCTV, Surveillance & Remote Monitoring
IDIS has launched four new 8 MP and 6 MP PTZ cameras that deliver excellent image quality and extend the company's trusted NDAA-compliant lineup.
Read more...
---
Eagle Eye introduces 'Smart Video Search'
Eagle Eye Networks CCTV, Surveillance & Remote Monitoring
Eagle Eye Networks has introduced Eagle Eye Smart Video Search, a new feature for all customers to make searching for video as fast and easy as searching the Web.
Read more...
---
Duxbury awarded Axis SA Distributor of the Year
Duxbury Networking News CCTV, Surveillance & Remote Monitoring
Axis Communications held its Annual Partner Awards on 1 July 2022 to celebrate and acknowledge the efforts of Axis' partners by awarding them for key projects and achievements throughout the year.
Read more...
---
AI in surveillance
Secutel Technologies CCTV, Surveillance & Remote Monitoring
Artificial Intelligence is the technological ability to work more efficiently and resolve problems. In the case of CCTV systems, this allows cameras with intelligence to identify certain objects and support ...
Read more...
---
Custom AI video analytics with AxxonSoft
LD Africa CCTV, Surveillance & Remote Monitoring
The AxxonSoft development team trains neural networks to tackle out-of-the-ordinary projects, including unusual viewing angles, difficult lighting, particular object types, thermal camera use and more.
Read more...
---
Passion, drive and hard work
Technews Publishing Editor's Choice CCTV, Surveillance & Remote Monitoring Security Services & Risk Management
Colleen Glaeser is a leader in the security market, having made her mark in the male-dominated security industry through determination and hard work, along with a vision of making the world a safer place.
Read more...
---
Cybersecure surveillance cameras
HiTek Security Distributors News CCTV, Surveillance & Remote Monitoring Cyber Security
Provision-ISR builds customer trust and opens up new opportunities with Check Point Quantum IoT Protect Firmware built into Provision-ISR cameras.
Read more...
---
Branches and roots
Cathexis Technologies CCTV, Surveillance & Remote Monitoring
Cathexis is a locally owned South African company where development engineers in the Durban office continue to innovate and improve the company's video surveillance management systems.
Read more...
---
Secutel expands into Africa and the UAE
Secutel Technologies CCTV, Surveillance & Remote Monitoring
Secutel Technologies expands into the African security technology market in a new partnership with RedWall Synergy and Total Secure Automation.
Read more...
---
Cathexis releases Carbon, a new user-friendly GUI
Cathexis Technologies News CCTV, Surveillance & Remote Monitoring
Cathexis has launched its latest user interface, Carbon 3.1, with an enhanced feature set, offering improved performance.
Read more...
---